Clean Guns
Hometown:
Philadelphia, PA
Label:
Beat Garden Entertainment
Label Website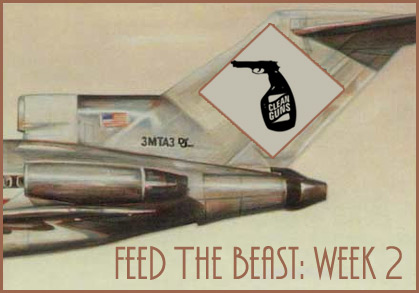 For week two of "Feed The Beast,"
Nico's
ongoing promotional effort for his album
No Beast So Fierce
, the audience-selected beats should spark some interest in both old school heads and fans of Lil Wayne. Well, at least until they hear Nico's reinterpretation of
Weezy F Baby's original verse
at the end of the freestyle:
Nico the Beast - Dey Know freestyle
I must admit that I did like Wayne's verse on
Dey Know
, if only because of the line, "All my kicks is fly like
Liu Kang
." I must also admit, however, that I liked Nico's verse even better. His impersonation is spot-on, from the delivery that sounds like it was processed through a five dollar vocoder to the stream of consciousness wordplay.
The second freestyle features the beat from the Beastie Boys classic
Paul Revere
, a beat that Nico wasn't particularly enamored with. That didn't stop him from tearing it apart, though:
Nico the Beast - Paul Revere freestyle
If you're somehow still not convinced of Nico's skills on the mic, check back next week for another installment of Feed The Beast. If you have a beat you want Nico to spit over,
let him know!
And if you missed it the first time around, be sure to check out
the interview that we did with Nico discussing the new album
,
No Beast So Fierce
.