He's Hers
Hometown:
Boston, MA
Label:
Unsigned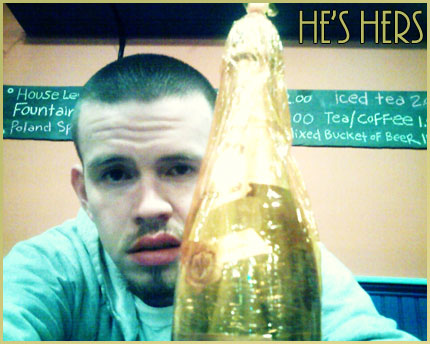 My dude Chris Brown a.k.a. He's Hers slid a new freestyle my way over the weekend. He dropped a verse over the
When Our I's Meet
instrumental (previously discussed
here
) that he produced for the original
I Hook a Beat Up competition
. The beat is ridiculous and the verse is dope, but what puts the whole thing over the top is the shoutout that he gives Thirty Three Jones. Peep:
He's Hers - When Our I's Meet (Freestyle)
As a bonus, here's one of He's Hers' older tracks that I don't think I've put up before. Beat produced by Chris' younger brother Pips:
He's Hers - You Are There
At this point I'm probably just repeating myself, but Chris is someone you should all be keeping an eye on, sooner or later someone's going to put this kid on (and the more I hear from his brother Pips, the more I think the entire Brown family is on its way to big things). For now, you can see what he's up to
on his MySpace page
and
his blog
.