Chachi
Hometown:
Pawtucket, RI
Label:
Big East Music Entertainment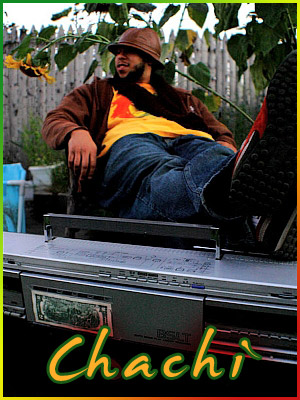 Back when I was attending Boston College, there weren't a whole lot of kids in my dorm who were checking for hip hop. My roommate would play Low End Theory and Paul's Boutique every day (literally), but other than that you wouldn't hear much coming out of the stereos on my floor besides the Grateful Dead and Phish. So I was quite suprised one day when I started playing
Wu-Tang Clan Ain't Nuthin' To Fuck Wit
and this kid came running into my room right as Inspectah Deck dropped the line, "My style is awesome, I'm causing more family feuds than Richard Dawson." What followed was perhaps the greatest lip-synching performance I had ever witnessed, with the kid, Charlie, bouncing around the room doing a perfect imitation of Method Man's routine -- and leaving the rest of the dorm wondering if a riot had just broken out.
Sophomore year, Charlie managed to save up enough money from his various enterprises to buy a pair of entry-level Gemini turntables and a microphone. The Geminis turned out to be some of the worst turntables ever produced - they couldn't handle even the most basic of scratches and to get a record to play without skipping required a dollar's worth of quarters to be taped to the top of the needle. Charlie got his money's worth out of those tables, though, as he and his roommates - including former Atlanta Hawk
Scoonie Penn
- spent hours freestyling over the instrumentals that he bought. Charlie's freestyles were pretty raw back then, but he always had a presence on the mic that made you stop and listen.
After sophomore year he left BC and I lost touch with him for a few years, but I recently found out that he's been performing up in Rhode Island under the name Chachi. I wasn't all that surprised to hear that he was involved in hip hop, as this dude lived and breathed the music. I was (pleasantly) surprised, however, to see that Charlie was opening up for the likes of Ghostface and Talib Kweli. After listening to a few of the tracks that he sent me, I feel pretty confident in saying that it won't be long before he's more than just an opening act.
Though Charlie grew up in Pawtucket, Rhode Island, he always said that he was a Cape Verdean first and foremost. For those that don't know - and before meeting him, I didn't -
Cape Verde
is an island off of the West Coast of Africa, populated by the descendants of Africans and white Portuguese settlers. The following track is his anthem for all of the Cape Verdeans in America:
Chachi - C.V. in America
And here's one more track from Chachi:
Chachi - Rock a Show Part 2
Chachi has formed his own record label, Big East Music Entertainment (BE ME), and is currently working on his debut album. To find out more, and to hear some more of his music,
stop by his MySpace page
.