What happened to the Female MC?: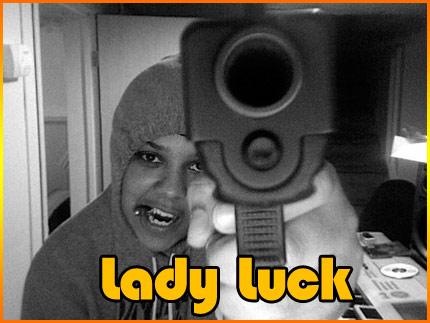 Its hard to imagine these days, but at one point in time the female M.C. was a vital part of hip hop. From Roxanne Shante dissing U.T.F.O., to MC Lyte rocking Madison Square Garden (a first for any rapper) to Lauryn Hill helping the Fugees sell over 17 million records, female rappers have played an important role in the history of the music. Things began to change in the mid-90's, though, when the likes of Foxxy Brown and Lil Kim showed up on the scene, shifting the focus from lyricism to sex appeal.

While underground artists like Jean Grae continue to carry the torch for female lyricists, mainstream hip hop has been flooded with women who compensate for their marginal talent by making a spectacle of themselves. To be fair, I don't think that's any worse of a gimmick than the drug dealer fantasies that many male mcs portray in their music, but there is at least some variety with the men -- for every five Jeezys or Rick Rosses, there's one Lupe or Kanye. Mainstream female MCs, on the other hand, all dress the same, talk the same and rap about the same thing: sex. And most of them have men writing the lyrics for them, so its not like they're providing a unique point of view on the subject. Not that I have a problem listening to a girl rap about sex, but the singular focus of female MCs on the subject gets monotonous, and I think its yet another symptom of the dumbing down of hip hop.

This year is turning out to be an especially low point in the history of the female MC. Lil Kim, just days after leaving prison, was accused of biting an entire song (and accent) from a Jamaican artist. Remy Ma was dropped from her label. Khia and Trina spent the summer trying to reenact the beef between Biggie and Tupac. Foxxy spent more time in court for shoplifting than she did in the studio. Lucy Diamonds tried to get publicity for herself by calling Jay-Z the devil. While its possible I'm overlooking something, I can't recall a single song this year from a female rapper that was more newsworthy than any of the nonsense I've just listed.

Looking at the release schedule for the last few months of 2006, the only notable upcoming album from a female MC is Lady Sov's Public Warning. Sov often gets dismissed as a female Eminem, and her roots in grime (which apparently became passe at the end of 2005) tend to turn off a lot of people, but I do think her album will end up being pretty good. Lyrically, she's better than most male rappers out right now. The problem is, as a white rapper with a British accent, she's destined to be labeled as a gimmick rapper no matter how talented she is. She's not going to be the savior for female mcs.

The only other female rapper I could think of that has a chance at mainstream success, success based on her lyricism and not her sex appeal, is Lady Luck. Originally from Teaneck, NJ, Luck signed a record deal with Def Jam at the age of 17 on the strength of several freestyles that she did for Hot 97. After several arguments with the label, Luck was released from her Def Jam contract three years later. These days, she is best known for her Fight Klub battle with Remy Ma (Fight Klub video here). While the panel of judges, which included a friend of Remy's, labeled Remy the winner, everyone else felt that Luck won the battle. Remy turned her Fight Klub victory into a deal with Terror Squad, while Luck continued to work the mixtape circuit.

Lady Luck is not currently signed to any major labels, though she claims that the exposure from the Fight Klub DVD has sparked interest in her once again. If she ever does manage to release an album under a major label, I would immediately put her at the top of the list for mainstream female mcs that are currently out. It remains to be seen if that will ever happen, though she is planning an upcoming tour.

Anyway, I hit her up and she was nice enough to let me put a couple of her mp3s up. Here they are:

Sucker Free
If Its On Featuring JR Writer

For more on Lady Luck, check out her myspace page.

All articles posted on this site have been written by the Editorial Staff of 33jones, and are © 33jones.com.