Interview with World Domination Headquarters: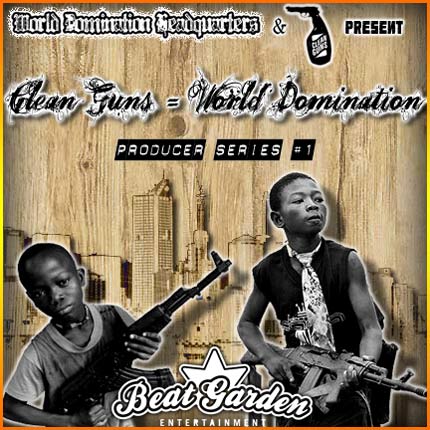 A little over a month ago, my man Zilla Rocca from Clean Guns passed along a collaboration that his group had done with a producer out of Los Angeles going by the name of "World Domination Headquarters." Zilla has laced me with several dope tracks in the past, and the six track EP that he sent, Clean Guns = World Domination, was no exception. Instead of the usual review, I thought it would be interesting to hear what W.D.H.Q. (a.k.a. "BNUT") had to say about the EP, his favorite producers, and some advice for up-and-coming producers. I've included two tracks from the EP at the end of the interview:

What's the meaning behind the name "World Domination HQ"?
I wanted a name that was like Castle Greyskull or M.A.S.K. Headquarters. Something that got across the idea that there is some devious shit going down over here.

How did you end up working with Clean Guns on the new EP?
We found each other on myspace, I can't remember who found who, but once we heard each other's music we knew that we were on the same wavelength. So I sent them out a beat CD, and two weeks later they sent me the vocal tracks they had recorded to my beats. I then mixed the songs with the new vocals, most the mixes changed a lot once the vocals were added. Clean Guns also sent out a couple accapella tracks from previous songs they did and I did a remix for their song "Hold Your Glass High", that is one of the first mixes I made where I had the vocals first.

Along with the beats, you made the artwork for the mixtape as well. What's the story behind the cover?
I wanted an image that went with the name Clean Guns, I wanted to do the exact opposite of glorifying guns. I found these images of children in Africa holding these big guns, placed them over a picture of Philly, where Clean Guns are from and just went from there. I hope people look at that cover and realize that this album is not your run of the mill rap or hip-hop.

You have a pretty unique style - to my ears it manages to be very much "hip hop" without relying on the usual type of samples that hip hop is traditionally known for. What type of samples do you usually look for when you start creating a beat? Do you have any "go to" artists or groups that you start with when you're looking for a sample to use?
I am a huge fan of the doller bin at all record stores, that is where I got at least a third of my record collection. I like sounds and samples that are almost completely unrecognizable, I think that is where any kind of unique style of mine might come from. On the other hand I love classic rock, so I'll sample anything I can find from the 60's and 70's. Soundtracks also have a lot of great music in them, like anything by Thomas Newman for example. If I am in a bind I have a crate or two filled with a few failsafe records, mostly motown, funk and soul type of stuff.

Are there any producers that you look to for inspiration?
It's a long list, but here are a few: J Dilla, MadLib, Blockhead, DJ Shadow, El-P, Ant, Dj Premier, Prefuse 73, 9th wonder, RJD2, Four-Tet, Rob The Viking, Danger Mouse, RZA, Rick Rubin, Buck 65, The Neptunes, Timbaland, Dre ...

If you could pick one artist to rap over one of your beats, who would it be?
Right now I think it would have to be Brother Ali. That man is killin it right now. He puts so much emotion into his lyrics and his delivery.

On your myspace profile, you say that, "About six years ago I started taking all my knowledge of hip-hop and applying it to my own music." Was there anything specific that inspired you to take the step from DJing to producing?
It just seemed logical at the time to take everything I learned from djing (tempo, song structure, what sounds to use, how to chop a sample, etc) and try to apply it to my own music. I had also been in a few bands, just scratching, sampling and playing keys. So I also learned a lot from them.

What's your advice for someone who's looking to take their first step toward producing beats? Do you think it's better for someone starting out to begin with software (i.e. fruityloop) or hardware?
I started out with straight up software, I think that is a good place to start because just about every piece of hardware is simulated in some type of software, and it turns out to be a lot cheaper. Once you get to know your software inside and out, then it is a good time to throw some hardware into the mix, like an MPC and synths. Right now my setup consists of Cubase sx3 with Reaktor, Kontakt, and Reason, an MPC 3000, Roland A-80 Midi controller, Technics with a Rane TTM 56, Sure MM47 and White Label needles, and a Tascam FW-1082 audio interface/controller.

Are you still DJing?
Since I started producing, I slowly stopped djing out. Production takes up almost all of my spare time.

Any upcoming projects in the works?
My roomates and I are starting a type of production team. All original music, no samples, but with the same WDHQ feel. We have a few songs completed already, and we're trying to get them on records or soundtracks/trailers, or anything to get our names out there.

Any shoutouts?
People that are down with WDHQ:

Flip Tracy: http://www.myspace.com/patchyfog
O.D.: http://www.myspace.com/soldiersofwar
Eightrack Mind: http://www.myspace.com/eightrackmind
Moss Mountain Project: http://www.myspace.com/mossmountainproject

Here are two tracks off of the Clean Guns = World Domination mixtape:
World Domination featuring Clean Guns - I Don't


World Domination Headquarters - Bonus Beat


Here's a link to download Clean Guns = World Domination (sendspace)

Thanks to BNUT and Clean Guns for letting us put up a couple of the tracks from the mixtape. For more from World Domination Headquarters, stop by the MySpace page.

And for a second take on the Clean Guns EP, check out what Passion of the Weiss had to say about it.

All articles posted on this site have been written by the Editorial Staff of 33jones, and are © 33jones.com.