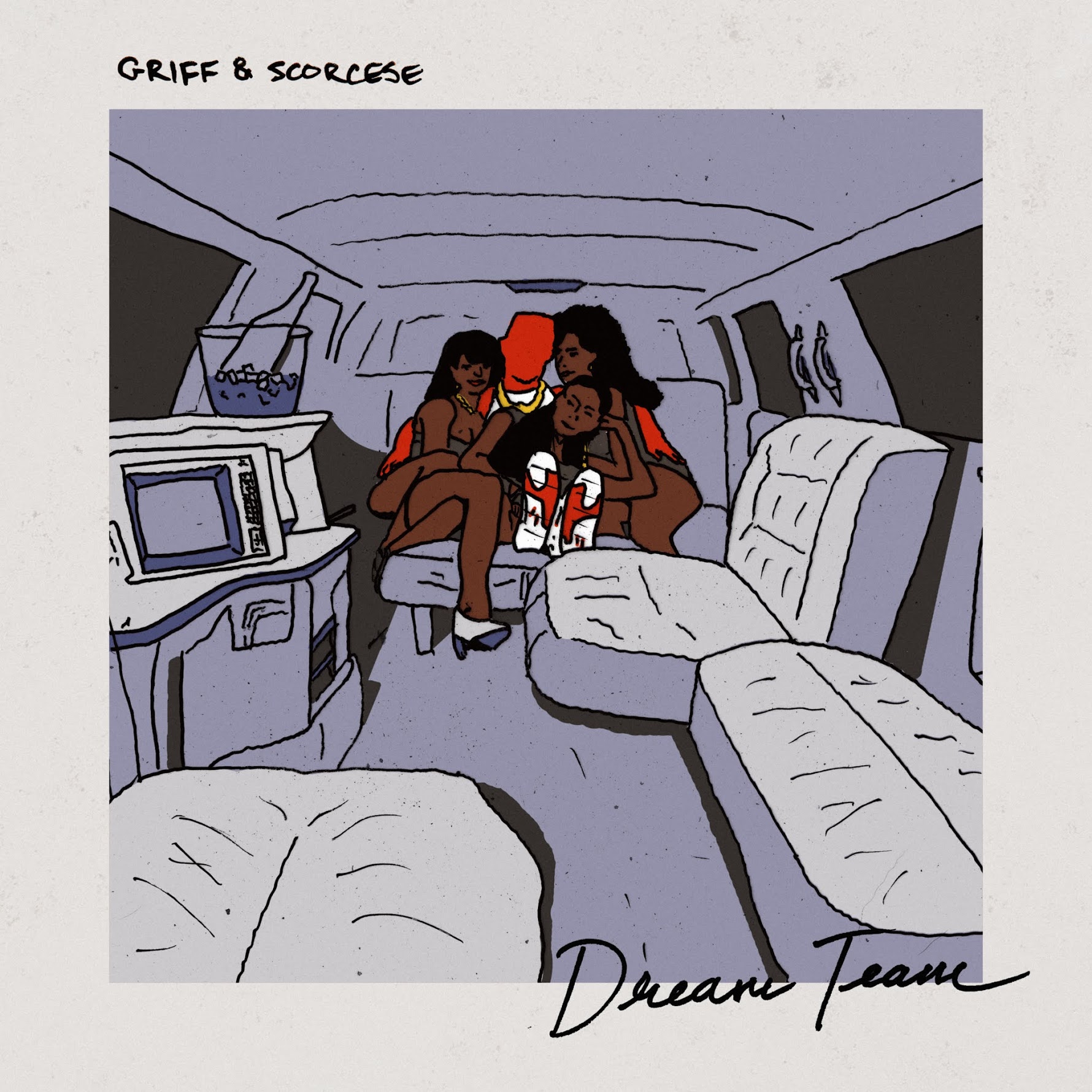 You may not have been waiting for an independent hip hop album that was inspired by professional wrestling. You might not even be able to conceive what an album like that would sound like. But I'm here to tell you that
Griff
and
Scorsese Shells
' new project "Dream Team: A Stokely Hathaway Joint," a project that was originally motivated by Scorsese's connection to
WWE Manager Stokely Hathaway aka Court Moore
and features an appearance from
Vic Spencer
, is going to exceed your expectations, whatever they may be.
You don't really need me to tell you how I feel about this song we're featuring off of the project, "Rob Peter, Pay Paul (Heyman)" (a reference to wrestling promoter
Paul E. Dangerously
). Griff's been down with this site for over a decade, and I'd post a recording of him banging a couple of rocks together on the strength of the gratitude I have for that. But even if that weren't the case I'm a sucker for any beat that samples obscure
D Block remixes of Obie Trice songs
and,
as I've said before
, Griff's production is consistently exceptional. His Dream Team partner Scorsese Shells comes correct, and gets a nice vocal assist from
Sauce Heist
. Rather than read several more sentences on why this song is good, just hit play on it and read through the transcript of an impromptu interview we did over instagram:
Scorsese, on his choice for the
Big Daddy Kane-inspired
album cover:
"I had always loved that picture and I wanted to use that aesthetic that Kane represented during his era - unlimited cool, refinement, but supremely gangsta. Plus, I fucking love Kane as a rapper! That said, I wanted to make it really minimalist and turn that ideal into a target - hence why he is red and the chains are visible."
Griff, on the time that one of his songs was licensed by MTV's
the Real World
:
"We did not have a direct connection at MTV, but my business partner at the time had a connection at a third party company that does MTV's music placement. So after the album was finished we had sent that to him and highlighted that song in particular as one that would be a good fit for anytime in reality TV that there was a fight or an argument or whatever, which in reality TV is pretty much all the time.

We landed a few more sync deals off of that record, but that was the major one. I learned a lot about sync placements through that, because that song was classified as featured music as opposed to background music which paid out at a higher rate. It was awesome though because we recouped the entire album off of that one sync. Which was great because we spent way too much on that album anyways!"
Griff on how he hooked up with Scorsese for this project:
"I connected with Scorsese when he was putting together producers to remix tracks for his last album, A World Only Gods Know. Zilla Rocca actually connected us. I did the remix of the title track for that album and then shortly after he had heard some of my beats on Instagram and I sent him one of them. [H]e laid something down on it that I thought was super dope at which point he told me the whole concept for the album and we started putting tracks together really with the intent of doing an EP, but it morphed into a full length album."
Even more from Griff on his approach to being a working producer in 2019:
"I don't really do Type beats and try to sell stuff on like Beatstars or go really hard on Soundcloud or whatever. Mainly just because I don't have the time. I have four kids and I still work a full time job outside of music, so I really have to make sure that whatever I'm working on musically is stuff that I'm really passionate about.

I do occasionally dabble with other styles of hip hop besides what you hear on the collaborations with Alex Ludovico [which you should really check out if you haven't already] and on the Dream Team stuff. So I do have a pretty decent size catalog of "keyboard beats" that I will eventually get into doing something with. There's a lot of electronic inspired stuff that I guess I would describe as a heavy Missy Elliot/Timbaland influence mixed with modern-day trap.

So maybe at some point in the future I'll pop up on Beatstars or one of those websites with an alias and start better financing my boom bap style stuff by doing contemporary bullshit. And I use the term bullshit loosely because I do enjoy a lot of that stuff and it's fun to make as well. With so many sub-genres of rap I don't ever want to pigeonhole myself into just doing one style. "
And finally, since they're putting this project out under the name "Dream Team," I had to ask Griff who his favorite member of the original Dream Team was:
"Growing up in the Chicagoland area it would be sacrilege to say anything other than Michael Jordan and Scottie Pippen. But I will always have a special place in my heart for David Robinson. The first replica NBA jersey I ever bought was that number 50 Spurs, and I still have it in my collection."
To hear the rest of Dream Team: A Stokely Hathaway Joint, check out
their soundcloud page
.
For more from Griff,
here's his Instagram page
.
And for more from Scorsese,
head ver to his IG page
.