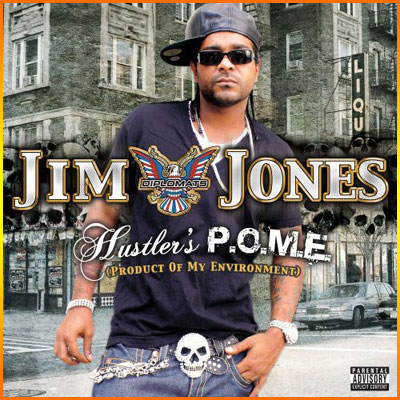 The first question that needs to be asked about Jim Jones' latest album,
Hustler's P.O.M.E. (Product Of My Environment)
, is what exactly is the point of the title's acronym? The best I can come up with is that a "pome" is what you make from "p'otry," much like a poem is a piece of poetry. Or something like that. In any event, the title of this album is just one of many problems the listener will encounter after purchasing Jimmy's newest cd (and by purchasing, for most of you I mean "downloading").
The biggest problem, of course, is that Jim Jones can't really rap. Sure, he's got enough personality to get a reality tv deal, but then, so did Flavor Flav. And we all know how Flav's album turned out. This is a Dipset album, though, and lyrical deficiencies have never really stopped people from purchasing them. Dipset members get by largely on the pseudo-gangbanger image that they've developed for themselves, not for the rhymes they spit on the mic. Style wins over substance for the wannabe thugs and hipsters that typically buy their albums. Let's see if this album follows in the tradition of previous Dipset albums:
Intro Featuring Max B
:
The first of three consecutive tracks that feature Dipset stick up kid Max B. Max is a poor man's Akon, but in the rap world, once you get
charged with murder
you become a hot commodity.
So Harlem Featuring Max B
:
Jim Jones let's us know he's "So Harlem" because he rides around surrounded by armed men, under constant surveillance by the feds. Not unlike fellow Harlemite Bill Clinton. Max B. mumbles a forgettable hook about shooting someone in the kneecap.
Bright Lights, Big City Featuring Max B
:
The production on this one flips the beat from Jay-Z's
Where I'm From
, with Max B singing another weak hook. There's also a 70's soul sample that was pretty good. This song would have benefited tremendously if the producer let the sample play on its own without Max B singing over it, but as it is its not that bad.
Emotionless Featuring Juelz Santana
:
Over a down tempo piano loop, Jimmy tells us he'll never surrender to the Feds. Juelz pops up midway through the track with his signature nursery rhymes, bragging about his Bentley. The final verse has Jim adlibbing Tupac's line from
Hail Mary
(la dada da da daaaaa). I wonder what Pac would say about Dipset claiming to be Bloods?
Reppin Time
:
This is the first track on the album so far that does not have a guest appearance. Without anyone else to add a verse, it becomes clear how much Jim Jones relies on adlibbed voiceovers. This is the fourth track that has Jim yelling out "Ballinnnnn" over the track. If that phrase wasn't played out before, it will be by the time you finish listening to this album.
Pin the Tail Featuring Cam'ron, Juelz Santana and Max B
:
Although I'm not a fan of the phrase, in honor of Dipset I have to say the title of this track deserves a "NHJIC." This song isn't good to begin with, but its made worse by Max B's offkey singing. This guy's prison term can't start soon enough for me.
Get It Poppin Featuring Jha Jha and Princess
:
Apparently Jha Jha and Princess were added to the Dipset lineup to bring sexy back, much like
Vita did for Murder Inc
back in the day. More "Ballinnnnn" ad libs from Jim Jones are sprinkled in between a verse describing how he uses his car during foreplay. I'm not sure which one is which, but between Jha Jha and Princess, one sings and the other raps, neither particularly well.
Mr. Cool
:
This is just a short intro to
We Fly High
. Its the instrumental that you hear at the beginning of the
Ballinnnnn video
, but its pretty dope. Too bad he didn't make an entire song using the beat.
We Fly High
:
What's left to say about this song? Either you love it or hate it, but by now you've no doubt got the hook stuck in your head. Ballinnnnnnn!
Voicemail Skit
:
Jim Jones gets a voicemail from some girl that sounds like Pam from
Martin
. How did this make the cut for the album?
Love of My Life Featuring Max B
:
Despite what I initially thought from the title, Max B is not the love of Jim Jones' life. No, its a girl who goes out clubbing all night, "loves the Dips and the Bird Gang," and tells Jim he's "the best thug in her life."
Voicemail Skit 2
:
Same girl on the voicemail as the first skit. Still not funny, still not sure why this is on the album.
Weather Man Featuring Lil Wayne and Stack Bundles
:
See, they're "weather men" because they "make it rain on 'em." In case you haven't been to a strip club in the past couple of years, that means they throw a wad of single dollar bills into the air while the girl dances for them. If you don't like bad metaphors comparing money to various meteorological events, you should probably skip this track.
Don't Push Me Away Featuring Rell
:
Interesting that singer Rell appears on this song with Jay-Z's latest nemesis Jim Jones, since he was first discovered by Jay and was supposed to be down for life with S.Carter. Guess those checks from the R&B division of Roc-A-Fella dried up. Is it possible Jimmy and Rell are asking Jay not to Push Them Away? Probably not, but that would have been more interesting than the sappy love song this thing turns into.
Pour Wax Featuring Hell Rell
:
Hell Rell, part of Dipset's JV squad, should not be mistaken for plain ol' Rell, the R&B singer from the last song. This track features a mixtape-quality beat with a guest appearance from a mixtape-quality rapper.
Freekey Zekey Skit
:
Another pointless phone skit. I'll break it down for you, SAT-style. Dipset : G-Unit as Freekey Zekey : Tony Yayo.
Don't Forget About Me Featuring Max B
:
This is the last track of the album that has Max B on it, so when he sings, "Don't Forget About Me," there's some passion behind it with his prison sentence looming large. Jim Jones throws out a bunch of "Ballinnnnnn"s while he gives a roll call of all the cities he's visited.
I Know Featuring Chink Santana
:
Chink Santana, no relation to Juelz, used to be a Go-Go singer from D.C. These days he mostly produces R&B tracks for the likes of Ashanti and England's Ms. Dynamite. I'm telling you this because I have nothing interesting to say about the song itself. Its a slow R&B beat with Jim Jones rapping about the same thing he did all album: Ballin' out.
My Life
:
Final track of the album. The beat samples an old Tupac song,
My Life
, and Jim Jones imitates Pac's rapping on the song, too. That's a pretty fitting way to end the album. Jim Jones pretends to be a Blood in real life, and here he's imitating another rapper who pretended to be a Blood. The original Pac version of the song was much better, but this certainly wasn't the worst track on the album.
Final Verdict: This album is only for Dipset fans. If you're into Dipset then you'll love this album. If not, you can probably wait for the radio to pick up on the few good songs that are worthy of being made into singles (and admittedly, there are a few, like
Bright Lights, Big City
). Let's keep it real: when you start dissing other rappers a week before your album drops, you're admitting your album isn't good enough to stand on its own. And that's certainly the case here. Take away Jim Jones' gangster caricature, which seems to be made up of the worst stereotypes found in the Sopranos and Colors, and you're not left with much more than a bunch of "Ballinnnnnn" ad libs.
Jim Jones album
Hustler's P.O.M.E. (Product of My Environment)
came out on October 31, 2006. You can listen to a full preview
on MTV's The Leak
.