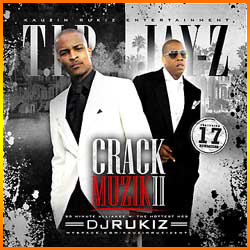 A few days ago I copped the latest mixtape from Providence's DJ Rukiz,
T.I. and Jay-Z: Crack Muzik #2
. The title of the mixtape is regrettable, but the concept of blending verses from TI and Jay-Z together was good enough for me to look past that and drop 5 bucks on it.
I'll admit that I've never been that interested in Tip, and Pharrell's claim that he was the "Jay-Z of the South" seemed a bit of a stretch to me. While not a bad MC, TI doesn't really do anything particularly innovative or groundbreaking with the mic to live up to
the hype that's built up around him
. Still, it was interesting to hear a Southern rapper spitting over some classic Jay-Z beats, like
Can I Live
. Any lyrical shortcomings TI may have were covered up by Rukiz's selection of beats.
As for Jay's verses, they hold up well against T.I.'s beats, most of which were taken from
King
. If you're a fan of Jay-Z, this is definitely worth the 5 or 6 bucks that this mixtape will cost you.
Here are a couple of tracks from the mixtape:
Jay-Z and T.I. -- You Don't Know Me (Wet Wipes Blend)
T.I. -- What You Know About That (Can I Live Blend)
You can pick up a copy of Crack Muzik #2
at mixunit
.
For more info on DJ Rukiz,
check out his website
.