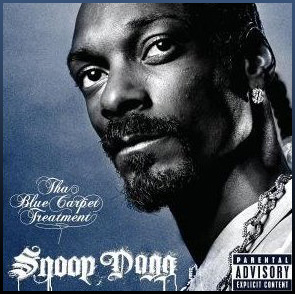 While Snoop Dogg's
Doggystyle
was a classic album, I can't say that I've been a big fan of any of the albums he's put out since then. Snoop has released some great singles, but he's never put out an entire album that was as good, start to finish, as his debut. While he's continued to find solid production for his releases, recently benefiting from his friendship with the Neptunes, his lyrical ability has dropped off steadily. Whether its from smoking too much weed or just laziness and over reliance on "izzle" catchphrases, Snoop has never matched the creativity that he showed on
Doggystyle
. With a new release on the horizon,
The Blue Carpet Treatment
, early talk has been that this would mark a return to the lyricism that won him fans on both coasts. Going into this review, I had my doubts, but let's see how it turned out:
Intrology
:
Snoop tells us that this album is about to become the 8th Wonder of the World. Probably not, but good to see Snoop maintains his self confidence.
Think About It
:
The first real song on the album opens up with Snoop D-O-Double braggadociosly rapping over a laid back jazz sample, with his signature flow matching the tempo of the track. Not a bad way to open up the album.
Crazy
:
Well, it was only a matter of time before we got to a song with Nate Dogg on it. I would have liked to get a few more tracks into the album before hearing Nate sing a hook, but he's not too distracting here. Snoop warns us that if you thought "you were getting through California without getting banged on, brother you were wrong." This song is ok, but I personally have a hard time listening to a 30 something millionaire rap about gang banging.
Vato
:
You may have heard this collaboration with Cypress Hill's B Real a couple of months ago, when it was getting passed around the internet like a joint at one of Snoop's ciphers. Sorry, I had to make at least one weed reference on a Snoop Dogg album review. Anyway, the beat here is produced by the Neptunes, and its strong enough to overcome the nasally-challenged voice of B Real. Snoop has said the purpose of this song is to promote unity among the browns and the blacks, which is a good message for the lil' vatos out there, but its a bit ironic on an album where many of the songs promote the gang war between the crips and the bloods.
That's That S***
:
Teaming up with R. Kelly, Snoop drops a song for the
teenage girls
ladies. Even if the beat here was dope (which it isn't), I just can't bring myself to take R. Kelly seriously anymore. At some point around the time of Fat Joe's
Fiesta
, all of Kells' guest appearances started to sound exactly the same, and
That's That S***
doesn't break any new ground for him.
Candy (Drippin' Like Water) featuring Tha Dogg Pound, MC Eiht, Goldie Loc & E-40
:
I have to admit, I cringed when the track opened up with E-40. People tell me he's an acquired taste, and I clearly haven't acquired it yet. Snoop and the gang drop references to various candies, presumably a reference to a certain part of the female anatomy that occasionally drips like water, over a fairly minimal beat. The hook has what sounds like an underage girl singing, "You Want It, I Got It," making me feel somewhat dirty for listening to it.
Get A Light
:
The track opens up with some dude clowning Suge Knight, then in drops a Timbaland beat. The production on this track almost has too much going on, with some African drums and a sinister sounding guitar note just a part of the overall beat, but Timbaland manages to pull the whole thing together. Damian Marley drops in for about 10 seconds (Damian Marley? On a song about weed? Inconceivable!) and Snoop raps about that good good, but the only thing you'll remember about this track is the beat.
Gangbangin' 101 featuring The Game
:
The Game (an alleged Blood) shows up to rap alongside Snoop (an alleged Crip). Can you say "
set trippin'
?" Not to repeat myself, but its ridiculous to hear wealthy, grown men claim that they're willing to die over the colors of blue and red.
Boss' Life
:
Snoop claims that, unlike some other rappers who are perpetrating, he's really "Livin' the Boss' Life." Akon shows up on the track to handle the hook, and I have to wonder how Nate Dogg feels about Akon stealing his whole career.
LAX featuring Ice Cube
:
LAX opens up with a sample from Biggie's
Going Back To Cali
, with the Notorious one saying, "Oh, Cali?" and Puffy responding, "No doubt, baby." Ice Cube shows up for a guest appearance and, sure, he puts out family friendly movies these days, but that doesn't mean he can't stop by the studio with Snoop and drop some gangsta rhymes, right? Ok, its completely unbelievable that the star of
Are We There Yet?
is actually living the hardcore lifestyle that he raps about, but his flow still sounds good.
10 Lil' Crips
:
The beat here samples what sounds like the bass line from the title track off of the
Colors
soundtrack, which is fitting since the lyrics on
10 Lil' Crips
cover the same territory as the movie. No doubt a Crip will be playing this in their '64 while they perform a drive by at some point in the near future.
Round Here
:
Dido's
Thank You
, the same song sampled for Eminem's
Stan
, is looped for the beat on this song. Snoop's not talking about an overzealous fan on this one, though, he's talking about how he'll "put you in the ground if you run your mouth Round Here." While I doubt Dido ever intended for her song to be used in a gangsta rap, it is a great sample and works well here.
A B**** I Knew
:
Using the same sample Jay-Z used on
Bitches and Sisters
("Let's describe a certain female"), Snoop tells us about some of the women he's "smashed in the Chevy" during his lifetime. The beat's solid, but this song is not going to help counter the misogynistic reputation that gangsta rap has earned for itself.
Like This
:
With a beat straight out of a John Holmes movie and a rather annoying hook about dancing, there was nothing redeeming to be found on this track. Skip it.
Which One of You
:
This song reminded me of
Signs
, Snoop's collaboration with Justin Timberlake. Without Timberlake singing the hook, though, this song doesn't quite have the same pop appeal.
I Wanna Love You
:
Akon shows up for one more track, and that combined with the title of the track initially led me to believe that Snoop was about to go soft on us. That notion was quickly dispelled when Snoop rhymed, "I wanna love you" with "I'm here to put this d*** in you.".
Psst! featuring Jamie Foxx
:
Jamie Foxx, doing his best Ron Isley impersonation, puts in a guest appearance on this track. Another romantic song from Snoop, who tells us he expresses his love by throwing dollars at women. Isn't Snoop married? I wonder how his wife feels about all these songs devoted to strippers.
Beat Up on Yo Pads
:
Did you know Snoop coaches his son's pee wee football team? In case you didn't, you'll be well aware of that fact by the time you finish listening to this song, dedicated to all the lil homies on his team. Not a great song, but it serves as a needed break from all of the scrippa talk.
Don't Stop
:
Snoop advises us that, "If you see the police, don't stop." For a rapper from California, a state notorious for televised police chases that often end in tragedy, that's probably not the best advice. The beat here is pretty minimal, a few drum beats and a handclap.
Imagine featuring D'Angelo and Dr. Dre
:
Not to be confused with the just-released Nas track of the same name, Dre puts in double duty on this track, producing the beat and dropping a couple of verses. D'Angelo, after taking a six year hiatus from the music industry, sings the hook, but unfortunately he seems a bit off his game. Dre, on the other hand, sounds pretty good here, which gives me hope for the constantly delayed
Detox
album.
Conversations
:
The final song of the album opens up with a preacher admonishing us all to pray to God, a message that seems completely out of place on this album. We've had raps about gang banging, pimping and strippers, and now Snoop's going to get religious on us? Get the fizzle outta here with that.
Final Verdict: Not a bad album, but not a classic either. While this is the best album Snoop's put out since
Doggystyle
, its very uneven. The album has a few standout tracks, including
Round Here
and
Get A Light
, but there are several songs that you'll be skipping over to get to them. For all of the people that have complained about Jay-Z outgrowing the type of rap he became famous for, Snoop's album offers an example of what can happen if you stick to your formula too long. At this point, as a rapper that's been in the game for almost 15 years and sold millions of records, it seems absurd for Snoop to still be embracing the Crip lifestyle. Some may say he's just keeping it real, but on
Blue Carpet Treatment
, all the gang talk comes across as an act. If you're willing to look past that, then you may find the album worth picking up. As for me, with all of the other (potentially) great albums that will be coming out in the next few weeks, I'll take a pass on this one.