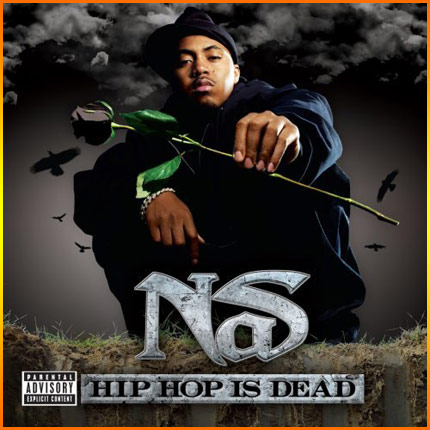 Like most other fans of hip hop, I had mixed emotions when I heard that Nas would be signing with Def Jam, or in his own words, "Like Foxxy, the kid went Def." Sure, it meant that we would finally get to hear a collaboration between Jay-Z and Nas, two-thirds of the holy trinity of 90's NY hip hop (Biggie R.I.P.). Yet the crown jewel of Nas' post-
Illmatic
Career,
Ether
, came about as a result of his feud with Jay-Z. Would the dynamics of Nas' new relationship with Jay stifle the drive that inspired some of his best work, or would it motivate Nas to put out one of his best albums to date? With all of the controversy surrounding the title of the album, would
Hip Hop Is Dead
live up to the expectations? Let's find out:
Money Over Bullshit
:
The album opens up with what I would describe as a classic Nas beat, courtesy of producer L.E.S. Though no one gets called out by name, there seem to be a few subliminals on here aimed at 50 Cent and Jim Jones. As a diss track, this doesn't quite measure up to
Ether
or
Don't Body Ya'self
, but its solid nonetheless.
You Can't Kill Me
:
Salaam Remi, the producer behind
Made You Look
and several other tracks on previous Nas albums, contributes a beat that is not quite up to his usual standards. The hook here is kind of annoying, and it will probably cause me to hit the fast forward button on future listening.
Carry On Tradition
:
Scott Storch comes through with a beat that sounds exactly like what you'd expect from Scott Storch, which is to say a beat that was made with radio play in mind. Though "Hip Hop Is Dead" has some rappers feeling the need to defend themselves,
Carry On Tradition
is the track where Nas really comes out swinging. Taking aim at New York and Dirty South rappers alike, Nas says, "Some of you new rappers, I don't understand your code.
You have your man shoot you like in that Soprano episode
...
The lane was open and y'all was dropping that garbage shit
. You got awards for your bricks.
It got good until you started telling the bigger dogs to call it quits
...
Fuck a bum wack rapper making his career out of dissing.
"
Where Are They Now?
:
In what will become a theme throughout the album, Nas name drops several rappers from the past. Its interesting that Nas gives a shout out to "Nine Double M," the rapper who threw a bunch of subliminals at him on
The Lyin' King
.
Hip Hop Is Dead
:
Over will.i.am's recycling of the beat from
Thief's Theme
, which itself sampled the classic
In-a-Gadda-Da-Vida
by Iron Butterfly, Nas explains the meaning behind "Hip Hop Is Dead," the statement that's left a few Southern rappers catching feelings. Despite what the chorus would make you think (will.i.am sings, "Hip Hop has died this morning"), Nas isn't actually saying hip hop is dead, he's just railing against the commercialization of the music. Though some may say that Nas is just hating on rappers who have found success in the past few years, its hard to argue against the sentiment that rap has suffered since it went "from Beat Street to commercials on Mickey D's."
Who Killed It
:
As great a rapper as Nas is, throughout his career he's made some unfortunate decisions with his music ("Nasty Nas Is Coming," anyone?).
Who Killed It
, a film noir-inspired song, pretty much eclipses any of his past mistakes, though. Rapping over an 808 beat that sounds like Rakim's
I Ain't No Joke
, Nas impersonates the voice of a private eye from one of those old black and white movies. The lyrics, which tell the history of hip hop and examine who the real "murderer" of hip hop is, would have made this a classic, but Nas' impersonation is so distracting that the entire song is ruined. The
okayplayer crew
seems to think this is some sort of tribute to (or mocking of) MF Doom. I don't really buy that, though the end of the song does feature a sample from the Danger Doom album.
Black Republican
:
The track that's been twelve years in the making,
Black Republican
is the long-awaited collaboration between Jay-Z and Nas. The cinematic beat, produced by L.E.S., is fitting for just how monumental this is. As much as I liked
Kingdom Come
, Jay-Z may actually have put in a better performance here than on any of KC's songs.
Not Going Back
:
Over a piano loop, with his wife Kelis on hand to hum and sing the chorus, Nas tells us how the money from the rap game changed his life. Though "the hood's in [him] forever," Nas says he won't go back to the ghetto. Its pretty much the same message that Jay beat us over the head with on
Kingdom Come
, though Nas manages to deliver it in a way that leaves him less vulnerable to charges of selling out.
Still Dreaming
:
Kanye West's influence is all over this track, from his guest verse to the signature 'Ye beat that is dominated by a vocal sample and an Al Green drum beat. I wouldn't have expected the lyrical combination of Kanye and Nas to work out, but I actually liked this song quite a bit.
Hold Down the Block
:
This song was produced by Mark Batson, a producer I hadn't heard of before. A quick google search reveals that he has produced songs for everyone from the Dave Matthews Band to Gwen Stefani to India.Arie, and also put in production work on
Kingdom Come
. The beat isn't bad, but its not particularly memorable either.
Blunt Ashes
:
After listening to so many rappers talk about coke and g-packs over the past couple of months, its nice to hear Nas take it back to good ol' marijuana. Kind of like a broader version of
Where Are They Now
, Nas name drops everyone from Prince to John F. Kennedy to Hattie McDaniel. Chris Webber, aging power forward for the Sixers, handled the production on this one. One of the better rap songs an NBA player has been involved with, but that's not saying much.
Let There Be Light
This is the second Kanye West-produced track on the album, featuring a hook sung by
TrT Williams
. Nas briefly discusses the topic of signing with Def Jam, but he never really gets into the issue of working for his former nemesis Jay-Z. Too bad, because that's pretty much the
camel
elephant in the room that Nas never gets around to addressing on this album. At one point during the song, Nas makes reference to
Kenneth "Supreme" McGriff
, the man responsible for the bullet still lodged in 50 Cent's jaw, though he mispronounces it as "Mcgriffith." If you're going to refer to a guy with a penchant for shooting rappers, you might want to get his name right in your rhyme.
Play on Playa
:
Of all the tracks on this album that feature guest appearances from big name rappers, this is probably the weakest. The beat, built around a sample from Marvin Gaye's
I Want You
, is decent enough, but this song just didn't do much for me. Nas typically sounds awkward whenever he covers the subject of sex, and this song is no different from previous efforts.
Can't Forget About You
Another will.i.am beat with a hook sung by Chrisette Michele, the same singer from Jay-Z's
Lost Ones
. The beat is fairly minimal, but there's a great sample from Nat King Cole's
Unforgettable
. Nat sings, "Can't Forget About You," and Nas follows her lead, reminiscing about the past, from old school rap acts to
Robert Horry's game-winning three pointer
.
Hustlers
As soon as the beat drops in on
Hustlers
, you'll know Dr. Dre was the producer behind this track. The Aftermath presence is heavy on this track, as both the Game and Floetry's Marsha Ambrosius are featured here. The Game makes references to the majority of Nas' past work, as if to prove he's been down with Nas since day one, and even makes the claim that Nas' signing with Jay-Z inspired him to stop beefing with rappers. It would seem that he's had a change of heart on that last subject since recording this track, though.
Hope
:
This is an acapella track, with a loop of Chrisette Michele singing about hip hop coming in towards the end in place of a beat. Its rare that an acapella track works out -- the only other time that comes to mind is the acapella on Mobb Deep's
Infamous
-- but Nas is one of the few lyricists in the game right now who's words are worth listening to even without a beat under it. Not surprisingly, there are already
several remixes of the song
.
Shine On (Blood Diamonds Soundtrack)
and
The N...
:
These are two bonus tracks that did not appear on my promotional copy. I listened to both tracks about a month ago, but they're not fresh enough in my mind to be able to review them. From what I remember, they were fairly good.
If hip hop truly is dying like Nas says, this album probably won't be able to save it single handedly, but its certainly a big step toward finding the cure. Though there are a couple of songs that seem out of place on this album, particularly
Who Killed It
, which will leave you scratching your head in bewilderment, this is arguably the most consistent body of work Nas has released in almost a decade. If there is one real complaint I have about this album, its the fact that Premier did not produce any of the beats on here, despite Nas' plans to release an entire album with Premier prior to his signing with Def Jam. Other than that, though, there's not a whole lot to find fault with. I'm not quite ready to proclaim it the best album of the year, but its certainly in the top five. If you're looking for an album that has some dope beats and lyrics with some meaning behind them, you can't go wrong with
Hip Hop Is Dead
.