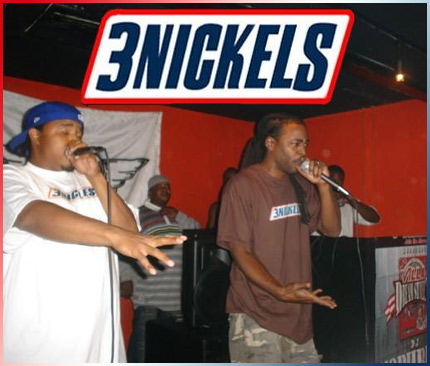 As a followup to our feature on the
Yadibox.com mixtape
- which you've already placed your order for, right? - I shot off a few questions to one of the featured emcees, Jerm (pictured above on the right). Going by the stage name of Mutation of Greatness (M.O.G.), he's one half of the group Triple Nickels alongside fellow emcee D.A.M.E. and one third of the Rowdee Black Giants. Confused? No worries, it will all be explained in the course of the interview. All you really need to know is that he's been putting out some truly original sounding hip hop with his two groups, and, having already gotten the attention of MSN and garageband, he's poised to make some big moves as an independent artist.
To give you a taste of what to expect from M.O.G. before we get to the actual interview, here's a track that he's been working on with his Triple Nickels partner DAME, off of their upcoming album "Smoke Jumpers." I don't believe this is the final, mastered version of the track, but it's hard to imagine there's much more room for improvement on this one:
Triple Nickels - Love Fest
There's a second track you can listen to and download at the end of the interview. Here we go:
For the people reading this who have never heard of Rowdee Black Giants, what can you tell us about the group?
Rowdee Black Giants are a hip hop band cut from the same cloth as ensembles such as
Sweetback
and
The Brand New Heavies
to instrumental funk, diatribe and
Fathead
. Think Blues Traveler meets Public Enemy. RBGeez released two cd's, "
That Philadelphia Sound
" in 2002 and "The Vampire Huntress Soundtrack" [
named after L.A. Banks' Vampire Huntress
] in 2004. The Triple Nickels are the emcees within the Rowdee Black Giants. Triple Nickels (Trey Fives) are the Mutation Of Greatness (MOG), Da Average Man Evolvin' (DAME) and Hannibal C. Lunatic. Hope it's not too confusing, but the Triple Nickels have been working on completing it's debut release on Beat Garden Entertainment/Yadibox Entertainment titled "Smoke Jumpers".
At one point Rowdee Black Giants had their music featured on MSN Music. How did you get hooked up with them? As an independent artist working with a large corporation like MSN, did you have to make any compromises to get your music on the site? [For full disclosure's sake: I was one of the developers for the MSN Music site, though I never spoke with anyone from Beat Garden until a couple of years after I left that job.]
The opportunity with MSN Music came from our affiliation with
garageband.com
. We were having a great deal of success on the hip hop charts, 2 songs in the top 20 and 5 in the top 50 at the time. We received great reviews from fans and MSN approached us to be included in their initial launch of the digitally distributed
Garageband Records/MSN Music
. We didn't have to make any compromises. They set us up really well where all we needed to do was finance our own promotions/marketing, but at the time we were having issues with our band's management and really couldn't capitalize on the opportunity. But Garageband Records/MSN Music played a major role in showcasing the Rowdee Black Giants (RBGeez) as their initial hip hop artist to be featured at the launch. It was a good look for us because it set up the foundation for what we built into yadibox.com.
A lot of independent artists, when they reach a certain level of success, the question of "selling out" becomes an issue. How do you feel about that - is it possible for an indie artist to make money off of the music and still stay true to their roots?
It depends on how you define selling out. In general, we believe it's possible for indie artists to make money off the music and still stay true...assuming staying true is what got you there in the first place...it wouldn't make much sense to deviate from the blueprint. It matures with time, but essentially if you stay grounded by your roots...you stay true.
If you could work with one major label artist/group from Philly, who would it be?
It's got to be
Black Thought
or
Peedi Crack
. Two monsters of the genre for sure.
What's the future for Rowdee Black Giants and Triple Nickels? What projects are in the works?
We are currently looking for musicians (bass, guitar) to continue work on the next RBGeez album to be titled "The Relief Effort." At the moment we are completing work on our Triple Nickels project, "Smoke Jumpers," to be released fall 2008. We have other projects near completion as well: King Bedrock Presents Rhythm-N-Handcuffs which is a collabo of Bigg Sexx and Rock E. Fingers (alias
Zilla Rocca
of Clean Guns) for summer 2008, Triple Nickels the 555th mixtape for summer 2008 and solo projects from each member of Triple Nickels. Then it's back to the stage to rock out with the RBGeez. Stay tuned!
For those that don't know, can you explain what yadibox.com is all about?
With over 4 million hits, yadibox.com is a revolution in the making. It's worldwide entertainment that offers digital programming (audio, video) featuring local artists: hip hop, spoken word, comedians, dj's, producers, actors/actresses, models, radio personalities, jazz, blues, r & b, caribe, urban/comtemporary gospel via the internet. We have recently partnered with Beat Garden Entertainment and
Too Tuff Productions
/Danger Zone Nusic to expand and grow each of our brands. Yadibox features weekly podcasts of
Zilla Rocca Radio
, DJ Casper radio and DJ Nas-T of
t.o.g.i radio
. [
Anyone looking to submit their own material to the site should head on over to yadibox for the contact information
]
With Yadibox, you work with local, unsigned artists. What's the vibe that you get from most of the unsigned rappers; do you find that their primary motivation is the love of the music, or do you find that most unsigned acts are putting music out with an eye toward getting a record deal?
In most instances we're seeing artists that do it for the love of hip hop and creating music...but still each of them wants to see that hard work pay off in some form. There are a lot of FedEX/Kinkos rappers out there too. They do whatever they have to do to get signed.
A topic that comes up a lot on my site is the rise of sites like myspace and youtube (and on a more local level, Yadibox), which have given just about everyone with a computer, a mic and a copy of fruityloop the ability to put out a rap song. What are your thoughts on this -- do you think it leads to an oversaturation of hip hop, or does it force everyone to step up their game?
Giving people a voice and means to share that voice is a good thing. If the music is dope it should be heard. The problem is most of the dopest sh*t doesn't get heard, while it seems like all of the whackest sh*t is heard. Artists should always be working to step their game up.
Do you think the next great MC will come from the Internet, or is the best hip hop always going to come from the "streets"?
Both. There are a lot of street cats online nowadays. Music distribution is going digital and the streets will not be left behind.
And there you have it. Big shoutout to Jerm for taking the time out to do the interview. As promised, here's the second track featuring M.O.G. It's a totally different vibe from the first track, but still dope nonetheless:
Rowdee Black Giants - Turn You Out
You can hear even more from M.O.G. and Triple Nickels on the
Yadibox.com mixtape
(which we
previewed two days ago
). And if you didn't catch them in the interview, here are the links you need to check out:
Yadibox
Triple Nickels on MySpace
Triple Nickels on garageband.com
M.O.G. on MySpace
Rowdee Black Giants on MySpace