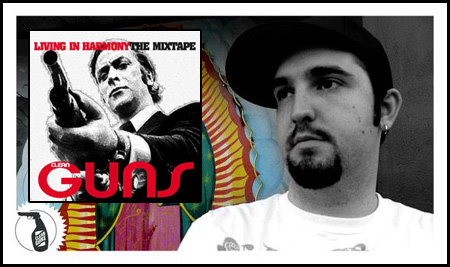 Towards the end of last year, some dude calling himself the Rap Jack Bauer started showing up in the comments section, dropping some knowledge among the spam and porn links that the site had temporarily been overwhelmed with. He hooked me up with a copy of his group Clean Guns' debut album,
Sometimes There Is Trouble
, and after giving it a listen not expecting much, I was surprised by how good it was (for a recap of the album,
check out the previous post on Clean Guns
). Clean Guns recently released a new mixtape and as I said to him after hearing it, this is like the underground equivalent of the Clipse's
We Got It For Cheap Vol. 2
. Featuring Clean Guns and the rest of their Beat Garden Entertainment crew,
Living In Harmony
is the rare mixtape that manages to sound original over jacked beats.
RJB a.k.a. Zilla Rocca recently took some time out to do an interview, discussing the process of rhyming over other rappers' beats, the state of Philly hip hop, the equipment he uses as a producer and MC, and a whole lot more. He's got some interesting things to say, check it out:
Let's start out with the mixtape. The beat selection is crazy, covering everything from the Fugees to Obie Trice to MF Doom. What was the criteria for selecting the beats?
The beats we picked were definitely from a conscious decision to let people hear us on tracks that were vastly different from the album [
Sometimes There Is Trouble
]. The album was built to showcase our song writing and concepts, the mixtape was built for instant gratification, something to knock in your car while MC's are just killing it. Some beats we picked ("The Score," "Dead Presidents") are classics that never get old and we've loved our whole lives. Others ("The Briefing" is "Piano Song" by DJ Vadim) were joints I at least never heard cats rhyme on for mixtapes. We also tried to stick to beats we sound good on--hardcore, mostly East coast head nodding bangers. And I think we accomplished that to some degree.
Do you find it harder to rap over beats that another MC has already used? Do you feel any pressure to outdo the original rapper? Do you have to make a conscious effort not to use the same flow/style as the original rapper?
Sometimes it's harder to get on beats that legendary MC's have used--we didn't use any Biggie beats because what's the point? You can't really top Big ever. But other times, like on the "Kick, Push" beat by Lupe, we wanted to write a totally different song to a beat everyone ties to one concept (i.e. writing about my friend Dave whose a soldier in Iraq compared to Lupe's skateboard talk). And yes, you SHOULD feel some pressure to outdo the original rapper because if you come off wack, cats will just listen to the original song and clown you for attempting to get on a Jay-Z beat. The only time I made a conscious decision to use the same flow as the original was on "Clap Clap" which was "Wamp Wamp" by the Clipse. I fucking LOVE the original and wanted to jack Pusha's delivery while rapping about everything BUT cocaine. Otherwise, it would just be a cover song.
Let everybody know why they should buy this mixtape.
We're not much of salesmen for our shit--it sounds cliched and boring but we really let the product speak for itself. 26 tracks, mixed and mastered with professional packaging, dope artwork, ridiculous rhymes and beats that will break your neck. $6 on CD Baby.com. You can't beat that shit. We put a lot of time into it and recorded tons of material that just didn't make it due to quality control. I'm personally sick of mixtapes where there's 42 tracks and about 10 get replay value. We'd rather give the absolute best 20-30 and trash the rest. Otherwise, we're wasting the listener's time.
What's your long-term vision for Beat Garden Entertainment? Are you looking to turn it into a label or is it more of a "movement"? What I'm essentially asking here is, your ultimate goal for Beat Garden is to be something along the lines of Roc-A-Fella/Duck Down (pressing records under a Beat Garden label) or more like Dipset/Wu-Tang (one crew that might have each of its artists signed to different labels)?
That's a really good question. We started this company in '06 trying NOT to be a record label, but the more dope material we make and the more accomplished, serious artists we align ourselves with, it's harder to stick to that statement. We just added the Rowdee Black Giants (well-known and respected hip hop live band from Philly) to our team, and they're doing a project called Triple Nickels that is insane. They're vets with excellent content and substance--grown man talk that is highly entertaining and vicious.
We still have
So-say
, who I don't think people realize is one of the nicest MC's period in the Philly/South Jersey area. His album's next up, and it's called "Primus Inter Pares (First Among Equals)." He's on "Say Goodnight" and absolutely destroys his 6 appearances on the mixtape.
We have Professor Anarchy and ASK? who sound completely different from everyone I just listed, on some indie-Def Jux-Sage Francis shit and can hang with anybody on the mic.
And all of these artists want to put the Beat Garden logo on their releases, so I guess we'll be a label of some sort from here on out. We just make a deliberate effort to do projects and find music and artists that don't sound the same. That's why our company tag line is "Many styles. Many styles." When you said names like No Limit or Murder Inc, you knew what you were getting, for better or worse, from the whole camp as far as songs, sounds, concepts, artwork, etc. We don't want to get caught up in that--we got something that's dope for every hip hop fan.
I know you've got an upcoming project working with producers that aren't associated with Beat Garden. Can you give some more details on that? If there are any producers out there that want to get involved, what's the best way to submit stuff to you?
We decided to do something called The Beat Garden Producer Series. Thanks to the internet, everyone has access to really great music from cats all over the world. We would get cats adding us on MySpace that had some heat, so we'd ask for a beat CD. We'd get it, knock out 5-6 songs in a week and send it back for their feedback. We figured it's a great way to get our name out there while helping promote dope producers all over the world. The first joint we did is with this cat BNUT aka
World Domination Headquarters
. It's in the final stages of mixing and mastering, as well as artwork, as we speak. We're gonna put them out free as online downloads (i.e. Kweli and Madlib's free EP) every other month or so. This way, people get to hear Beat Garden artists on all kinds of tracks and the producers get to build up their resumes. And it's all free.
The next producers we're working with is our in house producer Alex Wood (formerly Konvict Muzik), this cat Archa (pronounced Ar-ka) from Philly who's on some Dilla/MF Doom/Pete Rock shit, Stupid Genius from Miami who WILL be one of the biggest producers in the game (remember that name--he's a BEAST) and Mydus, who you actually spotlighted a month or so ago [
right here
].
If any DOPE producers think this is a good look for them, hit us up
on MySpace
or e-mail me directly: CleanGunsInfo AT yahoo.com If you just started making beats 2 months ago, it's probably not gonna work out. But if you're a serious producer who wants to get your name out there, then let's go!
Can you describe the setup you use when you're producing beats? Do you do everything through software, or do you use hardware (samplers, turntables, etc)? Do you use vinyl at all? Any recommendations for kids out there who are looking to make their first beat?
I personally just use Reason 3.0 for beats (and sample everything) and Logic to record and mix. I have a shitty Casio keyboard as my midi controller. I use KRK speakers and a Rode NTK-1 microphone for vocals. I have some really nice Sennheiser headphones to get a true representation of the sounds.
Some cats use MPC's or Fruity Loops or Acid or ASR's--whatever tool best suits you, run with it. I've been using Reason since '03, so I feel really comfortable with it. I can make a track in about 20 minutes. I don't use any vinyl whatsoever-- all of my samples are off CD or MP3. With technology really leveling the playing field in the last 10 years, everyone now can afford and use the same tools as Dr. Dre, Hi-Tek, Kanye, etc. It's now about what you can do with those same tools. You can give me a sample that 50 other producers have used and I'll flip it my own way, using Reason and Logic, compared to someone that would use vinyl and an MPC. There's no right or wrong way, regardless of what the "purists" say--it's about making great music. Does your beat grab me? Does it knock in the car? Does it make me want to write a song? Then I don't really care how you made it. I just read an article where El-P said he just bought a Triton and his goal is to use to make it sound like HIS style, not Dre or the Neptunes. That's key--whatever you use, make your own sound. It'll be harder to get accepted at first, but people will eventually catch on. Look at Dilla.
I know every rapper has their own way of writing rhymes -- some rappers keep the rhymes all in their head, some rappers can't write without a blunt, etc. What's your process for writing a verse? Do you and Knowledge Don [the other half of Clean Guns] work together on it, or do you write your rhymes separately?
Myself and Knowledge usually write to a beat specifically. He's more of a writer than I am--he probably right now has about 80 bars memorized, sitting in his head waiting to unload. He did that for a lot of the mixtape--it was just verses he had to get out of his head to fill it up with new verses (that's definitely the case of "Regarded as Great (The Setup)" [one of the tracks on the mixtape]).
I rarely write without a specific beat in mind. We mostly write separately but we send verses back and forth via email or over the phone so we're both on the same page when it comes to a song. We've been doing it for so long together and know each other's styles so well that we don't have to look over each other's shoulder at any point--we know it's gonna be hot. And if it's not, we respect each other enough to say "Hey, fix this" or "That's not hitting."
Knowledge usually gets concepts first before he gets a beat ("Ode to the Dead" from our allbum is an example of this). I'm more random and chaotic--I'll just let the pen go and maybe after 10-12 bars, I find a concept or story that later becomes the whole song and just scrap the beginning ("The Story of Betty Boom (RUN!!)" off the mixtape is an example).
Philly sports fans have earned a pretty bad reputation for being "brutal lunatics" (to quote Jere Longman's recent book on the Eagles). Does any of that carry over into the hip hop fans? Or to put it another way -- do you find that Philly hip hop heads are more passionate and/or critical than fans from other regions?
Philly is an interesting town. We're used to losing, having our hearts broken, falling short, feeling inferior to bigger markets, bad management, etc. It's pretty depressing when you think about it! We all KNOW our team is gonna blow but they string us along and we still to believe and have hope, then they fail like the '97 Flyers, the '01 Sixers, the '04 Eagles and the Phillies of the last 3-4 years.
How that translates to the hip hop scene...I'm not sure. I do know that there's ALOT of talent here, from the mixtape/battle DVD heads to the indie cats to the boom-bap/purist set. From Joey Jihad to Reed Dollaz to Reef the Lost Cauze to 2ew Gunn Ciz to Gillie the Kid to The Flight Brothers....there's just a shitload of dope MC's for all kinds of crowds. There isn't much unity though--it's kind of like a boys club in all of these sections. For some reason, the mixtape/battle DVD dudes don't do songs or albums or shows with the true school heads and vice versa. It's very territorial and segregated. I'm not blaming anybody or calling people out but it seems like no one wants to unite for a greater cause. That's where we come in.
Rowdee Black Giants
didn't need Clean Guns or Beat Garden for anything. They have a following since '99, they've gotten press, played all over the place, sold merch and started
Yadibox.com
, which now has over 4 million hits! But it only makes them better and makes us better by collaborating and joining up with people who are just as talented, hungry, focused, dope and as passionate as themselves in the same city. Imagine if G-Unit and DipSet did an album together--New York would win! The East Coast would be killing it again. This isn't specific just to Philly either, it's just an East Coast thing in general--crabs in a barrel. "If you get on before me, f*ck you!" Whereas Down South, cats are happy to support each other because they realize it'll make it that much easier for them to get on.
We reach out to anybody who's dope and on their business, like the Producer Series. Most of the time, the calls go unanswered and that's typical anywhere. But we'll mess with ANYBODY who we respect and is making good music, whether they get on before us or get a deal before us or whatever. Our time will come, so why hate on the next man who's grinding? If everyone in Philly who I named earlier got a deal tomorrow and became huge, it would only be a matter of time before we did, like the Seattle grunge scene of the early 90s and the NYC rock scene of the early 00's.
When you first started out, did you have any problems being taken seriously as "white rappers"? Do you have that problem at all these days?
We still don't get taken seriously by people who haven't seen us in person. Our manager Big O, as well as M.O.G. of RBGeez/Triple Nickels, play Clean Guns to their friends, and they refused to believe that we are white! They had to go to our MySpace page or see the album artwork until they believe for real! I guess most people, outside of Eminem, aren't exposed to dope white MC's. I can name about 10 off the top who are sick as hell, but they aren't mainstream. Plus, this isn't a lyrical time for the industry, so hearing 2 white MC's who put a premium on lyrics is a rarity to most heads I assume. We don't ever talk about it in our rhymes because we've been doing this for 10 years and have already won over people, so it's not a big deal. We expect people to think we'll be wack, but again the music speaks for itself.
A few months ago, you were looking into the possibility of getting Sean Price or R.A. the Rugged Man to drop a verse for a Clean Guns track. Has anything happened with that? If there were no budget considerations involved, who's the one MC you're not affiliated with that you'd want to get a guest verse from?
,br /> We just talked about getting Brother Ali on the next official Clean Guns album. He's probably one of the top 5 guys now in the game, and we've been HUGE fans since "Shadows on the Sun." Plus, his style would work well with ours. Same as RA and Sean Price. We hollered at Termanology about getting a 16, but decided to put that money towards getting our album on college radio, where right now we're kicking ASS in Iowa and Wisconsin (amongst other places)!
If there was no budget constraints, we'd get Aesop Rock, Kool G Rap, Saigon, Joe Budden, Ghostface, Nas, Lupe Fiasco, Styles P, Reef the Lost Cauze...tons of others, but they just jump out immediately.
What is the immediate future for Beat Garden -- any details on upcoming projects, albums, mixtapes, club appearances?
Oh man--tons of stuff coming up. The next mixtape we're working on right now, it's about 60% done, is the Yadibox.com mixtape. It's gonna feature Clean Guns, Triple Nickels, So-Say, ASK?, Prof. Anarchy, Black Russian, Virus (not Viro the Virus) and 2ew Gunn Ciz. We're looking to get more heads on it. That'll be out in summer.
So-Say's album "Primus Inter Pares (First Among Equals)" is up next. He's finishing that and a mixtape of original beats right now. That'll be out early summer.
We have the Beat Garden Producer Series #1 with World Domination Headquarters dropping online as a free 6 song download hopefully by the end of this month.
We have another online download EP coming out in summer. It's called "Rhythm and Handcuffs" by King Bedrock. King Bedrock is myself and M.O.G.--it's a concept album on some Kool Keith/Smut Peddlers shit. I'm producing that under the persona of Mr. Rock E. Fingers and M.O.G. takes on his persona of Bigg Sexx on the mic and runs wild! Strictly for mature audiences only!?!
We have the debut project from
Prof. Anarchy
and
ASK?
called Debtor's Prism. That should also be out in summertime on iTunes, Napster and CD Baby. It's like old Del the Funkee Homosapien meets Def Jux--killer.
And Triple Nickels is getting their untitled debut album mixed and mastered as we speak. I haven't heard it yet and I assume it should be done in the next few months.
For Clean Guns, we're gonna be dropping tons of shit this year, from Producer Series to mixtapes to free downloads to shows to radio. We might release the "Say Goodnight EP" in the fall--it'll be exclusively on iTunes and Napster with remixes of "Good Clean Fun" and "Say Goodnight 2" with So-Say, plus some new bangers we've just completed.
Nico the Beast is working on a solo album of sorts with beats from me and Alex Wood. I'm just producing everybody and doing solo songs here and there. I feel like The RZA in a way in that I'd rather have a hand in 3-5 projects then just do a solo Zilla Rocca album. Who knows. But stay tuned in '07 for Beat Garden--you're gonna see and hear alot from us. I promise. We just KILLED our mixtape release party last night @ The Fire--peace to everyone who came out. Our next show is Friday May 11th @ The Medusa Lougne in Philly. It's The Friday Fix--free hip hop every second Friday. Shoutouts to Dom Pinelli from Public Axis!
Thanks to 33jones.com again for all the support. Thanks to my other blog heads--
Passion of the Weiss
,
Straight Bangin
and
Nerd Litter
. Peace to everyone in Philly grinding for this hip hop shit. Peace to all the college radio stations that just added Clean Guns to their playlists. Peace to our good friends in the band Bebek--another top notch Philly band about to take over the world. Peace to my man Braille--I'm about to hopefully work with him on his next album. And thank you to everyone who's supported us, whether by coming to a show or buying a mixtape or burning a copy of our album for someone else. It's all love.
Big thanks to Zilla for doing the interview. Now on to the audio portion -- the whole mixtape is dope, but here are two that stand out:
Clap Clap (What They Do) featuring ASK?
Dead Presidents
To pick up a copy of the Clean Guns mixtape,
Living In Harmony
,
head on over to cdbaby.com
. The tape's six bucks, its worth it.
For even more music,
stop by Beat Garden's MySpace page
. You can find links over there to all of their artists.