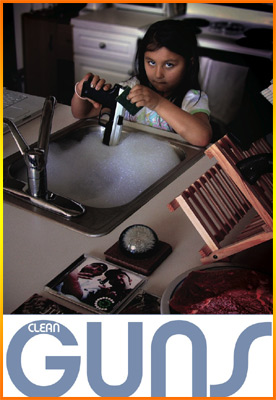 Since less than 1% of the people visiting this site take the time to leave comments (and I love all 16 of you for that, don't ever doubt that), I'm always grateful whenever someone new comes through with something to say. So when the
Rap Jack Bauer
, who's been dropping some knowledge recently in the comments section, hooked me up with a cd from his group
Clean Guns
(comprised of RJB a.k.a. Zilla and Nico a.k.a. Knowledge Don), I probably would have done a post for him just on the strength of his contributions here. The fact that the album is really good makes this a lot easier, though.
To give you a feel for what the group sounds like, I'm putting up their track
Say Goodnight
featuring Sosay. Built around a sample from the Beastie Boy's
Alive
, this is arguably the best song off of the album:
Clean Guns featuring Sosay -- Say Goodnight
If you want to read a brief review of the album, check out
Passion Of The Weiss' take on Sometimes There Is Trouble
. For this post, though, I thought it would be more interesting to hear what Zilla himself had to say. I ain't Barbara Walters, so this wasn't the most organized of interviews. I'll just hit you with a few of the highlights:
On the subject of the album cover (pictured above)
: "The girl on the cover is Nico aka Knowledge Don's sister-in-law's daughter. We shot that in January '05. I think she was 6 years old at the time. We wanted to have an album cover that stopped people dead in their tracks and was open to interpretation. . .And is the gun real? Who knows....no one got hurt though."
Discussing the MCs who influenced Clean Guns
: "Knowledge really got me into rhyming when Canibus and DMX were blowing up on mixtapes. After we heard 'Beasts From the East' and the other mixtape tracks Canibus did with DJ Clue and Tony Touch, we lost our minds and started getting it in! Before that, I heard 'Ironman' by Ghostface, and I realized I wanted to contribute to hip hop in some way. That record totally ripped my brain apart and its still my favorite record of all time to this day. Knowledge is more into songs that give him goosebumps and hit him in the heart moreso than individual albums. And I know for a fact that the song
Never Again
by Remedy (remember that guy? one of the 12,000 Wu affiliates from the late 90s) off of
The Swarm
album heavily influenced Knowledge's approach to the pen and pad. Collectively though, we went apeshit over Aesop Rock when he dropped
Float
. At that point, we were like 'Ok, we REALLY need to get serious about MCing--we can't just spit the same ol' same ol.'"
Zilla's take on the best MCs in Philly
: "Knowledge/Nico and I are huge fans of Black Thought -- he actually grew up about 10 blocks from me. He's probably the most well-rounded MC in Philly -- freestyles, flows, breath control, concepts, live performances, consistency. Ab-Liva, formerly of Major Figgas now with the Re-Up Gang, is a monster! Very underrated. Peedi Crakk is dope--great energy and charisma. Reef the Lost Cauze is thorough, Chief Kamachi is a beast...there's a lot of dudes here with talent but none really stand out as 'the best.' Roscoe P. Coldchain is very unique--he just got home from jail. Beans is nice, but EVERY kid who came out after Beans bit him and Freeway like you wouldn't believe...it was ridiculous! And some of the DVD/battle dudes that are known on the streets are nice--Reignman, Reed Dollaz, Sandman, Hollow Man, Ness from Da Band. Those guys are the epitome of street hop in Philly and they will bring it to anybody."
Why you should go out and support Clean Guns
: "Clean Guns and Beat Garden Entertainment are in this for the long run. We want people to AT LEAST listen to
Say Goodnight
featuring Sosay and decide from there if they want to check out the rest of the album
Sometimes There is Trouble
. If you like hard core hip hop with a message, you'll LOVE Clean Guns...I promise you. We've been doing this shit for years and are ready to make you love hip hop again."
Upcoming Projects
: "We're about to drop our first mixtape 'Living in Harmony' in January--28 tracks of Clean Guns and fellow Beat Gardeners Sosay, ASK? & Professor Anarchy really spitting some mind-altering shit. . .Our next show is going to be on New Year's Eve at The Fire on 4th and Girard. We're going to be doing a song with our good friends in the Philly band Bebek, a trip hop/reggae/jazz band we've gotten cool with in the past 2 years. . .After that show, we're booking a hall in South Philly hopefully for February for an all ages show where we'll shoot the video for 'Say Goodnight.'"
Shoutouts
: "I want to shout out 33jones for exposing us to his readers, Passion of the Weiss for doing the same (Thank you!), Yo! Football Radio with Griff & Mr. Lif, Rhyme City Records in Chicago for showing us love, Bebek, Yadibox.net, Rowdee Black Giants (The Roots but with more rock--from PHILLY!), our friends S.U.P. & Black Russian (hot ass unsigned Philly MC's), our friend David Carson defending our country in Iraq as we speak and everyone associated, linked to, and supportive of BEAT GARDEN ENTERTAINMENT. We love you and we do this for you! Beat Garden Entertainment. 'MANY STYLES. MANY STYLES.'"
Zilla's work was also selected by spinemagazine as one of the top three remixes of Nas'
Hope
.
Click here to download Hope (Zilla Rocca Remix)
(direct link to mp3)
To hear more songs from Clean Guns,
hit up their MySpace page
. If you like what you hear, head on over to
Rapmullet
and vote for them as MCs of the month. And be sure to go
cop their album Sometimes There Is Trouble
.
As a supplement to the post, here are videos from a few of the rappers Zilla mentioned:
Clipse, Ab-Liva and Roscoe P. Coldchain -- Hot Damn
Freeway featuring Peedi Crakk -- Flipside
Ghostface -- Daytona 500
Chief Kamachi -- The Edge
Reef The Lost Cauze -- Commander In Chief