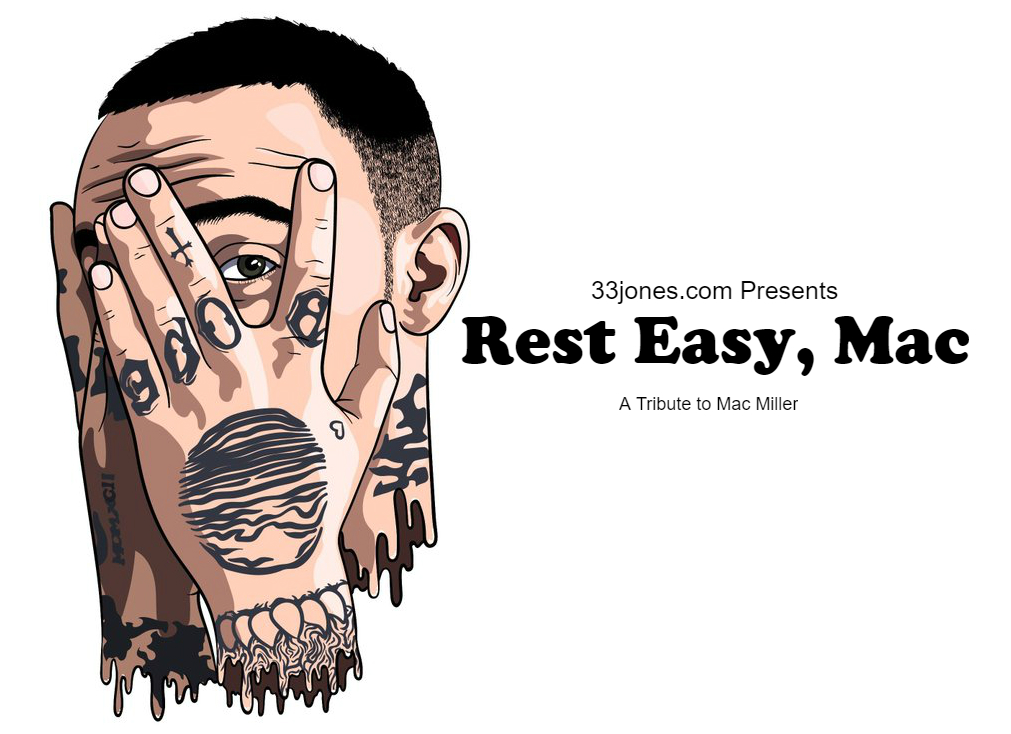 Cover Art by u/frawgsy
The first time I had ever heard of Mac Miller was almost ten years ago, when
Alex Ludovico
dropped a comment on a random post on here about a kid out east that was becoming the next big thing within the post-Myspace rap scene. At that time Mac Miller was putting out the high school equivalent of
Frat Rap
that was entirely unrelatable to someone a generation or two older than him, but by the time he had worked his way through
an MTV series
, tuned up
his skills as a producer
, and dropped
GO:OD AM
he had become one of my favorite artists.
I'll spare you the lengthy LiveJournal session explaining why his death affected me far more than any other celebrity passing that has occurred during my adulthood. The short version is that Mac reminded me quite a bit of a friend of mine who lost his own battle to drugs at a similar age and, to a lesser extent, he and his manager Q's ability to create a blueprint for indie artist success was an inspiration for what I was trying to accomplish with a handful of artists that I had been working with at the time.
As a way of celebrating his legacy, I put together a fairly lengthy mix of songs that feature highlights from the various stages of his career. If you can overlook some moments of sloppy mixing, the song selection should offer a pretty good payoff. And shoutout to Frawgsy, who let me use his artwork for the cover. Check out some more of his work
over on Reddit
.
Rest Easy, Mac: A Tribute to Mac Miller Presented by 33jones.com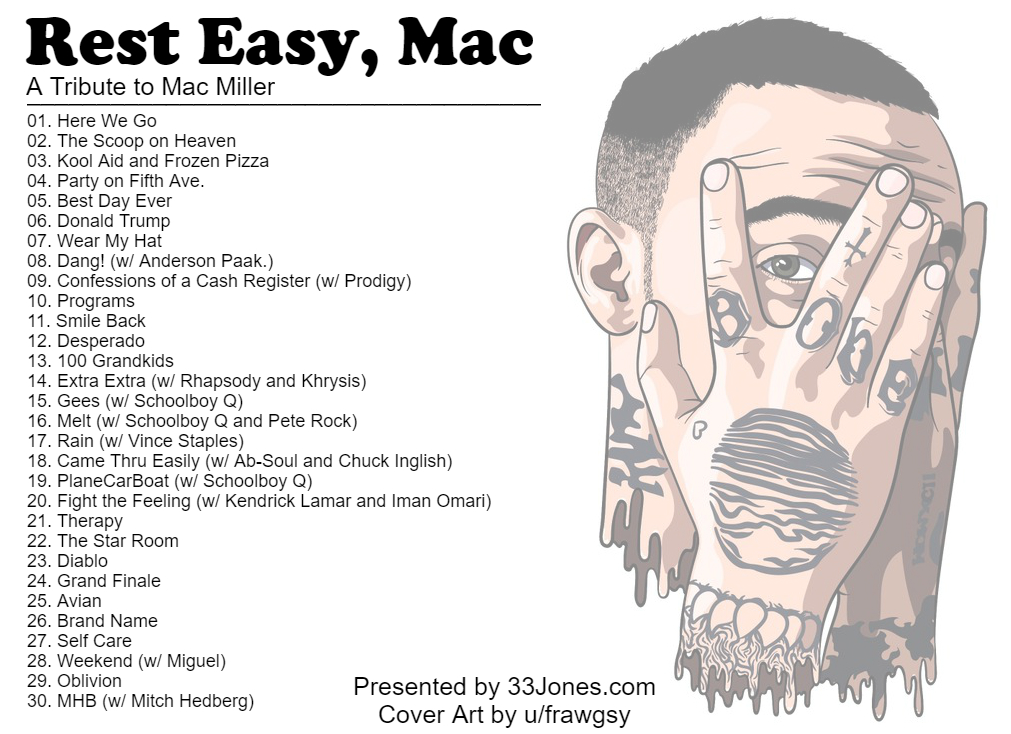 Full Tracklist:
01. Here We Go
02. The Scoop on Heaven
03. Kool Aid and Frozen Pizza
04. Party on Fifth Ave.
05. Best Day Ever
06. Donald Trump
07. Wear My Hat
08. Dang! (w/ Anderson Paak.)
09. Confessions of a Cash Register (w/ Prodigy)
10. Programs
11. Smile Back
12. Desperado
13. 100 Grandkids
14. Extra Extra (w/ Rhapsody and Khrysis)
15. Gees (w/ Schoolboy Q)
16. Melt (w/ Schoolboy Q and Pete Rock)
17. Rain (w/ Vince Staples)
18. Came Thru Easily (w/ Ab-Soul and Chuck Inglish)
19. PlaneCarBoat (w/ Schoolboy Q)
20. Fight the Feeling (w/ Kendrick Lamar and Iman Omari)
21. Therapy
22. The Star Room
23. Diablo
24. Grand Finale
25. Avian
26. Brand Name
27. Self Care
28. Weekend (w/ Miguel)
29. Oblivion
30. MHB (w/ Mitch Hedberg)