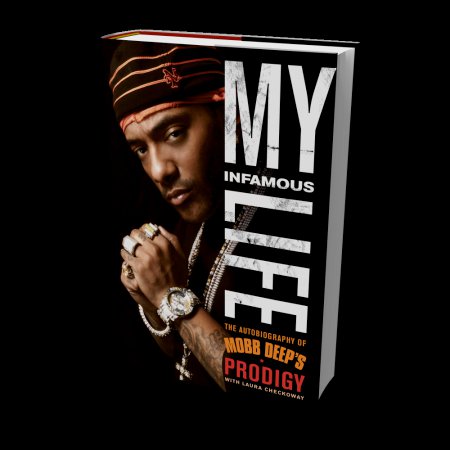 Earlier today I received a complaint to the effect that it's taken me so long to put up this third installment in our ongoing book review of Prodigy's autobiography
My Infamous Life
(
part 1
,
part 2
) that people could've actually read the book on their own by now. My response to that is you
should
read this book anyway. I'm cherry picking the parts that I find the most interesting, but there's a whole lot left in the details. For instance, I could pass along Prodigy's advice that, if you need to hide your unlicensed firearm while driving home from the club, the last place the police are likely to look for it is under the hood of your car. However, if you hadn't read the book you wouldn't also know that the likelihood of that hiding spot being discovered by the jakes increases significantly when you decide to drive around the suburbs of New Jersey at 4AM in a stolen, tinted out S.U.V. with Georgia license plates, a fake VIN, and a sack of weed in the passenger's seat.
Let's get on to the highlights:
- While driving down the Long Island Expressway at 3:33AM one morning, Prodigy saw a "giant bright-green fireball about the size of a falling planet" fall from the sky. Prodigy took it as a sign from "the Creator" that Dr. York's teachings
about humans originating from an experiment on Mars
were true.
- During the recording of H.N.I.C., Prodigy changed his diet. Among other things, he stopped using fluoride ("fluoride is poison"), cut out canned foods due to concerns over Alzheimer's, and gave up weed. He also began eating fruits on rare occasions, because "you're only supposed to eat it when you have a cold; if you eat it every day, the acid will no longer have the same effect." He claims this change in diet eliminated the pain that he felt from his sickle-cell anemia.
- After a night of drinking cosmos with Mary J Blige, Prodigy, still dating his long term girlfriend Kiki, turned down an opportunity to hook up with her.
- He spent twenty thousand dollars opening up a store for his Infamous clothing line, but shut it down within a month.
- Before signing with Prodigy's record label, the group Bars'N'Hooks were under contract with Lynchman Entertainment. The owners of Lynchman claimed they were responsible for Tupac's robbery. More on that in a minute.
- Havoc was strongly against the signing of Bars'N'Hooks, and openly expressed his dislike of member Delorean. Delorean took great offense to the fact that Havoc did not like him, a point that Prodigy makes several times. Consider this a bit of foreshadowing for later chapters that we'll get to in our next installment.
- Despite rumors of ghostwriting to the contrary, Lil' Kim wrote her own verse for the
Quiet Storm remix
.
- Limp Bizkit kept a dentist on tour with them, and the dentist passed out balloons filled with nitrous oxide after each show. Prodigy and Stobo spent one night getting high off of the balloons with Fred Durst.
- Nas' album
QB's Finest
was originally intended to be a Queensboro album featuring various rappers from Queens like LL Cool J and Run DMC. When Nas found out that Prodigy had gathered a bunch of unsigned rappers from Queensbridge for his own Murda Muzik soundtrack, he switched up the concept for the album and paid those rappers to perform on his album before doing Murda Muzik.
- According to Prodigy, the beef between Jay and Nas began all the way back in 1994 when Jay was turned down after personally calling Nas on the phone to ask him to appear in the video for
Dead Presidents
.
- Prodigy felt that Jay's
Where I'm From
contained a Mobb Deep diss. Specifically, the line "I'm from the place here you and ya mans hung out in every verse in ya rhymes," was a response to Mobb's
Trife Life
which had the line, "We jetted through Marcy 'cause D's ain't baggin' me." The logic is a little convoluted, but P makes the case that, up to that point, he was "the only person in the history of rap music who talked about Marcy projects in a verse" so the line had to be a reference to him.
- Further on that point, it's worth noting that in the book Prodigy misquotes Jay's verse as, "you and ya
little
mans." Given that Prodigy and Havoc are both on the short side, that would've lent more credence to the claim that Jay was dissing them.
- Prodigy attended a sex orgy with Havoc, Big Noyd, Nas and L.E.S.
- P's manager Chris Lighty originally didn't want to release
Keep it Thoro
because it didn't have a hook.
- Mobb Deep's beef with Jay-Z really jumped off after Jay dropped
Money, Cash, Hoes
, a song that included the line, "New York been soft ever since Snoop came through and crushed the buildings." According to Prodigy, "Mobb Deep and Biggie were the only ones from New York active in [the beef with Death Row]." A fair point, though Jay did put out a diss aimed at Tupac,
D.O.A. Part 2
.
- After Nas threw a cup of vodka on Bars N Hooks member Delorean, Delorean asked Prodigy for his gun so that he could shoot Nas. Nas ended up apologizing to Delorean.
- Prodigy claims that, despite news stories claiming that he was robbed of three hundred thousand dollars worth of jewelry after shooting the video for
Y.B.E.
, it was just a setup to get the insurance payment.
- According to P, the beef between E Money Bags and Supreme (which we
wrote about a few years ago
) began after E gave Preme a down payment on a stolen car that Supreme was selling. When E decided he didn't want to buy the car, Preme refused to give him his money back. E Money then tracked Supreme down, shot at him and accidentally killed Preme's friend Black Jus instead.
- Black Jus could've lived if Supreme had taken him directly to the hospital, but instead Preme waited for someone else to drive him to the hospital because he didn't want to be arrested.
- Furthermore, E Money told Prodigy that Tupac was robbed at
Quad Studios
by Jamaican Jackson and Johnny Lynchman (the guy who signed Bars'N'Hooks to their original contract) because they were upset that Pac told reporters during his
rape trial
that he didn't know who Jackson and Lynchman were. (Jackson and Lynchman were codefendants at Pac's trial.)
- After Mobb Deep found out that Jay-Z and Jermaine Dupri were eating dinner at Puffy's restaurant
Justin's
, they blocked all of the exits with members of their crew. Jay met them at the door and said, "It ain't no beef. It's just music, man. No drama."
- During the confrontation at Justin's, Prodigy's girlfriend Kiki asked for his gun so that she could shoot Jay. Asking for Prodigy's gun to shoot someone is a recurring theme throughout the book.
Notable Quotables:
- On meeting Alchemist for the first time: "[I] initially thought Alchemist was a fed or some type of undercover agent. . .My initial thoughts were, 'The police think they're slick. They've got agents who know how to make beats now.'"
- On going to a "dress-up" party hosted by Steve Rifkind: "We looked real thugged out compared to the rest of the crowd. Then Ja Rule walked into the party in a loosely knitted sweater with his nipples practically popping out of the spaces in the knit. It looked real homosexual. I would pay good money to see the embarrassed look on his face again when he saw us standing there."
- Prodigy's girlfriend Kiki, on speaking to Cam'ron: "He sounds real cocky on the phone, like I'm supposed to be excited to speak to him."
- On finding out that Jay-Z was unhappy with Prodigy referring to him as a "bitch boy" in an online interview, "I knew most of the shooters and live wires from Jay-Z's hood. That's my advantage over him. That's how I knew he didn't live what he rapped."
- On his confrontation with Jay-Z at Justin's restaurant, "He's just a big ol' stuffed animal, a camel to be exact. I got serious beef with real gangsters. Jay's just a waste of my time."
Our next installment of the book review will be coming sometime next week. In the meantime, you really should
go pick up a copy
of
My Infamous Life
.