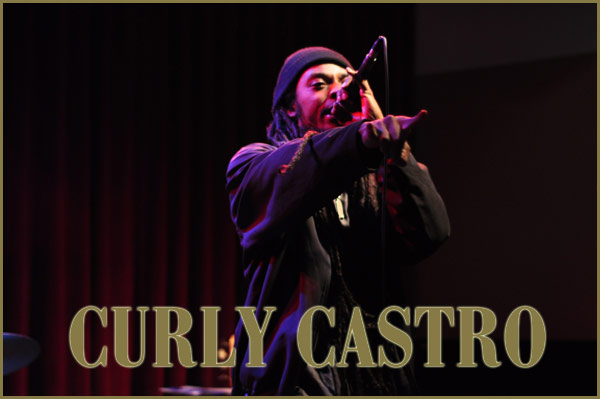 Photo by Liz "NonOfYourBiz" Padova
Yesterday's blizzard caused a momentary delay in our relentless "Curly Castro Week" coverage, but we're back on track just in time for tomorrow's release of the
Winston's Appeal
album. So to wrap things up, we've got the second part of our interview with Castro (you can read
part 1 here
), and at the end of it you can find a video for his new single "Da Ingredients" that he just put out this week - it's so dope, you might just want to go watch the video first to get in the right frame of my mind for the interview. Once the album drops, we'll update this post with a link to it (or just keep checking
RockTheDub
, which will be officially handling the release).
On to the conclusion of our interview with Curly Castro:
---
As I understand it you were a hype man before you were an actual emcee. What was it that inspired you to eventually take that leading role as an emcee? Was it a situation where you realized you were just as good as the people you were handling hype man duties for, or did you just need to build up the confidence?
I truly appreciate this question Fresh. I admired many a hypeman, realizing their true Importance.
Flavor Flav
,
Freaky Tah
,
Spliff Starr
,
Jarobi
,
Proof
, and one of the greatest 'play-your-position' Hypemen ever:
Memphis Bleek
. Early on in my Rap career I realized the importance of a competent Hypeman. I harnessed my 'Grenade w/out a Pin' kinetic style, and used it to Augment all those who I would back up on Stage. It enhances the performance, the performer, and the rapport with the crowd. It is a dying Art in Hip-Hop, but I carry the Hypeman torch proudly. I did however become a very accomplished writer and Performing Artist during this process of 'Hyping', and felt I could offer up Rebel styles of my own. So I stepped to the front and laid claim to my proper place in the Hip-Hop pantheon. The only co-piloting I do these days, is as part of the Live component of the 5 O'clock Shadowboxers. (plug, plug)
I was going through some of your older stuff with Bohemian Fifth and saw that there was an endorsement from Jazzy Jeff. Was he at all connected with the group?
Jeff offered up our second professional Co-sign (G-Dep was the first). Other than him being impressed by our Professionalism, and the look of our Debut album, he had no hand in our Artistic Rise through the Ranks.
[
I later followed up with Castro on the G-Dep reference and he added the following:
]
It was the same with G-Dep. These cats wanted to give us props, but not a helping hand. Not that we wanted Hand-Outs, but in 2001, when they were few and far between...It would've been nice.
A lot of the readers of this site were first exposed to your music through your collaborations with Zilla. How did you two originally hook up?
Zilla and I would run into each other at various Hip-Hop events in our Metropolis. We had a mutual respect for one another's craft, but were not familiar with the other's Music. It wasn't until I formally joined the now defunct 'Beatgarden Ent', that we noticed the parallels within our respective Musical output. Then we got to know each other on a personal tip, and Realized we are A-Alikes. Kindred spirits on a Unique musical journey towards Oblivion. Three Dollar Pistol Music, Your Friendly Neighborhood Re.Bel, Noir-Hop, Major Crimes and
[You And] Who's Army
are the result of our Nu Age Hip-Hop Philosophy. Duck and Take Cover. Phoenix in the Hole.
Seeing some of the footage of your live performances with Zilla, your shows seem to be a lot more creative than the typical indie rap show. You perform in art galleries, alongside acts that aren't necessarily hip hop, you've got outfits that tie into the whole theme of the Shadowboxers -- it seems like it's a lot more involved than just having you two get up on stage and rap at people for a half hour. For those of us who have yet to see you guys live, can you break down what a performance with you two is like?
This is a Shadowboxer question, but I'm more than happy to answer. During 5 O'clock Shadowboxers performances, we decided to give the crowd a fully immersed Audiovisual Experience. With our Outfits, mood lighting (ha ha), Props (Holsters and implied Paranoia), and Noir Pulp-based media, we attempt to transport the average listener and concert-goer to an uncharted Soundscape. When fans leave a Shadowboxer show, they can't help but discuss it afterwards. We wanted to have a visceral companion piece to help folks Absorb not just the music, but the experience as well.
A Curly Castro show, on the other hand, is half 'Lightning inna Bottle', One third Pryor/Foxx stand-up, and One Fourth Boom Bap Purist. Essentially: an Honest Man Awakened by the Struggle, equipped with a Microphone.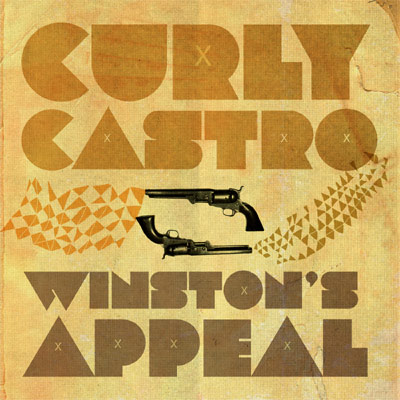 You've got an album coming out at the end of the month [This Friday: January 28th, 2011], Winston's Appeal. Can you talk about the meaning behind the title?
Winston's Appeal derived it's title from the controversial
Walker's Appeal
scribes by
David Walker
. It was the first official Documented opposition, to the practices of the antebellum South, and the Enslavement therein. It was proliferated in secret, sometimes sewn into the lining of Naval Peacoats and jackets. Walker was poisoned and Assassinated for his Efforts, but his impact reverberated through History. Winston's Appeal is my formal Submission that is in stark contrast with the current Musical Climate, and Socio-Economic ills that plague us to this day. It is my Appeal, my first Solo Appeal, to the conditions (musical or otherwise) we face this millennia.
Also, can you tell us what we can expect from the album? Who are some of the beats from, and who's making guest appearances? Your old MySpace profile mentions a Winston's Appeal album that was originally scheduled for 2008. Is there any material from back then that made the final cut, or is everything on it more recent?
Winston's Appeal is the culmination of three arduous years of musical output. It took the time it did because I stepped away from it periodically, to garner a better perspective on the work. Some of the records are more aged than others, some are spanking three clear coats of paint New. Some were re-visited, some were abandoned. But the whole process was a necessary Guantlet to arrive at this point of completion. Shit, music is new until someone hears it.
The album features Production from
Georgia Anne Muldrow
, Lastword, Zilla Rocca,
C-Rock
, Doc Martin, Larry E., &
dj Xclusive
. The features on the album are Ethel Cee,
Alaina Nelson
, Zilla Rocca,
Khadijah Bermiss
, Ambush, Jawnzap 7, Akilles, Unless, Magnum O, the One Sun Lion Ra,
Eshon Burgundy
, Rokbottom, Burke, Verso, and (God damn this list is long, ha ha) more. Some of these Artist are familiar, some seem anonymous, but All are extremely talented and I thank them for their contributions.
Finally, is there anyone you want to shout out or any other that you want people to know about?
I give Supreme thanks to Larry E., my engineer who suffered through three years of Recording, Mixing & Mastering. I give thanks to All the Artists who assisted me with my Opus. I give thanks to
RocktheDub.com
for supporting my Musical output, putting out my last mixtape, and Co-Piloting the release of 'Winston's Appeal'. I give thanks to
ClapCowards.com
,
PassionWeiss.com
,
SoMuchSilence.com
,
MetalLungies.com
,
FlawlessHustle.com
, & 33Jones.com for the continued coverage and Critical input that I deem so necessary. I give thanks to
Dom P.
(the Big Salmon) my manager and Area 51 survivor, for his continued guidance.
I give Thanks to my self-appointed Peers in this Musical Jungle: Small Pro, Has-Lo, Ethel Cee, DOUGLAS MARTIN aka BLURRY DRONES, MARGEL SOPHANT & SELA Elucid, Ari Lourdes, Alex Ludovico, Mally, dj Dylan of Freak Recordings, Blueprint, El Carnicero, Starky, dj Ambush, Random, & dj Jim Redz.
I give thanks to Jeff Weiss for the gift of Solid advice, consultation, and Serrated Blade writing style. I give thanks to Fresh of 33Jones for this Interview which is Dopeness Personified. I give thanks to Dewey Saunders aka eMCee Unless for his Design prowess and his Pollack/Picasso artwork, that makes my Sound look that much better.
And I give Thanks to my A-Alike Zilla Rocca (of 5 O'clock Shadowboxer Fame) for pushing me to be a Better Artist every time I sit to create. Man sharpens Man like Steel sharpens Steel. And we have Swords for days on You Suckas!!!! Three Dollar Pistol Music, save your pennies. Respect!
---
Big thanks to Castro for taking the time out to answer all of those questions. As soon as Winston's Appeal drops we'll update this post with a link to the album, so check back for that tomorrow. In the meantime, here's a new video that Castro just dropped this week:
Curly Castro - Da Ingredients