Marco Polo -- Port Authority: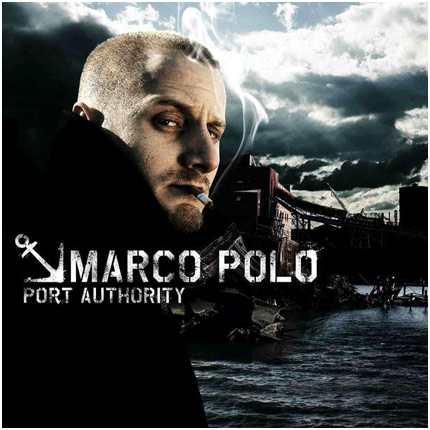 When I first heard a few beats from producer Marco Polo, I would never have guessed that he hailed from Canada. His sound had an undeniably "New York" feel to it, boom bap beats built around samples and vinyl scratching. He's been living in Brooklyn the past few years, though, and its clear his current location has had a huge impact on his development as a producer.

It's no surprise, then, that his upcoming release Port Authority is loaded with an impressive roster of New York MCs. Featuring some of the best lyricists to ever pick up a mic, including Masta Ace, O.C. and Large Professor, Port Authority is one of the few producer-headlined albums that manages to sound cohesive from start to finish. With this album, Toronto-born producer Marco Polo has managed to do what several big name rappers failed to do in 2006: Bring New York Back.

A breakdown of the tracks:

Port Authority Intro:
The album opens up with Large Professor telling us that Marco Polo is about to, "Take us back to the East." Not to give anything away, but Marco Polo manages to achieve just that by the end of the album.

Get Busy featuring Copywrite:
I've always viewed Copywrite as a weaker version of his former Weatherman partner Cage, but he comes correct on this track. Underground heads will no doubt find some amusement from the verse Copy drops referencing his infamous Scribble Jam beatdown.

Marquee featuring O.C.:
This track, built around the "Yes" sample from Boogie Down Production's My Philosophy, features Omar Credle taking it back to the days of Far From Yours, which is to say that he's not quite as lyrically aggressive as he was on Time's Up. Still, O.C. has always been one of the most skilled lyricists in the game and he does not disappoint here.

War featuring Kardinal Offishall:
The lead single for the album, which you've probably heard a few times either on the internet or the radio by now. War is a microcosm of the entire album: a pounding bassline, a piano loop, a vocal sample and an underground MC. The formula works quite well.

Nostalgia featuring Masta Ace:
It's fitting that Masta Ace's track is entitled Nostalgia, because this is a throwback to the kind of rap Brooklyn was putting out before Biggie and Jay-Z redefined the borough's signature sound. On this one, Marco Polo samples vocals from a few of Masta Ace's former partners in rhyme, including Big Daddy Kane and Paula Perry.

Wrong One featuring Wordsworth:
Wordsworth, a Brooklyn rapper last seen debating with the President, continues the procession of talented lyricists on this album.

Low Budget Allstars featuring Kev Brown, Kenn Starr, Oddisee, Cy Young & Kaimbr:
This is the one track on the album where Marco stumbles on the production. Using what sounds like a sample of a banjo being plucked, this beat manages only to annoy the listener. There are a couple of nice verses from Kev Brown and Kenn Starr, but it won't be enough to keep me from skipping this track on future listening.

Speak Softly featuring Jojo Pellegrino:
Having recently suffered another setback with his independent label, its nice to see Jojo getting a chance to shine here. I've never understood why a major label hasn't taken a chance on Joey, an Italian rapper who can spit with the best of 'em. Over a haunting beat that makes use of an eerie sample of a woman singing the words, "Speak Softly," the Staten Island MC sends out a warning to every loudmouth in New York.

Time & Place featuring Ed O.G.:
Marco takes a break from New York MCs, giving Boston rapper Ed O.G. (without Da Bulldogs crew this time around) a chance to rock the mic. The lyrics take a backseat to M.P.'s work on the turntables as the producer scratches up a few lyrics from Lord Finesse.

The Radar featuring Large Professor:
If I had to select the best track from Port Authority, this would be it. There's a ton of scratching, a dope beat and a dope MC. Large Pro sounds as lyrically adept as ever, even managing to become the first rapper (to my knowledge) to drop a lyric referencing chimichurri.

All My Love featuring Jaysaun:
The second Boston rapper to make an appearance on the album, Jaysaun spits a few verses about his mother, his kids and hip hop. One of the better beats on the album, Marco Polo makes great use of a piano loop and a vocal sample of a woman singing, "All My Love."

Lay it Down featuring Roc Marciano (of the UN):
Roc Marciano, a rapper originally signed to Carson Daly's 456 Entertainment label, does a serviceable job here. While most of the other tracks feature vocal samples that are layered on top of the beat (similar to the style of Kanye West and Alchemist), Lay It Down uses a looped sample that becomes a part of the production itself. Its an interesting approach - to use a vocal sample like an instrument - and it works quite well here.

Go Around featuring Buckshot:
One of the few songs that strays from the "Boom Bap" school of production, Go Around manages to maintain its laid back sound despite the hook's emphatic "DUCK DOWN!" shoutout from Buckshot and his Boot Camp cohorts.

Hood Tales featuring Kool G Rap & D.V. Alias Khryst:
I believe this is the second single from the album, featuring Brooklyn's answer to Nate Dogg, D.V. Alias Khryst. The star of the track, though, is Kool G, who sounds right at home on this beat. Not too surprising, since this isn't the first time he's worked with a Polo.

Heat featuring Supastition:
Heat's beat is an odd mix of grimy hip hop drums and glam rock synthesizers. It ends up working a lot better than you might expect.

Rollin' featuring Sadat X, JuJu (of the Beatnuts) and AG:
The three MCs form a cipher on this track in just about every sense of the word, rapping primarily about Rollin' that sticky icky. Sadat manages to drop a verse without any overt references to Five Percenterism, which is always a plus.

For the Future featuring Critically Acclaimed:
If I had paid more attention during Music 101, I would no doubt be able to identify the instrument used on this track fairly easy. As it is, my best guess here is that Marco Polo is using a harp as the main ingredient for the beat. It gives a peaceful vibe to the song, fitting right in with the hook, "So many others say they peelin' the caps / The only thing we kill is the track."

Relax featuring J*Davey:
I'm not sure how to classify Relax, the "bonus track" on Port Authority. On the one hand, its got J*Davey singing the entire time, so its clearly an R&B joint. On the other hand, the beat is jacked straight from A Tribe Called Quest's Electric Relaxation, a hip hop classic. I presume the point of this track is to show Marco's versatility, but it feels out of place on an album filled with raw hip hop. J*Davey does have a nice voice, though.

Throughout the years, hip hop albums headlined by producers have been hit or miss. There are the occasional classics, like Pete Rock's Soul Survivor, but too often these albums end up being nothing more than vanity projects that stray from what made the producer popular in the first place (see: Pharrell, In My Mind). Marco Polo seems to have learned from his predecessors, sticking to his signature style of production throughout. The NY-based sound on Port Authority is a throwback to the early- to mid-90's era of hip hop, before Puffy and the Hitmen took the game from hoodies and Tims to shiny suits. That's not to say that this album is outdated, though. Instead, Port Authority gives us a glimpse of what hip hop might have evolved into had it stayed truer to its roots. With its heavy use of turntablism, sampling and lyrical MCs, Port Authority is an album that will appeal to any true hip hop fan, no matter where you're from.

Rating: 8.5 (out of 10)

Marco Polo's Port Authority will be released on May 15th on Soulspazm/Rawkus Records.

To hear some of Marco Polo's music, hit up his MySpace page. Also, be sure to check out Marco Polo's free mixtape, Newport Authority.

All reviews posted on this site have been written by the Editorial Staff of 33jones, and are © 33jones.com.


Editor Rating:
8.5

User Rating:
NR
0 votes