Clipse - Hell Hath No Fury: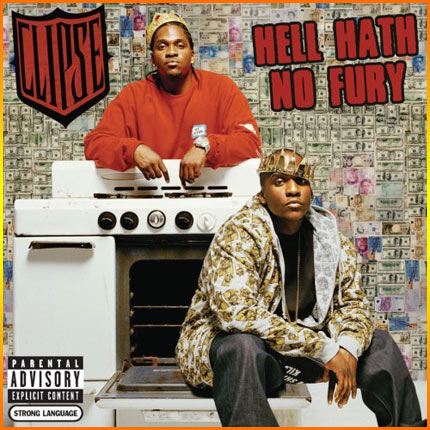 Big thanks to my man Jeff, who made this review possible.

Though its been four years since the release of their debut album Lord Willin', the Clipse have kept their names alive in the minds of hip hop fans through guest appearances for the likes of Justin Timberlake and Rick Ross as well as dropping a couple of mixtapes that had the internet going nuts back in 2005. This has been both a blessing and a curse for the group, besieged by record label drama and release date pushbacks, as the expectations for this oft-delayed album have reached heights that the two brothers from Virginia have little chance of reaching. With one half of their production team, Pharrell Williams, already having released an over-hyped solo album this year that failed to live up to expectations, the Clipse have a lot to prove to their fans. After spending the past four years fighting with their label, Jive, and suffering numerous setbacks, would the Clipse be able to focus on the project at hand and deliver another great album? Let's find out:

We Got It For Cheap:
The album opens up with some dude speaking in Spanish, and while I don't Habla Espa▒ol, there's little doubt he's talking about the main ingredient for this album: drugs. A solid bassline kicks in while Malice and Pusha T reintroduce us to their signature coke raps. As Pusha says, they're "in touch with the keys, move over Alicia."

Momma I'm Sorry:
An accordion sample dominates this track, and while many have questioned the wisdom of using such an instrument on a hip hop song, it works out okay. Despite what the title may lead you to believe, there is very little remorse in the lyrics of the Clipse for their drug dealing ways, as they seem to revel in name dropping expensive brands that were presumably paid for through their illicit transactions.

Mr. Me Too featuring Pharrell:
This song was released as a single so long ago that it almost feels out of place on this new album. Dedicated to Lil Wayne, who they feel is imitating their Bapes and Cocafna image, the Clipse dismantle all of the copycats who bit their style while they were on hiatus.

Wamp Wamp featuring Slim Thug
Jay-Z almost prevented this track from making the album, as Pharrell had originally sold the beat to about-to-be-dropped Def Jam artist Foxxy Brown. Its a good thing the issue was resolved, as this is one of the best tracks on Hell Hath No Fury. It would have been interesting to hear Slim Thug drop a full verse, as he's only used for the hook, but the Clipse brothers manage to show us "what it do" on their own.

Ride Around Shining:
The Neptunes make another interesting choice on the instrumentation here, using what sounds like a harp to accompany a high pitched vocal sample. Though the Clipse rarely take many risks in their lyrics, staying the course here by telling us they'll "Ride around shining" as long as they can afford it, Chad and Pharrell don't seem to be afraid to experiment with the beats that they give the group.

Dirty Money:
The Clipse tell us about all of the things that they purchase for the ladies (or, in their own words, "strippas and college hoes") with their dirty money. Louis Vuitton to La Perla, Jimmy Choo to Purrrrada.

Hello New World:
This song never really gets off the ground, as it immediately opens with a horribly off key hook sung by Pharrell. The track attempts to impart an uplifting message, calling for the hustlers of the nation to unite and encouraging the young'uns to make their way in the game. Never acknowledged are the ruined lives of addicts that lay in the wake of every drug dealer's rise to power, but at this point I know not to expect that level of social awareness from the Clipse anyway.

Keys Open Doors:
A few chimes, a singing choir and a booming bassline all come together for this track. I have to wonder how long this song has been sitting in the vault, as there are a few dated references to Mumia and Maria Full Of Grace.

Ain't Cha:
Much like Lord Willin' was defined by Grindin' and When The Last Time, Mr. Me Too and Ain't Cha will probably be the two tracks you remember long after Hell Hath No Fury drops out of your playlist. Ab Liva and Sandman, the other two members of the Re Up Gang, drop a couple of guest verses over a borderline pop beat.

Trill:
I'm not sure if my entry-level Bose system couldn't handle all of the bass coming out of this track or if this was a conscious decision by the Neptunes, but the beat on Trill sounded really distorted. Its a bit distracting, but on a more expensive sound system, I'd imagine this would be an amazing track.

Chinese New Year:
Pharrell makes Hollywood gun sounds ("braat braaaat!") while the Clipse drop the most aggressive lyrics of the album, telling us how they will body anyone who gets in between them and a seven figure income. Hard to imagine the Clipse would be willing to get blood on their $800 Bape hoodies, but I guess that's the downside of the drug game.

Nightmares featuring Bilal
Bilal, an R&B singer, comes in to sing a hook that was apparently out of Pharrell's vocal range. Probably a good thing, because I don't think Skateboard P could have hit the high notes that Bilal reaches on this one. Pusha tells us he is haunted by the paranoia that the drug game inspires in all of its players, a warning to all who might think about following in his footsteps. It doesn't balance out all of the glorification of drug dealing found on the rest of the album, but it does serve as a solid finale to the album.

Final Verdict: Hell Hath No Fury is a really good album well worth picking up. Despite the fact that the Clipse often represent the lowest common denominator of hip hop in their lyrics -- an abundance of drug references, materialism taken to the extreme and a bit of misogynism thrown in for good measure -- I can't help myself from liking them. In all likelihood, they never lived out the Pablo Escobar lives that they rap about, but their lyricism makes the drug dealer tales sound fairly convincing. Unlike other members of the "trap hop" movement, like Young Jeezy who has somehow made a career out of adlibs, the Clipse are actually very good rappers. They can flow over a beat about as well as anyone in the game today, and though they cover the same ground as a lot of other rappers, they live up to their reputation of being the best at cocaine rap. Its more than just Malice and Pusha T who make the Clipse what they are, though. By having the Neptunes produce the entire album, contributing twelve instrumentals that mix speaker-rattling bass lines with eerie, often futuristic-sounding beats, Hell Hath No Fury has an identifiably unique sound to it. Though it doesn't quite measure up to Lord Willin', this is still a very good album. The Clipse forego the interludes and filler that often serve as distractions on other hip hop albums and deliver eleven solid tracks (the twelth, Hello New World, is the one song that comes up short). Unless you have a strong aversion to coke rap, this is an album you should definitely pick up.

The Clipse's Hell Hath No Fury will be released on November 28th, 2006, under the Star Track/Jive Records label.

All reviews posted on this site have been written by the Editorial Staff of 33jones, and are © 33jones.com.


Editor Rating:
8.0

User Rating:
9.0
1 votes