Daily Hits:

Subscribe to this Feed
|
Email Me
Run DMC at MSG in 1986 - Raising Hell Concert with LL Cool J (Live Audio):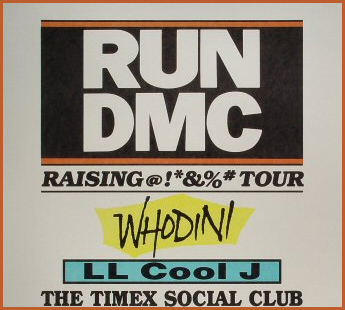 My coworker Mike passed along some audio footage from what might have been the greatest rap concert of the 80's, Run DMC's Raising Hell show featuring Whodini, The Timex Social Club and a young LL Cool J, at the Madison Square Garden in Manahattan. Here's the New York Times' preview of the show from 1986, which includes an amusingly dated attempt to introduce the concept of rap to a readership that was still largely unfamiliar with the music, categorizing it as a style of rock. The Times' more recent coverage of hip hop has fallen off significantly since Kelefah Sennah left the paper, but to his credit current scribe Jon Caramanica is more knowledgeable about the genre than his 80's counterparts, and has thus far managed to avoid any references to Lil Wayne as "a cocky word-slinger":


Run-D.M.C., Whodini and L. L. Cool J., Madison Square Garden, Seventh Avenue at 33d Street (564-4400). Rap music - syncopated rhymes atop electronic funk - has become a long-running rock style, in no small part due to the popularity of Joey Simmons and Daryl McDaniels, better known as Run-D.M.C. Shouting in unison or filling in each other's lines over the funk drumbeats and hard-rock guitar chords supplied by the disk jockey Jam Master Jay, Run-D.M.C. boast about their exploits and put down others' follies. Some of their rhymes were once supplied by James Todd Smith, alias L. L. Cool J. (which stands for Ladies Love Cool James), now becoming a rap star in his own right - a cocky word-slinger who is fond of polysyllables and unexpected pauses. Whodini is on the pop end of the rap spectrum; its songs often have rap verses and melodic hooks for choruses. While recent rap concerts at Madison Square Garden have been marred by incidents, the security force inside and outside the arena will be, a Garden spokesman said, 'beefed up a lot' for the concert. Tomorrow at 8 P.M.; tickets are $17.50. (NY Times, July 18th, 1986)
(Emphasis mine. L.L. was writing rhymes for Run DMC?)

The article makes reference to "incidents" that marred previous concerts at MSG, those incidents being a shooting and a series of stabbings that led to a battalion of cops putting the area on lockdown the previous winter. A followup article in the Times written two days after the Raising Hell concert says that 18 people were arrested during and after the show. The accuracy of those statistics may be questionable, due to the NYPD's practice of fearmongering at the time (and, I suppose, to this day) whenever a rap concert was held in Manhattan, however due to those incidents six years would pass before the Garden allowed hip hop back in the building, "The World's Greatest Rap Show" headlined by Public Enemy in 1992.

Here's the radio promo spot for the show that ran locally on WBLS (107.5) and KISS FM (98.7):

Raising Hell at MSG Radio Promo


And here is Run DMC's set (if anyone has a recording of the rest of the show, please hit me up):

Run DMC - Raising Hell Live at MSG Part 1


Run DMC - Raising Hell Live at MSG Part 2


Here's the tracklisting (with links to youtube versions):

Part 1: Is It Live?
It's like that
It's tricky
You Be Illin'


Part 2: You Be Illin (continued from Part 1)
Krush Groovin
Jam master Jay
You Talk Too Much
King of Rock


I was unable to find a flyer for this concert on the internet (the above photo is actually the flyer for an appearance at Oakland Colliseum), but I did find the following, a promo from their concert in Philly two weeks prior to the MSG appearance. Interesting that Jam Master Jay was billed as a "special guest". Was that written into his performance contract?: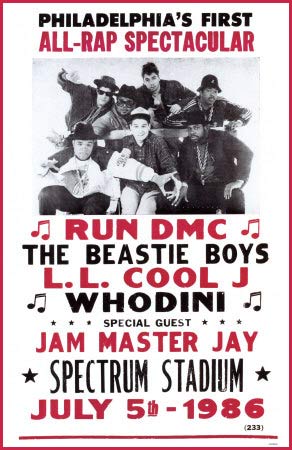 Shout out to my coworker Mikey for the legwork on this one.



03/26/2009 07:30:01 PM posted by Fresh
---
To reduce Spam on this site, I'm testing out Disqus.
You'll need JavaScript turned on to see comments (if you're using NoScript, add 33jones.com to your list of trusted sites).
Let me know if you like it/dislike it.