Daily Hits:

Subscribe to this Feed
|
Email Me
Bring Me the Remix of Zilla Rocca Week 11: Floodwatch!: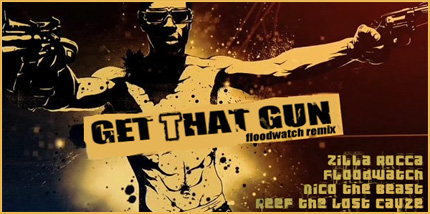 As we enter into the eleventh, and final (sort of, see below), week of Bring Me the Remix of Zilla Rocca, you undoubtedly know the drill by now. After releasing his solo debut, Bring Me the Head of Zilla Rocca, Zilla reached out to some of his favorite producers to remix tracks from the album. For the finale, Zilla brought in a surprise guest of sorts, Ben aka Floodwatch of floodwatchmusic. I had spoken to Flood in the past about his musical endeavors, but I was unaware of the fact that, in addition to everything else on his plate, he was making hip hop beats in his spare time as well. I won't waste too many words trying to tell you what you'll realize as soon as the first few notes of this one kick in: it's dope. The fact that it comes from one of the realest (ex)bloggers on the internet is just icing on the remixed cake.

Zilla's thoughts:


My homie Ben aka Flood of Floodwatchmusic.com is one of the cats I decided to rip off when I started ClapCowards.com. He's a true music man, covering everything from Barry White spin-offs to Swedish black metal to film scores I have yet to sample. He had sent me some beats way way back, and though I never used them, I liked the way his brain worked on the production tip.

"Get That Gun" was the second to last beat I made for the mixtape, built off a Parson Redhead's sample. Parson Redheads are a sunny indie band in LA that make the coolest Sunday afternoon pop songs. I figured an audiophile like Flood would cook up something just as intriguing for a song where me, Nico and Reef the Lost Cauze just say mostly off the wall violent shit. Flood's remix reminds me of a Showbiz & A.G. track from the early 90s. And the Kool G Rap sample is just absolutely devastating.
Since Flood is part of my original blog posse, and happens to be an all around good dude, I asked him to share a few words of his own on the remix. Here's what he had to say:


I did that remix so long ago... back in November, I believe. I remember I was into one-bar loops at the time, and with "Get That Gun" I wanted to give the impression that I was toggling between two decks. The trickiest part of that remix was deciding what to do about the chorus; when I finally realized that there was no way I could top Zilla's original, I just scrapped it altogether to give the track more of a classic "posse cut" feel, complete with G Rap sample [taken from Go For Your Guns] to lead into the next verse.

I've been making beats for years, but mostly for fun. About a month ago I hung up my writing/blogging jacket and returned to making music, and it's the best thing I've done creatively in years. I'm a little over halfway done with a new project.
Here's Flood's remix:

Zilla Rocca featuring Nico the Beast and Reef the Lost Cauze - Get That Gun (Remix produced by Floodwatch) (d/l link)


And the original version:

Zilla, Nico and Reef - Get That Gun (O.G. mix produced by Zilla Rocca) (d/l link)


Even though Flood has taken a leave of absence from blogging, his archive of posts over at floodwatchmusic remains as one of the best examples of music writing that you're likely to find on the internet. I wish Flood would get back to writing sometime soon as he's left a rather large void in the blog world, but if the music he's putting together for his current project ends up sounding even half as good as this remix it'll be more than a fair tradeoff. In the meantime, head on over to floodwatchmusic and catch up on his past entries.

As for Bring Me the Remix of Zilla Rocca, this may be the last of the weekly entries for the series but we're not quite done yet! Zilla will be closing this whole thing out with a remixed album (remixtape?) collecting all of the remixes that have been featured over the past eleven weeks at a higher bitrate than what I've been posting, as well as a few new remixes. Thanks to everyone who took the time out to leave a comment, I know y'all are generally inclined to just pass through without saying much but the response to this series has been quite good. We'll have an announcement on the mixtape in a couple of weeks. Until then, here are links to all of the previous remixes:

Part One (Nex Millen)
Part Two (Douglas Martin of Fresh Cherries from Yakima)
Part Three (Small Pro)
Part Four (DJ Apt One of the Philadelphyinz)
Part Five (Y?Arcka a.k.a. Young Architect)
Part Six (Zilla Rocca)
Part Seven (WDHQ aka BNUT)
Part Eight (Haji Haj of Dumhi)
Part Nine (Griff of J-Direct and RhymeCity)
Part Ten (ASK?)


Further Listening:
Link to download the Bring Me the Head of Zilla Rocca mixtape for free! (sendspace)
Reef's MySpace page
Nico the Beast's MySpace page



02/18/2009 08:00:01 AM posted by Fresh
---
To reduce Spam on this site, I'm testing out Disqus.
You'll need JavaScript turned on to see comments (if you're using NoScript, add 33jones.com to your list of trusted sites).
Let me know if you like it/dislike it.