Daily Hits:

Subscribe to this Feed
|
Email Me
Yoga Lessons from Sadat X and Reef the Lost Cauze (Dumhi - Yoga at Home):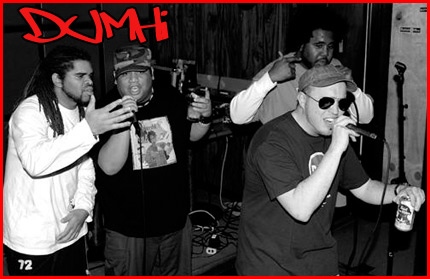 This past summer, I got the chance to meet Zilla and Nico one weekend when I happened to be down near Philly to attend a lesbian couple's joint bachelor(ette?) party at one of Cherry Hill's finest establishments (which is itself a rather interesting story, but perhaps better served for another time and another blog). By way of introduction, in place of the traditional dap and thug hug, Zilla announced that he had something I 'would love' and proceeded to hand over a cd whose cover art prominently featured a naked Indian woman in the Lotus position - certainly nothing shocking to my progressive sensibilities, particularly not in comparison to anything that I had witnessed during the previous night's festivities, but it did seem an odd choice at first glance. As it turned out, I would indeed come to love the cd, Yoga At Home by Philly's Dumhi, it just took some time for me to warm up to it. That is, in part, why I am just now getting around to discussing an album that came out over six months ago (it also happens to serve as a nice followup to last week's entry in Bring Me the Remix of Zilla Rocca, produced by Haj of Dumhi).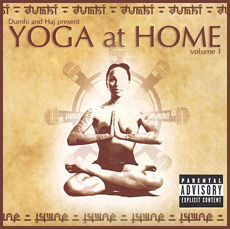 Yoga At Home is something of a hard album to classify. With narration by Yoga instructor Swami Vishnu (if you, like I, have never heard of him, suffice it to say he sounds exactly like what you'd imagine a very old yoga instructor to sound like), the album features seven full songs along with their sample heavy instrumentals, radio friendly versions of three of the songs that do not feature the yoga voice overs, and one original 'meditation' instrumental that might best be described as ambient hip hop. As my usual method when listening to a new cd is to randomly skip through the tracklist, it took me a couple of tries before the concept behind the album really clicked for me, and a couple more listens to truly appreciate the quality of it. You'd be better served listening to the whole thing from start to finish, and you'll be rewarded by a slew of guest appearances, from Sadat X to Doap Nixon of Army of the Pharaohs to Von Pea of Tanya Morgan. The highlight of the album comes from Reef the Lost Cauze, who spits fire like Dhalsim over what might be one of my favorite beats of the past year.

Haj was kind enough to allow me to put up some of the tracks from the album, so here are two of the best:

Dumhi featuring Sadat X - The Yoga at Home Theme Song


Dumhi featuring Reef the Lost Cauze - Squeeze


You can preview the entire album, and purchase a copy of it, on Amazon.

Further Listening:
Dumhi's MySpace page
Haji's MySpace page
Haji Haj's entry for Bring Me the Remix of Zilla Rocca
Dumhi.com, where you can buy Dumhi's previous album, They Call Me Bruce on iTunes.



01/19/2009 08:31:01 PM posted by Fresh
---
To reduce Spam on this site, I'm testing out Disqus.
You'll need JavaScript turned on to see comments (if you're using NoScript, add 33jones.com to your list of trusted sites).
Let me know if you like it/dislike it.