Daily Hits:

Subscribe to this Feed
|
Email Me
Big L -- Abducting Emcees like a UFO: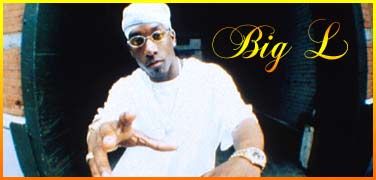 These days, damn near everybody throws up a tribute to a dead rapper whenever they're trying to get some street cred. Biggie, 2Pac, Pun and even Freaky Tah get shout outs at every award show and in random songs, usually by people who were never a part of their crew (see: Ja Rule's remake of So Much Pain, where he actually gives an RIP to "my nigga Pac" and Stretch). One dude who usually gets overlooked though, is Big L. Other than Gangstarr, I have never heard a group shout L out.

Its too bad, because Big L should be getting a lot more recognition than he currently does. I guarantee that if the same kids buying 50 cent and Jay-Z records today heard Big L they would be into him. The majority of his songs are actually freestyles and there are so many of them that they could probably release cds with of these freesetyles with the same regularity that Tha Row is pumping out unreleased Tupac studio tracks. If you've never heard him, the closest comparison I can come up with would be Jay-Z -- not because he really sounds like him, but they both have the same sort of "charisma" on the mic. Supposedly Big L was even going to sign up with Roc-A-Fella.

Big L has two albums out. His first one, Lifestylez Ov Da Poor & Dangerous, is probably most notable for having the first appearances of Killa Cam'Ron and MA$E (back when all three of them were part of the Harlem group Children of the Corn group with McGruff/Bloodshed). The second album, The Big Picture is the one to get. It was put together after he died, but unlike most posthumous rap albums that come out these days, this one actually has solid production and contains most of his best lines.

Big L was killed in January 1999 in Harlem, at the age of 24. In the freestyle I am posting today (which was later turned into the song "Flamboyant" on The Big Picture) he has a line: When Lee (L's brother) come home, blank can't live no more. The "blank" name has since been edited in every version of the freestyle I have heard (including the one I am posting here today), but apparently that was the guy that ended up shooting and killing L. The dude wanted to get back at Lee, but since Lee was in jail he shot Big L instead.

The freestyle I am posting has him rapping over a Mobb Deep beat, on the album the beat is totally different. Big L Freestyle - Flamboyant For Life (MP3). Respec'



10/28/2005 8:21:52 AM posted by Fresh
Comments:
>Other than Gangstarr, I have never heard a group shout L out.

Actually Jay-Z shouted out Big L on the "Miss You" remix... check it out...

http://www.azlyrics.com/lyrics/aaliyah/missyouremix.html
11/16/2005 4:41:36 PM posted by Sweet P
---
You're right, just checked out the lyrics on that. My excuse for overlooking that one is that the chorus on that damn song always makes me sad, so I would change stations whenever it came on the radio.

Makes sense though, Jay-Z always did seem to be a fan of L. Would have really liked to see Big L join up with Roc A Fella.

There's a freestyle I have on a cd somewhere of Big L and Jay-Z together (from right before Reasonable Doubt came out). I'll post it up on this site if I can find it.
11/16/2005 6:29:29 PM posted by fresh
---
---
To reduce Spam on this site, I'm testing out Disqus.
You'll need JavaScript turned on to see comments (if you're using NoScript, add 33jones.com to your list of trusted sites).
Let me know if you like it/dislike it.