Daily Hits:

Subscribe to this Feed
|
Email Me
Five Deadly Venoms of Brooklyn -- The Mixtape: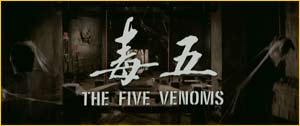 Back in the late 90's I was copping mixtapes like it was an addiction. DJ Juice, Kool Mic Ski, E-Kim, and a ton of other DJs. There was this one mix tape though that was like a collection of the Mix Tape Allstars: The Five Deadly Venoms of Brooklyn.

The tape was split up into five parts, each part done by a different dj: Tony Touch, P.F. Cuttin', Mister Cee, Evil Dee and Primo. To be honest, the songs each dj put into their part of the tape didn't quite measure up to the stuff they were putting out on their solo mixtapes, but it was still pretty damn hot.

My favorite part of the mixtape, by far, was the intro. It had a beat from a kung fu flick. I'm pretty sure the sample came from the actual Five Deadly Venoms movie, but I could be wrong about that. The rest of the mixtape had audio clips from the movie introducing each dj as a different venom.

The beat on the intro is crazy. If anyone has a clear sample of it without the effects and voiceovers, please hit me up! I know there is a clean sample out there somewhere, because a few months after this mixtape came out, I heard a McGruff freestyle over the beat. McGruff was a Harlem rapper who got some shine for about 30 seconds back in '98, for those of you wondering...

Here is the full intro to the Five Deadly Venoms of Brooklyn (mp3). Enjoy!



10/19/2005 11:51:22 AM posted by Fresh
Comments:
Thought you'd be interested in this...came across the track listing for the deadly venoms mixtape on a message board:

PF Cuttin:

I'll Be Damned - Verbal Hoods
Puppet Master - Dr. Dre & B Real
Forsaken - Breez Everflowin'
Wild Hot - Busta Rhymes & Q-Tip
Say Word - Camp Lo
Surrounded - Dutchmin
Bright Lights, Big City - Powerule

Mister Cee:

Request Line - Zhane (Mister Cee Blend)
Step Into A World - KRS-One
I'm Not Feelin' You - Yvette Michelle (C-Blend)
The Medicine - The Veterans
Hypnotize - Notorious B.I.G.
Know The Game - Frankie Cutlass feat. Kool G Rap, Mobb Deep & M.O.P.
Young Luv - Mobb Deep

Tony Touch:

Tony Touch Freestyle
Steele, Kat One & Lil' Noc Freestyle
Freddie Foxxx Freestyle
Sunz Of Man & Makeeba Freestyle
Guru Freestyle
Channel Live & Benny Boom Freestyle
Jeru The Damaja & Lil' Dap Freestyle

Primo:

Military Cut - Grandwizard Theodore, Kevy Kev Rockwell
Busy Bee vs. Kool Moe Dee - Live at Harlem World
Double Trouble - Live at The Amphatheater L.E.S.
It's On - Cold Crush Live
It's Yours - T La Rock
I Need A Beat - LL Cool J
Buffalo Gals - Malcom Mc Laren & World Famous Supreme Team
I Cram To Understand - MC Lyte
Holy War - Divine Force

Evil Dee:

Poison Pill - Black Skavengers
Me, Not The Paper - Jeru The Damaja
Downtown Swinga - M.O.P.
Getting Closer To God - Krumb Snatcha
Tight Team - Shamus feat. Flu
East To West - AK Skills
Calm Under Pressure - Shades Of Brooklyn
10/30/2005 6:08:33 PM posted by Hot Sauce
---
Took me forever, but I finally tracked down the original beat from the intro. Its from "Tried by 12" by the East Flatbush Project. Now I just have to find a clean copy of the instrumental.
12/11/2006 3:37:33 PM posted by fresh
---
---
To reduce Spam on this site, I'm testing out Disqus.
You'll need JavaScript turned on to see comments (if you're using NoScript, add 33jones.com to your list of trusted sites).
Let me know if you like it/dislike it.