Daily Hits:

Subscribe to this Feed
|
Email Me
Zilla Rocca featuring Mally from the 612 - Sunbathing...: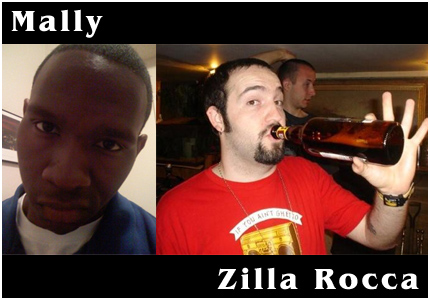 \
Over the past few weeks I've been getting a ton of emails from Loud Records promoting the resurrected record label's ongoing contest to find the best unsigned rappers on the internet. After checking out the current round of the competition, which has a grand prize of $100,000, I can't say I'm impressed by their selections. Loud, once the home of acts like the Wu-Tang Clan and Mobb Deep, seems to have jumped on the bandwagon of ringtone rap, as most of their semifinalists sound like they came from the Hurricane Chris school of MCing. If that were my only exposure to the world of unsigned hip hop, I'd be very concerned about the future of the music. As has been proven by the many artists who have contributed material to this site, however, there's a lot of great hip hop that's being overlooked by the major labels. Not to come off like I'm feeling myself, but I would put just about any unsigned artist who's had their music featured on this site up against the winners of Loud's contest.

Case in point: Two MCs who have been featured heavily on this site, Zilla Rocca of Clean Guns and Mally from the 612, recently got together to collaborate on a new track, and it's a certified banger. Over a Zilla-produced beat, the duo show that it is indeed possible to put out a dope track without the backing of a major record label. Check it out:

Zilla Rocca featuring Mally - Sunbathing Bitches



The track is off Zilla's upcoming mixtape, Bring Me The Head of Zilla Rocca!, due out in 2008 (the track posted above is an unmastered version). The mixtape itself is a precursor to an eventual solo album, Fall Back Friday. He's a busy man, but you can catch him over at Passion of the Weiss doing the occasional guest post or you can always just hit him up on MySpace.

As for Mally, he's currently working with producer Redwine on the followup to his debut The Letter. If you haven't copped that album yet, stop what you're doing and go download it. It's required listening for any fan of hip hop.



10/24/2007 06:31:29 AM posted by Fresh
Comments:
That's kinda cool to see these two dudes collaborate. I remember the first time both of them showed up on this site. This song is official! They both have really different styles but came together nicely.

btw, what happened to the site last night?
10/24/2007 8:27:40 AM posted by Will I Am
---
word up. shit is hot. why you gotta be stingy and not set it up for download? Zilla, set me up!
10/24/2007 9:48:42 AM posted by GRIFF
---
---
Link should now work in the post, let me know if any of you still have trouble downloading/listening to it.

Thanks for pointing that out griff.

@Will: My webhost fucked up again last night. They took down the database for about 8 hours.
10/24/2007 9:59:31 AM posted by fresh
---
you cant fly! this aint space jam!

dope shit...
10/24/2007 10:30:16 AM posted by kasmoney
---
this joint is sick. props
10/24/2007 10:34:22 AM posted by hot sauce
---
More dope shit from clean guns! The kid Mally is nice with his too, dope song all around...
10/24/2007 8:32:00 PM posted by south philly!
---
---
To reduce Spam on this site, I'm testing out Disqus.
You'll need JavaScript turned on to see comments (if you're using NoScript, add 33jones.com to your list of trusted sites).
Let me know if you like it/dislike it.