Daily Hits:

Subscribe to this Feed
|
Email Me
Valentine's Day - Top 12 Hip Hop Love Videos: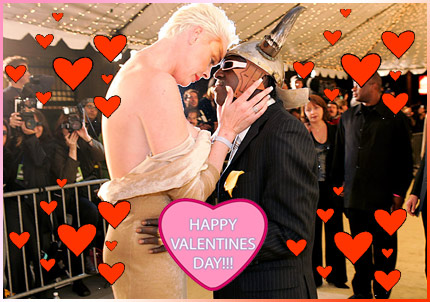 I have to admit, Valentine's Day really snuck up on me this year. I didn't even have time to get you flowers or a box of chocolates. My bad. Hopefully the following collection of YouTube links, my Top 12 Hip Hop Love Songs (in no particular order), will show just how much I appreciate you:

LL Cool J - I Need Love

Slick Rick - Teenage Love

Mos Def and Marvin Gaye - Fat Love Affair

Lil Bow Wow - Puppy Love

The Roots and Erykah Badu - You Got Me

Biz Markie - Just a Friend

Mary J Blige and Method Man - I'll Be There For You

Eminem - Love You More
Eminem could have had several entries on this list with his many psychotic takes on the love song, but I decided to limit it to one video per artist. Love You More just barely got the nod over his earlier tribute to girlfriend Kim.

Common and Erykah Badu - The Light
As with Eminem, Common had a few songs that could have made this list, including his ode to Hip Hop, I Used To Love H.E.R.. The Light was the most traditional of the bunch, though.

Tupac - Me and My Girlfriend
Ok, so this one is actually about Pac's gun. Still, its clear the man has a deep love for his burner. If you want to hear a version of this song dedicated to an actual woman, check out Jay-Z's remake, '03 Bonnie And Clyde.

Lost Boyz - Renee

A Tribe Called Quest - Bonita Applebum

I know some of you need actual mp3s to be satisfied, so I got some of those, too. First up, a double mixtape from my man Luka Brazzi: The Pompatus Of Love Mixed & Arranged By VahT.

Here's the tracklist from the first half of the mix:

01. Sade - Your Love is King
02. Bahamadia - I Confess
03. The Doors - Love Street
04. Common - The Light
05. Prince - Erotic City
06. Barry White - Playing Your Game, Baby
07. Loosie Music (Von Pea, Elucid & Spec Boogie) Tonight's the Night (Remix)
08. Pete Rock & Cl Smooth - Lots Of Lovin
09. J Dilla - The Donut Of The Heart
10. Cee-Lo - All Day Love Affair
11. Jose Feliciano - Golden Lady
12. Zero 7 - Red Dust
13. Atlanta Rhythm Section - So Into You
14. J. Rawls - A Tribute To Dilla
15. Lauryn Hill - The Sweetest Thing
16. Maya Azucena - Junkyard Jewel
17. Curtis Mayfield - Give Me Your Love
18. Marvin Gaye - I Want You
19. Erykah Badu - 4 Leaf Clover
20. Lovage - Anger Management

For links to download the mix, hit up Luka Brazzi's MySpace page.

And finally, Stones Throw has released another free mix. I've said before I'm not a huge fan of the label, but if they keep offering stuff for free I'll have no choice but to change my mind. Anyway, Stones Throw artist Peanut Butter Wolf has released his Valentine's Mix, available for free until tonight. Head on over to Stones Throw's website and download it!



2/14/2007 8:40:25 AM posted by Fresh
Comments:
I had heard the Tupac song a bunch of times but never bothered to really listen to the lyrics. Not that the song is subtle or anything but I didnt realize he was rapping about his gun.
2/14/2007 8:56:10 AM posted by Will I Am
---
---
To reduce Spam on this site, I'm testing out Disqus.
You'll need JavaScript turned on to see comments (if you're using NoScript, add 33jones.com to your list of trusted sites).
Let me know if you like it/dislike it.