Daily Hits:

Subscribe to this Feed
|
Email Me
Rule #4080 (Part 3) - RIAA has DJ Drama arrested: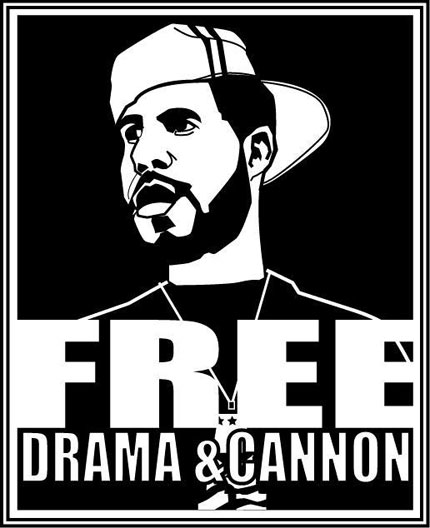 image via BumpTheRIAA

Chances are good that you've already heard the news that DJ Drama and Don Cannon were arrested Tuesday night by a SWAT team bought and paid for by the RIAA your tax dollars, for selling "pirated" cds. Along with this, in an apparent attempt to avoid legal problems of their own, mixunit.com has stopped selling all of its mixtapes. Several other sites have already voiced their opinions on the situation, but its hard to overstate just how flagrant this move is by the RIAA.

Just to recap: the offices of Drama and Cannon were raided by an Atlanta police task force, the two djs were arrested and held without bail and their recording equipment and cars were impounded along with 50,000 Gangsta Grillz cds. And for what? Selling mixtapes that the music industry has given tacit, and often times direct, support of, and has done so for years.

It would be one thing if Drama and Cannon were arrested on tax evasion charges brought by the Feds. If that were the case, there wouldn't be much room for outrage. With 50,000 cds about to be sold at eight dollars apiece, that's a whole lot of untaxed coin that the IRS is missing out on, assuming that the two djs were not reporting their profits from the mixtape game. That's become irrelevant, though, because this police action was brought about not by the IRS but by the RIAA, a trade group that is not part of the government (despite what its highly influential group of lobbyists and attorneys might have you believe). This was not about untaxed revenues, this was all about what the RIAA has defined as "pirated cds." In their own words, pirated cds include "mixed tapes and compilation CDs featuring one or more artists."

The RIAA's definition of a pirated cd runs contrary to the promotional activites of the record labels it represents. T.I., Lil Wayne, Jeezy, Jim Jones and even Pharrell have all gone into the studio with Drama to record tracks for his Gangsta Grillz mixtapes, and you can be sure that the record labels were well aware of what their artists were doing. DJ Drama himself is signed to Atlantic Records, so its not like they weren't aware of what he was doing. Many artists even have "underground provisions" in their record contracts that explicitly allow them to work with third parties to put out promotional mixtapes. This isn't a case of an employee running off with company property and making a fast buck off of it on the black market, this is an employee being told by his company that part of his job is to go out and sell that property on the street corner.

To play devil's advocate for a minute, I will say that the one valid issue in all of this is that the original sampled artists are losing out on revenue. Most of these mixtapes feature freestyles from artists over beats that have been used on commercial albums. The beats typically have samples from other artists who legally have the right to be paid every time someone sells an album with their sample on it (though many of the copyrights for these samples aren't even owned by the original artists any more, so its hard for me to get too worked up about this issue).

That's overshadowed by the selective enforcement of the law by the police/RIAA, though. While Drama gets arrested, you have a site like YouTube doing the same thing (they've even got Gangsta Grillz mixtape videos online!) -- actually, what they're doing is even worse, since they offer access to a ton of commercial releases with a searchable interface -- while receiving at worst a slap on the wrist. The 1.65 billion dollars that YouTube's owners made makes Drama's mixtape money look like chump change, but you never saw SWAT teams raiding their offices. Sure, they got a few cease and desist letters, but they never had a bunch of cops busting down their doors, carting them off to jail and insinuating that they had guns and drugs stashed in their offices.

And record executives are just as implicit as Drama in the whole mixtape game. I receive numerous emails from label reps that mention the mixtapes that their artists are appearing on, and I have been sent leaked singles from upcoming albums from labels' p.r. staffs. Where do you think these mixtape djs are getting all of their "exclusives" from? Yet you will never see a record label executive charged with what Drama is facing. Its ok for the execs to make some illicit money off of the underground market, but once someone outside of the system starts earning money off of it, its time to call in the SWAT team.

Barely twenty-four hours after the arrests, its hard to say what kind of impact this will have on the whole mixtape scene. Let's imagine the worst-case scenario, with all of the major mixtape DJs and retailers following the lead of mixunit. You'll never see another Papoose or Saigon signed to a major label on the strength of their mixtape work. The Clipse will never convince Jive to release another one of their albums without their Got It For Cheap mixtapes keeping their name alive in the streets during their next four year hiatus. T.I., The Game and the whole G-Unit squad will never go platinum again without the buzz that their mixtapes provide. And that next great rapper who you haven't heard of yet? He'll be stuck busting freestyles on his MySpace page without an underground outlet for his work. Or, to put it in a way that the industry can appreciate, the already sagging record sales for the hip hop market will continue their steady decline without the free promotion that mixtapes offer.

Best-case scenario? All of the major mixtape DJs get together and tell the RIAA-affiliated record labels that they won't continue to promote any of their artists until the RIAA ends the legal extortion. The record labels need to take a well-defined stance on the mixtape issue, one way or the other. Either the labels allow promotional cds 100%, or they don't allow them at all. Until that happens, the mixtape djs will continue to play this cat-and-mouse game with the RIAA and we'll be having this discussion again in a few months when they decide to make an example out of another big name dj.

When all is said and done, I think things will return to the status quo. Drama and Cannon will probably decide its not worth the legal hassle and keep it legit for all of their future releases (Drama even has a commercial release scheduled for next month), but I expect the rest of the mixtape djs will continue to pump out promo cds as long as no one else gets arrested in the near future. The record labels will continue to privately support the underground while publically denying any involvement with the mixtapes. And the RIAA? They'll continue to get fat off of the labor of the indentured servants artists.

For other opinions on this whole situation, check out Notes from a Different Kitchen, which has a full roundup of links.



1/17/2007 9:32:52 PM posted by Fresh
Comments:
In case that post wasn't enough reading for you, here's an interesting article on the RIAA: History Repeats Itself: How The RIAA Is Like 17th Century French Button-Makers

From the article, explaining the tactics that French button makers used to squash innovation:

"Shortly after the matter of cloth weaving has been disposed of, the button makers guild raises a cry of outrage; the tailors are beginning to make buttons out of cloth, an unheard-of thing. The government, indignant that an innovation should threaten a settled industry, imposes a fine on the cloth-button makers. But the wardens of the button guild are not yet satisfied. They demand the right to search people's homes and wardrobes and fine and even arrest them on the streets if they are seen wearing these subversive goods"


1/18/2007 8:19:16 AM posted by fresh
---
Lil Wayne speaks on the Drama situation:

"It's a bad thing but you gotta play the game fair. If you don't play fair, all kind of things can happen. The artists can drop his album ů and everybody knows that hip-hop [album sales are in] decline ů nobody ain't gonna buy the album, and everybody gets the mixtapes off of the Internet or whatever way they get it. The artists ain't caking, but the n---a you made the mixtape with is caking up."

That's an interesting comment coming from a dude whose career was remade on the strength of the mixtapes he did with Drama.
1/18/2007 9:31:49 AM posted by fresh
---
Thanks for supporting us. much love for that.
1/20/2007 8:16:03 PM posted by Aphiliates
---
---
To reduce Spam on this site, I'm testing out Disqus.
You'll need JavaScript turned on to see comments (if you're using NoScript, add 33jones.com to your list of trusted sites).
Let me know if you like it/dislike it.