Daily Hits:

Subscribe to this Feed
|
Email Me
The White Rapper Show gets the Gas Face: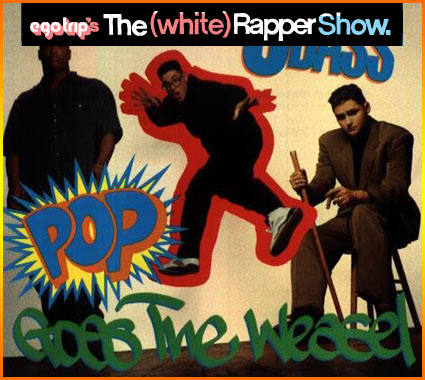 I originally had no intention of tuning in for last night's premier of The (White) Rapper Show on VH1, but I ended up giving it a shot once the outcome of the Florida/Ohio State game seemed inevitable. Not surprisingly, this show continues VH1's legacy of spotlighting the very worst stereotypes in hip hop, a legacy that began a few years ago when the channel sent a camera crew around with ODB to film him picking up welfare checks.

Most recently we've seen Flavor Flav doing his best minstrel routine on The Flavor Of Love and now we've got The White Rapper Show, filled with people who, on the surface at least, seem to be real life caricatures of black people. You've got the down-ass hoodrat Persia throwing the dreaded n-word around like its nothing, the dude who's overly sensitive about racial issues, Jus Rhyme (his catchphrase is, "We got bigger fish to fry, like white supremacy") and the crunk rapper with the ice grill and southern drawl, $hamrock. To be fair, a couple of the rappers on the show turn out to be less shallow than they initially appear. Shamrock, in fact, seems to be about as intelligent and rational as anyone you'll find on a reality show. He of course does not get anywhere near the amount of camera time as the other buffoons on the show, such as John Brown, the self-appointed "King of the 'Burbs" who manages to drop the phrase "Ghetto Revival" into every conversation.

It isn't the stereotypes or even the fact that most of these dudes can't rap worth a damn that bothers me the most about this show, though. My biggest problem with The White Rapper Show is that the whole thing seems very scripted. I'm aware of the fact that most reality shows are influenced by the producers to some extent, but its rarely as obvious as it was during last night's premier. During the audition phase of the show, real-life comedian Miss CKC performed one of the worst freestyles you'll ever hear, rapping about her C-Section. Its very funny if you know that she's in character, but the editing of the show presented it as if this was her real personality. And it seems pretty clear that this is the objective of the producers: to show a group of white people who are trying so hard to emulate what they perceive as being "black." Its disappointing to see MC Serch, a white rapper who had to fight the same stereotype of the wannabe white boy that this show is propagating, get involved with this project.

This morning, I checked out the MySpace pages of the ten rappers that appear on the show (all of their pages seem to have been put together by the same Viacom employee, each with a background image tailored to their persona). The most talented rapper, Dasit, was kicked off the show last night after what seemed like a staged argument with host Serch (here is Dasit's blog entry discussing his dismissal from the show). None of his songs were available for download from his page, so instead here are some tracks from a couple of the other rappers:

John Brown - Dead Serious
G-Child - Hell Yeah

You can find links to the MySpace pages of the rest of the White Rappers over at Vh1. Its interesting that the page name for the links on Vh1's site is "series_characters," because that's essentially what they are: characters, not real people.



1/9/2007 9:03:19 AM posted by Fresh
Comments:
@Whoadie: I remember hearing about that, but I never got around to reading it. Sage makes some good points. Clickable link to Sage's response.

@jamie: Thanks for coming through. I actually got the information about CKC from a post you wrote a few days ago, I just couldn't remember the link.

For everyone else, here's the link to jamie's site. Go check it out.
1/9/2007 11:50:28 AM posted by fresh
---
Yeah, he's like a clean cut version of Eminem.
1/9/2007 1:06:33 PM posted by fresh
---
@RJB: I personally don't think that's the real reason behind Dasit leaving the show. For a dude who's been rapping for 15 years (according to his bio anyway) I'm sure he'd be able to put together 16 bars without a beat. It seems more like he realized he was getting played, decided he'd get enough publicity from appearing in one episode and then just quit. That way he could maintain some of his dignity by saying he quit the show rather than getting voted off, and even leaves open the possibility for a Dasit/Serch beef to continue to give him publicity. Either that or there was more going on behind the scenes that we didn't see, because it didn't really make any sense for him to quit like that.

@WRS: I'll take your word for it that none of it was scripted, though there are certain scenes that gave me that feeling, beyond the CKC audition. For instance, in a show about white people involving themselves in a predominantly black culture, it seemed awfully convenient to get the "N Word" debate out of the way on the first day.

Then again, the selection process seemed to go out of its way to choose people that fit in with the direction that the producers wanted to take the show (whites clowning themselves trying to emulate black stereotypes). With that mix of characters, I guess you don't need to have scripted events to get a half hour's worth of entertainment.

I will agree with you that it almost assuredly will be a hit show -- I won't be surprised if it gets the same amount of viewers as Flavor of Love. Where you and I probably disagree is whether or not that's a good thing.
1/9/2007 3:55:34 PM posted by fresh
---
> Yeah, CKC was a comedian, but I don't
> think anyone knew that during the
> casting process, and the fact that
> she didn't make the cut makes her
> irrelevant.)

I disagree with this. The fact that you left her audition in the show without any kind of disclaimer that this woman was a comedian is very relevant to the debate over the intentions of this show. You've put this woman up as an example of a clueless wigger (I hate that word, but its clear thats what these cast members are being portrayed as) for the audience to point and laugh at. Not knowing that she's a comedian playing a role, the show encourages the audience to laugh at her (and the rest of the white rappers) instead of with her.

I did find the show amusing though, and at the very least I'll get the season pass for my tivo.
1/9/2007 4:14:32 PM posted by tony
---
"I can't stop, its like chips"
1/10/2007 6:07:44 PM posted by fresh
---
---
---
To reduce Spam on this site, I'm testing out Disqus.
You'll need JavaScript turned on to see comments (if you're using NoScript, add 33jones.com to your list of trusted sites).
Let me know if you like it/dislike it.