Daily Hits:

Subscribe to this Feed
|
Email Me
The Cube In You: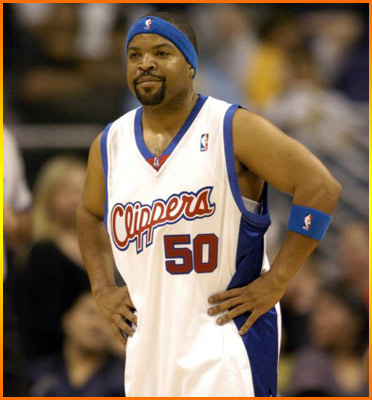 Back around '96, there was a diss track, Bitch in Yoo, from Common making the rounds on all of the mixtapes of the day. Easily one of the best disses of all time, Common completely undressed Ice Cube on this one. The beef started after Common (at the time, Common Sense) released the song I Used To Love H.E.R., describing all of the stages that hip hop had gone through. Cube felt that Common was dissing him and the rest of the West Coast with the lines:

She probably get her money in L. A.
And she did stud, she got big pub but what was foul
She said that the pro-black, was goin' out of style
She said afrocentricity was of the past
So she got into r&b, hip-house, bass and jazz
Now black music is black music and its all good
I wasn't salty, she was with the Boyz in the Hood

Ice Cube and the Westside Connection called Common out on Westside Slaughterhouse (a song that also included Cube's unbelievable claim that "Hip Hop started in the West"), which in turn led to Common responding with Bitch In Yoo. The beef eventually ended after Common and Ice Cube sat down with Louis Farrakhan, the Jimmy Carter of Hip Hop peace summits.

Most of my old cassette mixtapes are now in pretty bad shape, so I had been searching for a good copy of Bitch In Yoo for a while. I finally found a copy yesterday. I'm putting it up as a reminder that Common used to have skills and didn't always rap about Gap hoodies and Dave Champipple:

Bitch in Yoo

If you're looking for something a little less aggressive to listen to today, bsp.org's Gramz has just released volume one of his Archives series. Featuring cuts from jazz, funk, soul and hip hop records, there's some good stuff to be heard here, including the original samples for Nas' One Love, Busta Rhymes' Whoo-Ha and De La's Breakadawn.

Archives Vol. 1 Download (rapidshare link)

If rapidshare's not your thing, you can go directly to bsp. There's a link to the mix on the right side of the page.

Tracklist:
Archives Time2GetLive - MC Mac Swell of Big Digits
Intro
Space - Galt Macdermot
Black Frost - Grover Washington
Smiling Billy Suite Pt. 2 - Heath Brothers
Walk Right Up to the Sun - The Delfonics
Nel Cimitero Di Tucson - Gianfranco Reverberi
The Way We Were - Gladys Knight and the Pips
As Long As I've Got You - Charmells
Fifth Dimension - Black Patch
Wonderful Christmas Time - Paul McCartney and Wings
I can't Help It - Michael Jackson
Swahililand - Ahmad Jamal
Harlem Hindoo - Al Hirt
Same Ol' Same Ol' - Robot House
Insomnia - Pete Philly & Perquisite
Sleep - CBLA
Mix Tapes - Nonce
Heavy Rotation - Dilated Peoples ft. Alkaholiks
Duck Season - Beatnuts ft. Al Tariq
It's A Beautiful Thing - La Coka Nostra
On Point - House of Pain (Skandaless Mix)
I Know Where You At - Psycho Les ft. DJ Honda
E-City Rocks the Block - Electric City
Love Comes and Goes - Edo G & Da Bulldogs
No MOre Dating DJs - Nick Holder ft. Jemeni
Archives '95 Andy R Outro





12/20/2006 8:40:18 AM posted by Fresh
Comments:
Thanks for the link fresh. I'll hit you up on myspace Jack to get you up on the next show. Yeah Robot House is Flip's live band. Bring it home for Jerome.
12/20/2006 7:00:58 PM posted by Gramz
---
---
I went to college with skip and met flip back in like 96.
12/21/2006 7:31:53 AM posted by Gramz
---
Nah, I know it sounds like I'm just mad at Common for that Gap ad, but I really do think he fell off once he started messing with Kanye (and I actually like Kanye quite a bit). In my opinion, Common's lyrical output during his first few years in the game is far better than anything he's done recently.

That being said, I'm glad you're sticking around anyway. Its always good to have people around who disagree with me, it keeps the discussions more interesting.
12/30/2006 6:35:17 PM posted by fresh
---
---
To reduce Spam on this site, I'm testing out Disqus.
You'll need JavaScript turned on to see comments (if you're using NoScript, add 33jones.com to your list of trusted sites).
Let me know if you like it/dislike it.