Daily Hits:

Subscribe to this Feed
|
Email Me
Retirement Age for Rappers?: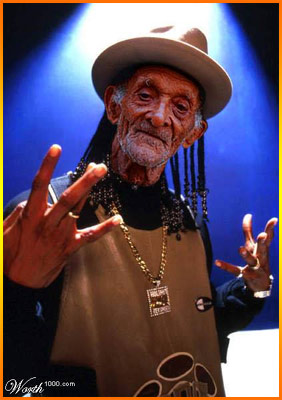 Picture via Worth1000's When Hip Hoppers Age

My brother EZ, who hasn't been on the younger side of thirty in a hot minute, pointed me to this video: Remy Ma says if you're over 30, you shouldn't rap. There are a lot of reasons why this argument is ridiculous -- the first reason that comes to mind is that Remy Ma, who can hardly rap as it is, looks to be in her thirties herself, despite her "officially listed" age of 25 -- but with the release of 37 year old Jay-Z's Kingdom Come, its been the topic of a lot of discussions recently.

By the end of December, its quite possible that the three top selling hip hop albums of the year will have come from rappers over the age of 30 (Jay-Z, Nas and the Clipse), with Kingdom Come currently on pace to have the best debut week of any album in any genre this year. Jim Jones and Snoop, both thirty-plus, should also see solid sales figures by the end of the year.

So can hip hop made by thirty-somethings be relevant to a demographic that is largely in its twenties? Instead of putting forth a lengthy argument on why hip hop needs its older rappers to stay in the game, I'm going to list my top 10 albums from artists who were over the age of thirty at the time of the album's release (I limited it to one album per artist). Hopefully the list will speak for itself.



1. Fear of a Black Planet -- Public Enemy (Chuck D was 30 at the time of release, 1990)



2. The Blueprint -- Jay-Z (Jay was 32 at the time of release, 2001)



3. 2001 -- Dr. Dre (Dre was 34 at the time of release, 1999)



4. The Eminem Show -- Eminem (Marshall was 30 at the time of release, 2002)



5. Moment of Truth -- Gangstarr (Guru was 32 at the time of release, 1998)



6. Street's Disciple -- Nas (Nas was 32 at the time of release, 2005)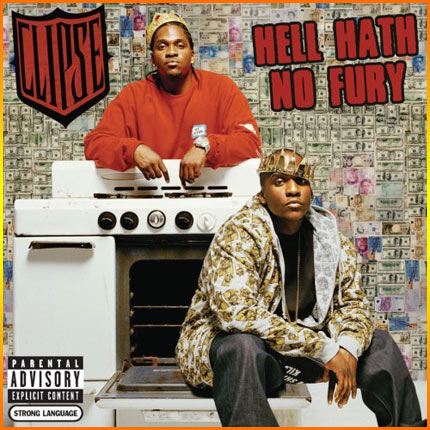 7. Hell Hath No Fury -- The Clipse (Malice will be 33 at the time of release, next week)



8. The Fix -- Scarface (Face was 32 at the time of release, 2002)

9. KRS-One -- Krs-1 (Kris Parker was 30 at the time of release, 1995)


10. The Pretty Toney Album -- Ghostface Killah (Ghostface was 34 at the time of release, 2004)

And a few honorary mentions:

Phrenology -- The Roots(?uestlove was 32 and Blackthought was 31 at the time of release, 2002). I know most Roots fans didn't like this album, but I personally would rank this just below Things Fall Apart.

Banned in the USA -- 2 Live Crew (Luther Campbell was 30 at the time of release, 2000). Not a great album musically, but its stand against anti-obscenity legislation is pretty significant.

Art Official Intelligence: Mosaic Thump -- De La Soul (All three members were at least 30 at the time of release, 2000)

Speaking of rappers over 30, Eminem will be releasing the Shady Records compilation ablum The Re-Up on December 5th. In advance of the release, he teamed up with DJ Mick Boogie for the mixtape The Pre-Up. Its filled primarily with the Shady Records JV team, but Em does show up on a few tracks. Here's a couple of them:

Em and Obie -- You Hear Me Part 2 (Mick Boogie remix)
Eminem Beatbox freestyle

You can purchase Mick Boogie's The Pre-Up at MixUnit.



11/24/2006 10:00:13 AM posted by Fresh
Comments:
I'd put Beastie Boys Ill Communication in that list somewhere too. Ad-rock was under thirty but the other two were older than that when the album was released.
11/24/2006 10:32:18 AM posted by Will I Am
---
I don't think I've heard either of those Eminem tracks before, thanks. I'm kind of looking forward to that reup album.
11/25/2006 6:55:10 PM posted by jdubz
---
Yeah, I agree with you. I'm surprised no other rapper has come along and picked up on the spaced-out psychopath lyrics that made Em famous. Even Cage has toned it recently.
11/27/2006 2:34:59 PM posted by fresh
---
@grantLOVE

The Seattle Times had an interesting article a few weeks ago about Young Jeezy and all of the other rappers with "Young" or "Lil" in their names that are closing in on 30. Anyway, the article made a good point that in the 80's some of the "titles" rappers and djs used actually focused on how long people had been in the game (Grandmaster, Grand Wizard).

The first generation of kids that grew up with hip hop is approaching the 30 year mark, so I would expect there to be a decent-sized audience for older rappers.


12/1/2006 10:11:50 AM posted by fresh
---
---
To reduce Spam on this site, I'm testing out Disqus.
You'll need JavaScript turned on to see comments (if you're using NoScript, add 33jones.com to your list of trusted sites).
Let me know if you like it/dislike it.