Daily Hits:

Subscribe to this Feed
|
Email Me
Lord Tariq: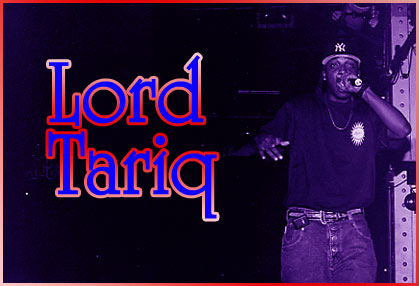 Most of you probably only know Lord Tariq from his collaboration with Peter Gunz on the New York anthem Deja Vu, if you even remember that. Released in 1997, Deja Vu had a huge amount of buzz (despite an argument with Steely Dan over the use of a sample for the song) at the time and it looked like Tariq was on the verge of breaking through as a mainstream rapper. While Peter Gunz played the laid back role for the duo, most of Tariq's rhymes were about his life on the streets. This was at a time when DMX and the Ruff Ryders were selling a crazy amount of records, so the market was certainly ready for another gritty rapper like Tariq. Its 8 years later, though, and beyond one solo release that did not get much promotion, we haven't heard much from Tariq.

Soon after releasing their one and only album together, Tariq and Gunz came under investigation by the Attorney General for their association with Peter Rollack, the former leader of the NY gang Sex, Money and Murder, a gang that would later be incorporated into the Bloods. On their album Make It Reign, one of the interludes, "Sex, Money, Life or Death," featured an audio recording from one of the members of the gang. Investigators believed another song on the album, "Who Am I," was a biography of Peter Rollack. Rollack would eventually be sentenced to life in jail for the murder of two men in North Carolina.

During the investigation, authorities seized many of the tapes that the duo had been working on, as well as video reels that allegedly showed footage of the gang members. Tariq blames the lengthy investigation as one of the main causes for the setback of his career.

Currently, Tariq is working on a second album with Peter Gunz. He is also working with Peter's son, Cory Gunz, and rappers Maino, Nucci Reyo and Stack Bundles for upcoming mixtapes. Tariq's solo album, Barcode, was released independently in March 2005. All of the reviews I found of it were positive, however I could not find any place that was actually selling the album. Apparently its available on Itunes. Lord Tariq does have a myspace page, hit him up there if you're looking for a CD version of the album.

Two mixtape tracks from Tariq:

Blow (2006)

Gangsta (from around 1999)



9/13/2006 10:28:20 AM posted by Fresh
Comments:
Good looking out, how about something on Corey Gunz and his situation with Jay-Z and whether you think he'll get the buzz needed to bring BX rap back.
9/13/2006 11:43:04 AM posted by MiamiDro
---
@P - Tatyana Ali was bigger than Deja Vu up there? Anyway, yeah it looks like they were on the remix. They also did remixes for Mariah Carey and Angie Martinez around the same time.

@Dro - I have some Corey Gunz tracks I've been meaning to put up for a minute now. Alright, good idea, I'll get to that probably next week.
9/13/2006 12:56:26 PM posted by fresh
---
This post is suddenly getting a ton of hits from Google for the search term "Peter Rollack." So, um....when you read this post, please mentally add a big "ALLEGED" to all of it.
9/15/2006 2:32:26 AM posted by fresh
---
---
To reduce Spam on this site, I'm testing out Disqus.
You'll need JavaScript turned on to see comments (if you're using NoScript, add 33jones.com to your list of trusted sites).
Let me know if you like it/dislike it.