Daily Hits:

Subscribe to this Feed
|
Email Me
I know Rick Ross, the Real Rick Ross: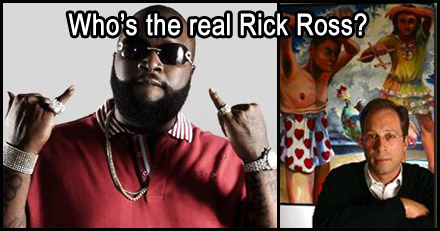 Depending on which search engine you use, when you enter in "Rick Ross" the first result is going to lead to one of two people: a Miami-based rapper and an "anti-cult lecturer." They both seem to have an equal presence on the internet, yet only one of the two men has a record deal with Def Jam (via Slip-N-Slide). The question is, did Jay-Z sign the right Rick Ross?

Rick Ross the rapper, out of Dade County, Miami, is perhaps best known for shouting out his alleged friend Noreaga, I mean the real Noriega, in his song Hustlin'. Of course, what he actually meant was that he does not actually know the real Noriega. While his rapping skills are marginal, kind of like a watered-down Jeezy doing an impersonation of the Clipse, Def Jam president Jay-Z has been working hard to promote Ricky Ross.

The main thing that gets mentioned when his name is brought up is the fact that, unlike some other "trap" rappers, Rick Ross has actually sold coke at some point in his life. I'll leave it up to others to discuss whether this is actually something that should be applauded. I'm more concerned about whether this is actually true. Ross has been signed to a record label for the past ten years. I realize that just being signed to a record label is hardly a full-time job, but I find it hard to believe that this guy would have had the time to become a cocaine distributor in the mold of Scarface (you know, the real Scarface). Assuming he actually was some big time drug dealer, why would he have left that to become a rapper? The money can't be as good, as Jay told us the only people making cash in the rap game are him, Pimp Juice and Em. Why would he snitch on himself and provide the feds with information on his drug dealing by rapping about it?

Now let's look at the other Rick Ross, anti-cult lecturer and blogger. Ross started out in the 80's speaking out against cult activity in Arizona and forcibly deprogramming cult members, which eventually led to him being sued by the Church of Scientology and being charged with kidnapping. He also apparently assisted the government in their standoff with the Branch Davidians in Waco, Texas. These days he spends most of his time writing about the religious activities of celebrities like Tom Cruise, John Travolta and Madonna.

I don't know about you, but to me the life experiences of the anti-cult Rick Ross sound a lot more interesting than the (likely fabricated) life story of Rick Ross the international-coke-dealer-turned-microphone-fiend. I'd imagine his lyrics would sound like the second-coming of the Gravediggaz (and I'm fairly certain he would never try to rhyme "Atlantic" with "Atlantic"). There are enough rappers out there already talking about the drug game, but who's reppin' for the cults these days? Plus, that Rick Ross already owns the domain for rickross.com, so half the promotion work is already done.

Here are a couple of tracks from Rick Ross, the real Rick Ross, including one featuring the Clipse. Listen to it and let me know who you think is does the coke rap better:

Rick Ross, Biggie and The Clipse -- Just a Memory

Rick Ross -- I'm Bad

Those tracks are from Mick Boogie's mixtape Rick Ross The Ruler, which you can pick up here.



6/13/2006 8:15:20 AM posted by Fresh
Comments:
Despite the fact that you don't agree with me, I'm still glad to see a new name up in the comments section.

If Rick Ross wasn't getting so much exposure and so much promotion from Jay-Z, then I wouldn't be mad at him. The main problem I have is the fact that better acts (Joe Budden) are getting pushed backed because of this dude. I also don't like the fact that people who should know better (SOHH, XXL) seem to be starstruck by his alleged past as Miami's Nino Brown. This isn't to say I don't occasionally listen to the dude -- I wouldn't have dropped 6 bucks on his mixtape just for an excuse to hate on him -- but take away the beats, which are all pretty good on his songs, and I just don't think you have a good rapper.

I do think Garcia is a lot better lyrically than Rick Ross, but clearly I'm in the minority on that, as Ross will probably go platinum when he releases Port of Miami, while we may never see a major label release from Garcia.

For the record, I would put Trick Daddy at the top of Miami rappers.
6/13/2006 11:03:37 AM posted by fresh
---
Between the comments and the multiple emails I've gotten on this subject (and I still don't understand why some of you prefer emails over comments, don't be shy!), I'd say pretty much everyone disagrees with me on this subject -- almost as much as the time I said Pharrell's rapping didn't sound too bad. Still, I did put up two tracks from Rick Ross, so you guys can't be too mad at me!

Bank - You know and I know that not everything a rapper says is real, but there are a whole lot of people out there that are unable to seperate fiction from reality. You end up with situations like this, this and this when that fiction becomes reality. Sure, I'd bore even myself if I spent every post overanalyzing lyrics, but in this case I thought it warranted some attention due to the fact that Rick's entire career up to this point is based on what may or may not be a lie.

On a lighter note, you should all go hit up Bank's site for a tremendous shot of Vida Guerra.
6/13/2006 3:39:46 PM posted by fresh
---
Cosign on "Hustlin is a hot track" and "tremendous shot of Vida Guerra" ... not taking sides on this one beyond that!
6/13/2006 5:16:04 PM posted by Hot Sauce
---
SweetP, it brings a tear to my eye to see you quoting me.

Can we all at least agree that this is a bad rapper?
6/13/2006 8:05:41 PM posted by fresh
---
That was painful to watch
6/13/2006 9:49:36 PM posted by ATL
---
P, there are several questions raised by that link:

1)Why do you remember that Jodie Foster rap six months later?
2)Why am I checking for comments this late on a Friday night?
3)Who convinced her that it would be a good career move to do that rap?

I did like when she took it back to '88 with the Big Daddy Kane hand gestures around the :17 second mark. I may have to drop that link in a post next week.


12/15/2006 9:44:19 PM posted by fresh
---
---
To reduce Spam on this site, I'm testing out Disqus.
You'll need JavaScript turned on to see comments (if you're using NoScript, add 33jones.com to your list of trusted sites).
Let me know if you like it/dislike it.