Daily Hits:

Subscribe to this Feed
|
Email Me
Cam'ron has something to say: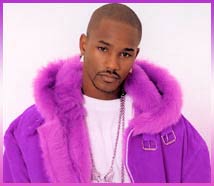 Back when Cam'ron signed with Roc-A-Fella records, he was on Hot 97 giving an interview about the whole situation. During the interview, he said that he had a verbal agreement with Kanye West to buy the IZZO beat and that Jay-Z basically stole the beat from him by offering Kanye more money. The song went on to become one of Jay's biggest hits. While Cam tried to play it off, saying if he couldn't beat Jay he might as well join him, it seemed pretty clear to me that he was still upset about the whole thing. During his time with Roc-A-Fella, there were rumors of him beefing with Jay, and it seemed like it was only a matter of time before things fell apart.

It was no surprise, then, when Cam'ron got out of his Roc contract when the label was sold and Jay-Z was named president of the label. Then when Jay-Z was promoting his "I Declare War Concert," there was a lot of talk that Cam was going to be a major target. The concert, though, just ended up with Jay kissing and making up with Nas.

Cam, apparently, wasn't ready for the beef to end, though, and has recently put out two tracks dissing Jay. The first is just a track of him putting commentary over the "I'm a Biter Not a Writer" track that was being passed around the internet about a year ago (where you been Cam?). The second track, from Kay Slay's Down With The King Vol. 2, is a lot more interesting, though, where Cam gets on a track and disses Jay for over 7 minutes.

Just to summarize (all according to Cam, I don't vouch for this): Jay-Z was born in 1968, Cam was with Beyonce first, Jay stabbed Un over Charli Baltimore, and oh yeah, Jay looks like dude from Fraggle Rock.

Download Cam Diss Song (mp3)

Props to U-Mad, where I first heard this track.

(If anyone wants the "I'm a Biter not a Writer" track posted, hit me up)



1/19/2006 10:50:33 AM posted by Fresh
Comments:
I called you about that biter bit on XM right after it happened... anyway, please post it again...
1/24/2006 9:24:33 PM posted by ufreshCREW
---
---
To reduce Spam on this site, I'm testing out Disqus.
You'll need JavaScript turned on to see comments (if you're using NoScript, add 33jones.com to your list of trusted sites).
Let me know if you like it/dislike it.