Daily Hits:

Subscribe to this Feed
|
Email Me
Jay-Z Thumbtack Portrait by Andre Woolery, plus more from Danny Simmons' Art Show in Harlem: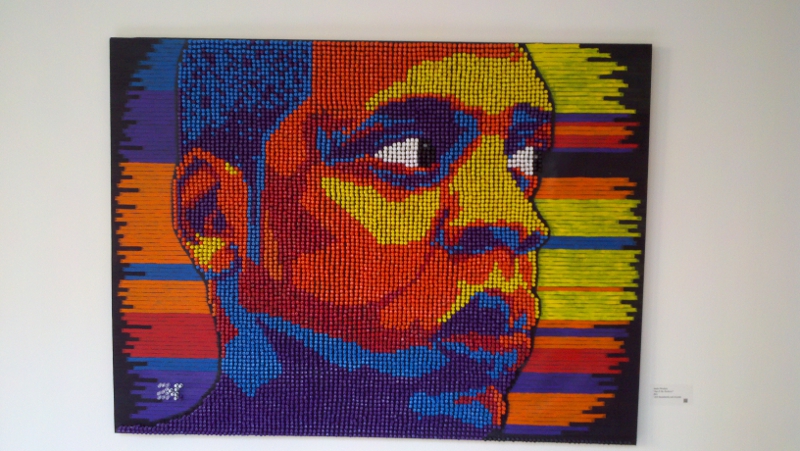 "Jay-Z: The Tackover" by Andre Woolery

My man Bruno aka Mexico Beats has been telling me about a friend of his and Rich Port's, Andre Woolery, who's been getting some buzz off of portraits he's been doing of various musicians using a combination of paints and thumbtacks. About three years ago Woolery took some time off from his job in the advertising industry to pursue oil painting and one of the pieces that he created during that time - seen above, The Tackover, made out of 7,633 thumbtacks - was picked up by various media outlets. From there he began to focus on his artwork full time, and recently had a new show opening with painter Danny Simmons, the older brother of Russell Simmons and chairman of Rush Philanthropic, this past July at the Strivers Gardens Gallery in Harlem (300 West 135th Street between St. Nicholas and 8th Ave): eMerge: Danny Simmons and Artists on the Cusp.

This past Friday the New York Times ran a spotlight on the show and mentioned that all of the artists featured in the gallery would be there on Sunday so I headed over there to check it out. I got there about an hour before the event started, casually name dropped Andre Woolery, and as a result managed to get myself a private guided tour of the gallery by the collection's curator Souleo. He mentioned that this was the first show he had ever put together, was understandably a little bit nervous about the attention that the Times article had brought to Sunday's event, but nevertheless was extremely gracious and friendly to me, so a big shoutout to him.

I was primarily there to see Woolery's art - the collection featured his Jay-Z portrait The Tackover along with a portrait of Jimi Hendrix - but there was plenty of other great work there as well. The one artist that really stood out to me was Greg Frederick, showing his "Vinyl Pop Art" series of portraits made from vinyl records (the two featured in the collection, seen below, are of Biggie and Andy Warhol). I didn't have a chance to write down any notes (and missed the names of a couple of artists) so what few remarks I have to go along with the photos below are strictly from memory. If you can make it out to Harlem, the show is free and runs until September 7th. It's directly across from the B and C line at 135th Street, so if you're coming from Manhattan it's really easy to get to, and it is free.

The photos below were taken from my camera phone, so they don't really do justice to all of the art. Woolery's work in particular was even more impressive in person, as it's hard to capture the scope of seven thousand thumbtacks in a compressed photo. You can see even more of Andre's work, and purchase prints, over at Andre Woolery Art.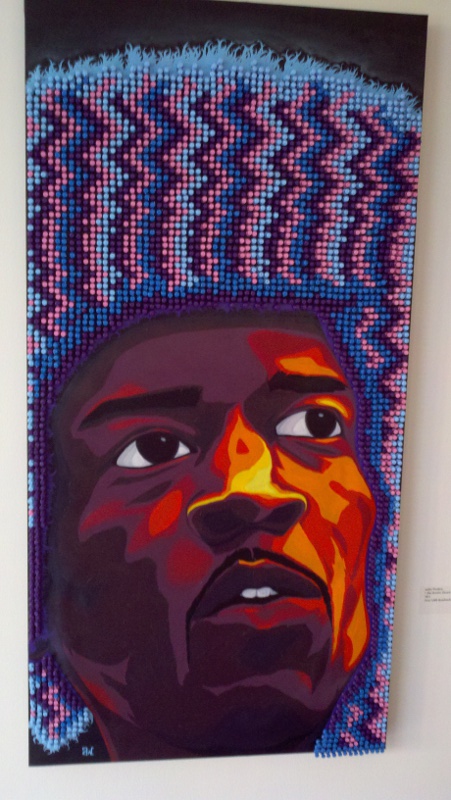 "Jimi Hendrix: Electric Feel" by Andre Woolery (2,000 thumbtacks)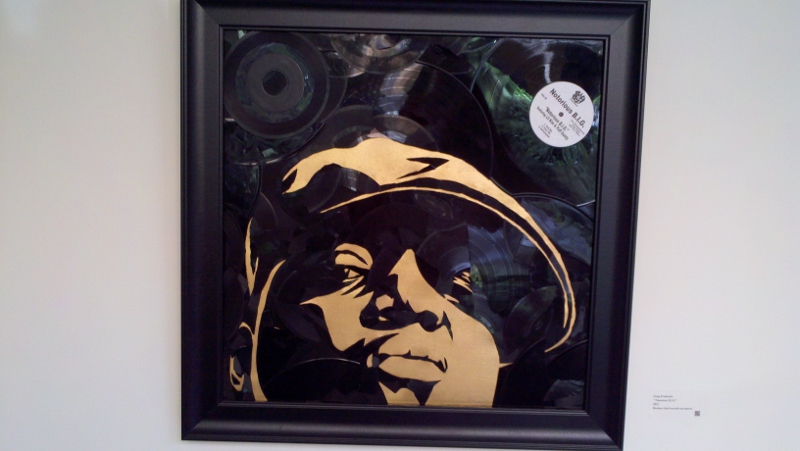 "Notorious B.I.G." by Greg Frederick

It may be hard to tell from these photos, but the Biggie Portrait and the Warhol below are made up of shards of vinyl records. Frederick said he used multiple copies of Biggie and Lil Kim's Notorious B.I.G. for "Notorious B.I.G."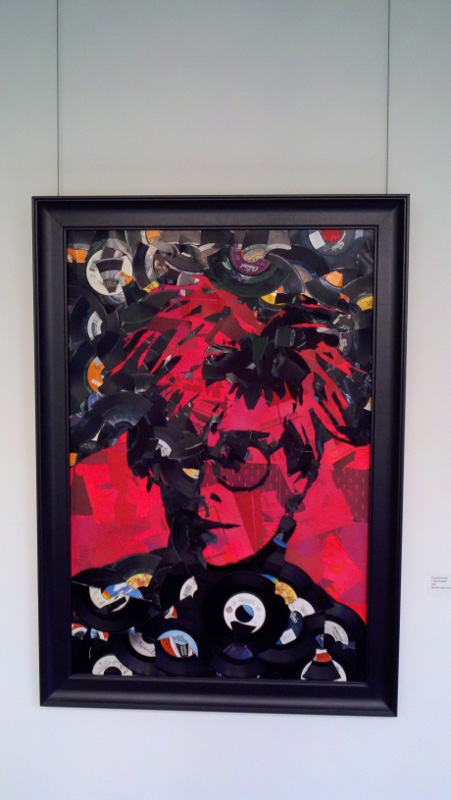 "Andy Warhol" by Greg Frederick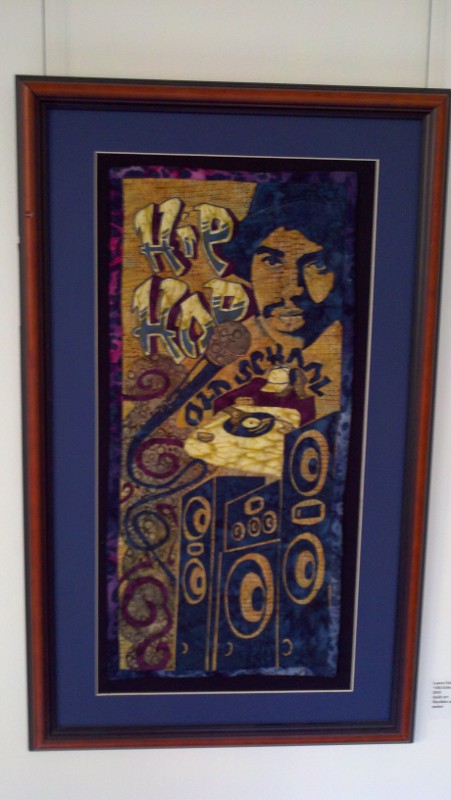 "Old School Hip Hop" by Laura R. Gadson

The above piece, which includes a portrait of Kurtis Blow, was quilted by Laura Gadson.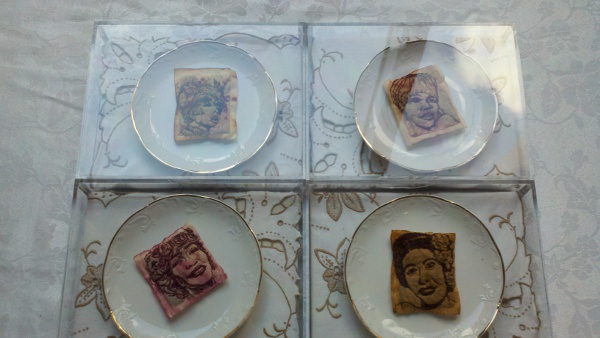 Sewn teabag portraits of Whitney Houston, Tammi Terrell, Florence Ballard of the Supremes, and Billie Holiday (Clockwise, from the lower left) by Shirley Nette Williams

Souleo told me that it took Shirley Williams up to a month of stitching per teabag.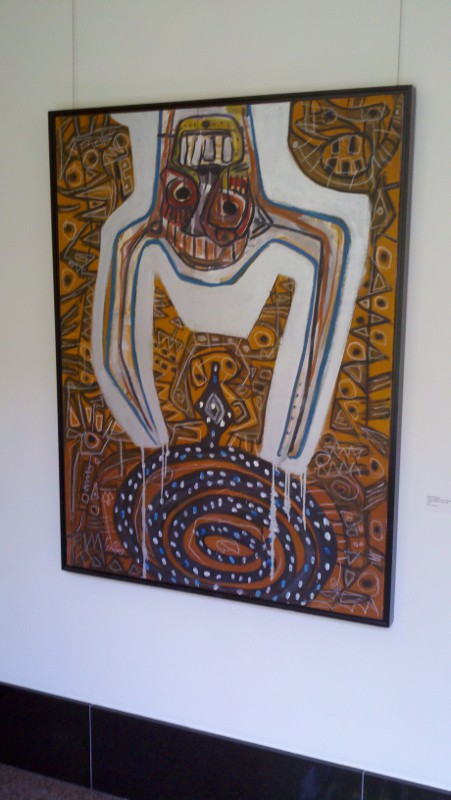 By Danny Simmons

I am not doing Souleo's explanation of Simmons' work justice by paraphrasing it, but ultimately this piece and the rest of Simmons' pieces in this collection are references to the black community's experience in America.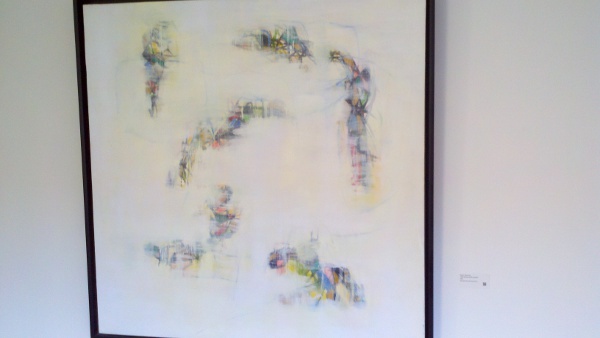 By Danny Simmons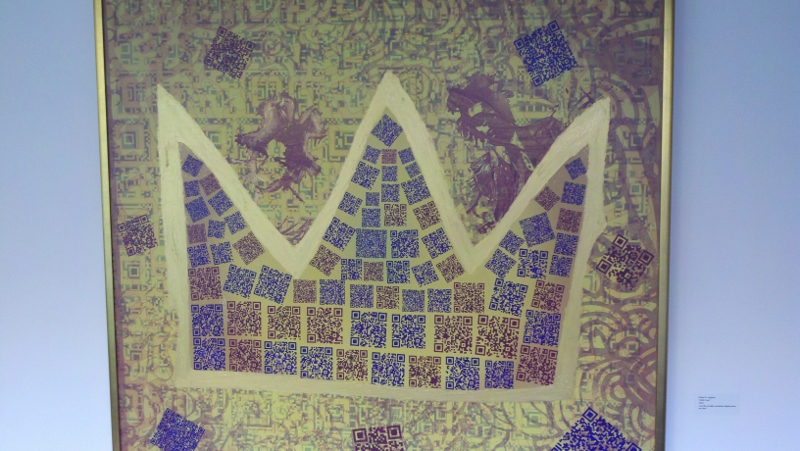 "JMB Code" by Jason E. Auguste

Each of the QR Codes in the painting were functional, linking to youtube clips, mp3s and various other websites.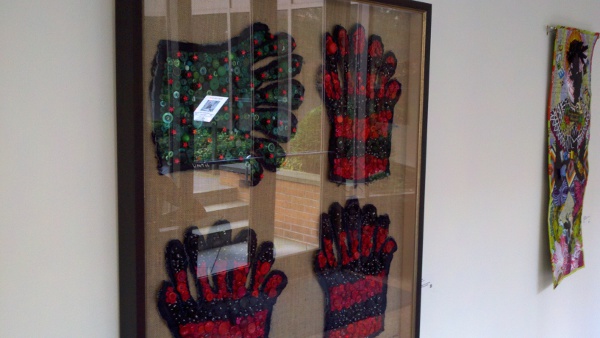 "Until We're Free" by Beau McCall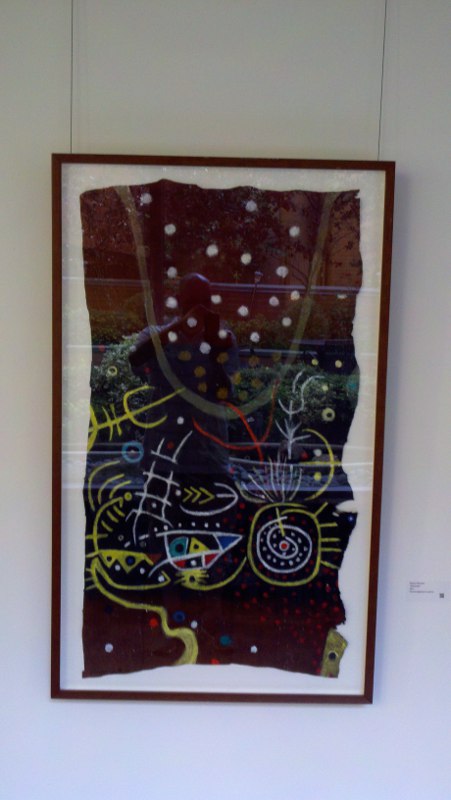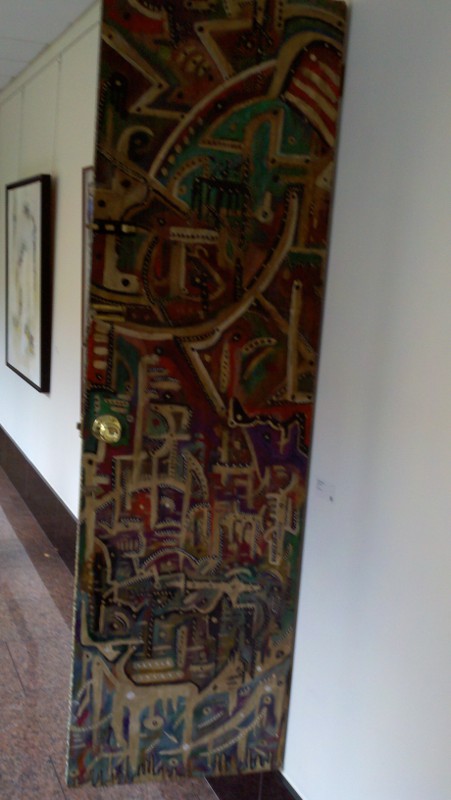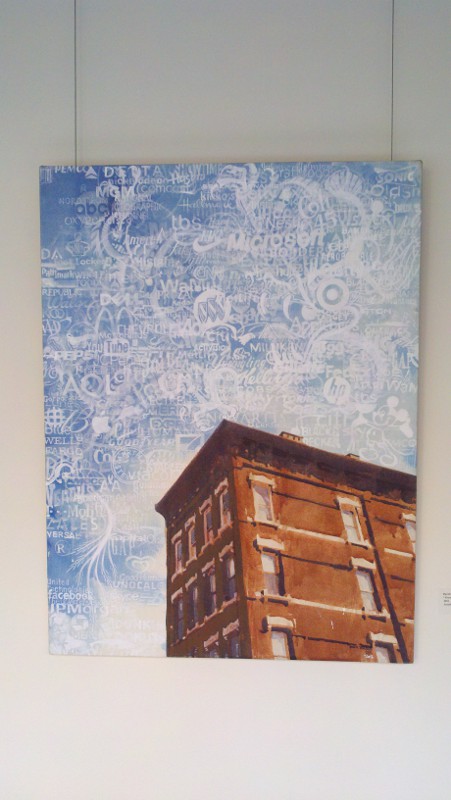 "Greenpoint Sky" by David Hollier

The above piece features various corporate logos, along with an outline of a Chinese dragon symbolizing the artist's expectation of a Chinese economic takeover.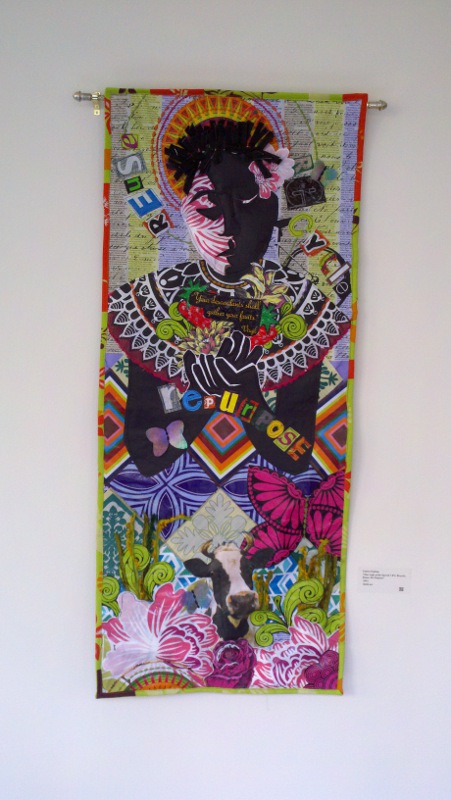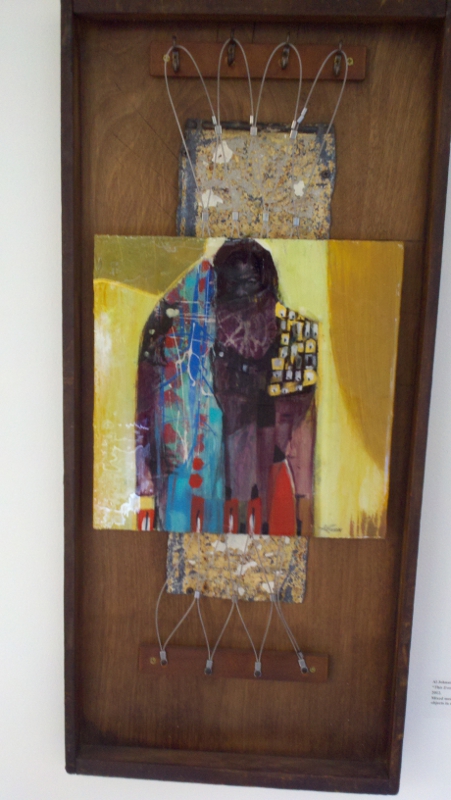 By Al Johnson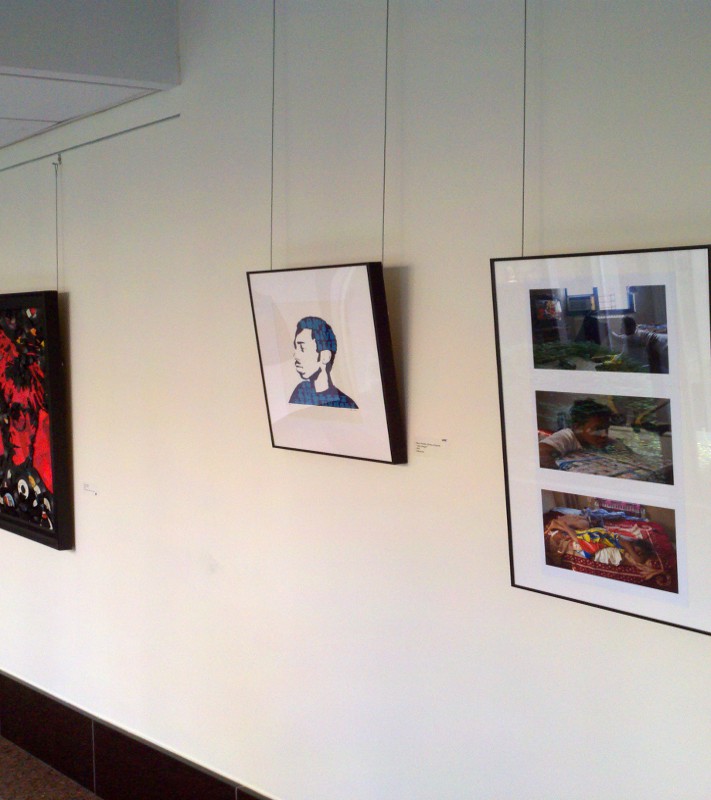 The portrait on the left in the above photo is that of Souleo's younger brother, a victim of gang violence at the age of 21. The series of photos on the right were taken by the deceased brother and are of Souleo's other brother who suffers from Down's Syndrome.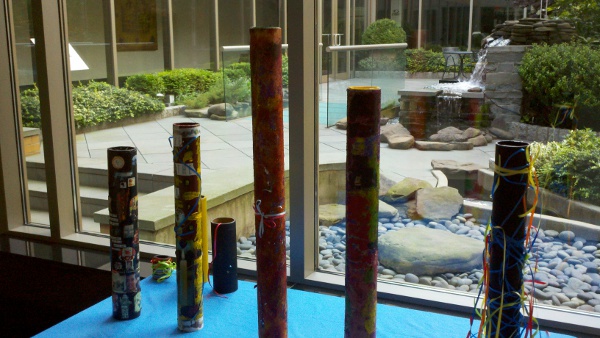 The above piece is a series of time capsules created by Jeremiah Drake of Riverside Church, which in part uses the work of students from Souleo's youth group Culture Crashers. The capsules will be opened at intervals of 5, 10 and 30 years.

Coincidentally Doug E Fresh's Chicken and Waffles eating establishment, aptly named Doug E.'s, happened to be just a block away from the art gallery. I couldn't pass up the opportunity to dine at my namesake's restaurant, so I swung through for a quick meal of waffles and bbq chicken wings. If this were a yelp review I would probably give it three out of five stars, with the quality of the food slightly below the nearby legendary Sylvia's and the quality of the decor slightly above a typical fast food joint (though the overall atmosphere benefited tremendously from the background music that consisted of what seemed to be randomly selected tracks by Frankie Beverley and James Brown). Ten bucks will get you a decent amount of wings, a really good waffle, and what amounts to the iced tea version of a quarter water. Definitely worth swinging by if you're in the neighborhood. The place was too crowded to take any photos inside without outing myself as a tourist (or, even worse to New Yorkers, a native New Jerseyan), but I did manage to get a shot from the outside: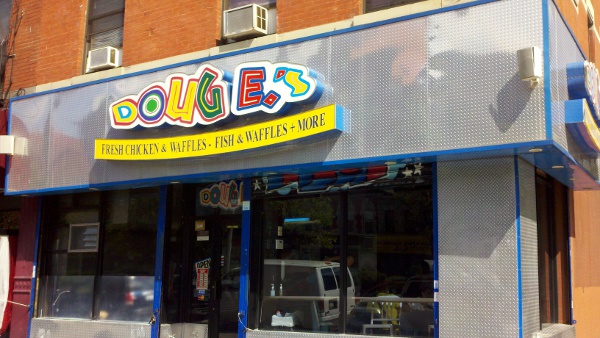 8/14/2012 1:30:00 PM posted by Fresh
---
To reduce Spam on this site, I'm testing out Disqus.
You'll need JavaScript turned on to see comments (if you're using NoScript, add 33jones.com to your list of trusted sites).
Let me know if you like it/dislike it.