Daily Hits:

Subscribe to this Feed
|
Email Me
Full Spectrum 2: Zilla Rocca, Has-Lo, Open Mike Eagle and Dr. Quandary: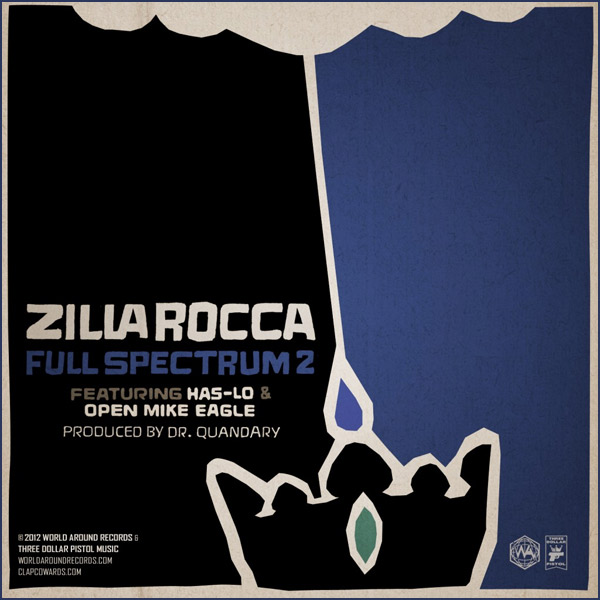 In a year end wrap up post that I never got around to putting up on the site before the clock ran out on 2011, I picked Zilla Rocca's Full Spectrum as one of my favorite videos of the year. If you're so inclined, you can see my full list of picks over here. In any event, it wasn't just the Super 8 visuals of the video that made Full Spectrum noteworthy, the song itself happened to be one of the best joints released last year.

Zilla seems intent on keeping the name "Full Spectrum" on next year's Best Of list as well, having just released a remix - or, more accurately, a sequel - this time adding Open Mike Eagle into the mix alongside Dr. Quandary and Has-Lo. Check it out:

Zilla Rocca featuring Has-Lo, Open Mike Eagle & Dr. Quandary - Full Spectrum 2 (right-click to d/l)


I asked Zilla how he hooked up with Mike, and here's what he had to say:


I met Mike in Phoenix last year during All-Star Weekend. Me and Castro had a show at the Hidden House in Phoenix with him and Nocando. They were great guys. Last summer/early fall, Quandary sent me a remix of "Full Spectrum" with that beat and I was blown away. I thought it was too good to just be an instrumental for the OG acapella. Right around that time we finished shooting the video [for Full Spectrum] in Asbury Park. I think Mike put out "Nightmares" too right around that time, so all the wheels started spinning. I sent it to Mike and he was just about to start touring, so he told me it would take a minute to get it done.

Then in November Mike came to Philly on tour with J-Natural and DJ Tram Life and he got to meet Has-Lo in person to complete the cypher. After a night of drinking and reciting all the words to Cappa's verse on "Winter Warz" acapella, the song had to come correct.


The original Full Spectrum is off of Zilla's recent Nights & Weekends EP. CD's are still available, so if you haven't yet purchased a copy please go get one now!

Finally, here's Mike's video for Nightmares, shot by Nocando:


Open Mike Eagle - Nightmares



1/24/2012 6:30:00 PM posted by Fresh
---
To reduce Spam on this site, I'm testing out Disqus.
You'll need JavaScript turned on to see comments (if you're using NoScript, add 33jones.com to your list of trusted sites).
Let me know if you like it/dislike it.