Daily Hits:

Subscribe to this Feed
|
Email Me
Something Good from Zilla Rocca - Nights & Weekends EP: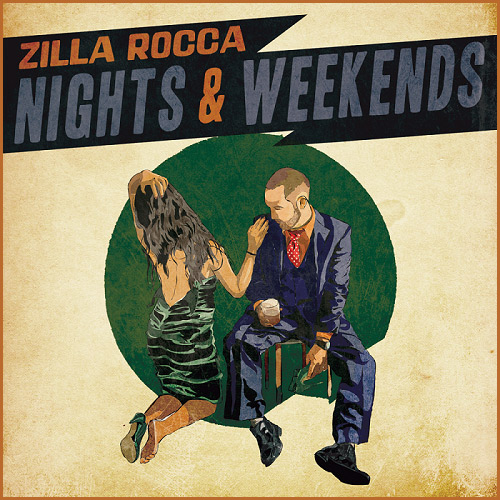 As devoted readers of clapcowards are already aware, Zilla Rocca released his latest EP, Nights & Weekends, earlier this week. The EP is the most musically diverse project that Zilla has put out up to this point, a marked departure from the more traditional sound of Clean Guns and even the more experimental output of the 5 O'Clock Shadowboxers. There are a lot of risks taken on the album - the opening track in particular, Creme de Menthe, is unlike any other song you'll hear on a hip hop cd this year - but they all seem to pay off. There's even what Zilla describes as a "60's funk cover" version of D'Angelo's Devil's Pie that works far better than what one might expect. With appearances by Has-Lo, Small Pro, My Man Shafe and others, there's a whole lot of great music packed into the thirty minute offering.

Every song on the EP is worthy of being posted, but as Zilla has carefully coordinated the promotional effort behind the release I'll restrain myself from putting all of them up here. Two singles have already been released, Full Spectrum featuring Has-Lo and Black Cherry, but there is one other song that I'm partial to: Something Good. Featuring appearances from what should now be the familiar names of Curly Castro and My Man Shafe, I first heard a version of this song back in 2008 when I asked Zilla to put together some material for a demo tape that I was compiling for a certain backup dancer-turned-record label CEO. The original version, which I believe was intended for Zilla's never released debut solo album Fall Back Friday, was sort of like an updated take on K-Solo's Spellbound, with ZR dropping a series of rhymes spelling out "G.O.O.D."

Fast forward to 2011 and the self-produced Something Good has received an upgrade thanks to memorable new verses from Castro and Shafe and an entirely new verse from Zilla. While I suspect he planned all along to do something with the song, I had been bugging him for three years to redo it. I don't know if my nagging played any part in this song making the final cut for Nights & Weekends, but in any event I'm glad it did because it steals the show. Check it out:


Zilla Rocca featuring Curly Castro & My Man Shafe - Something Good (left-click to d/l from bandcamp)

The Nights & Weekends EP is currently available on bandcamp, where you have the option of paying whatever you like for a copy of it. Physical copies of the cd can be purchased starting tomorrow, and shortly after that Zilla will also be releasing a Nights & Weekends t-shirt featuring the cover art from the cd. For further details, hit up clapcowards.



9/21/2011 6:30:00 PM posted by Fresh
---
To reduce Spam on this site, I'm testing out Disqus.
You'll need JavaScript turned on to see comments (if you're using NoScript, add 33jones.com to your list of trusted sites).
Let me know if you like it/dislike it.