Daily Hits:

Subscribe to this Feed
|
Email Me
Can a drug dealer trademark his own name? The legal battle of Ricky Ross v. Rick Ross: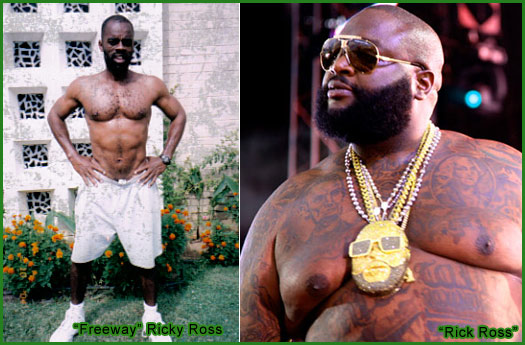 In the movie CB4, Chris Rock's character assumes the identity of an incarcerated gangster, "Gusto," to build a successful career as a rapper by leveraging Gusto's street cred. After the real Gusto eventually escapes from prison, Chris Rock's character is faced with a severe identity crisis, attempting to hide from Gusto while still capitalizing on the success of his musical persona. The movie's intent was to parody N.W.A. and the wave of gangsta rap that followed in the late 80's and early 90's, however it may now be more notable for its surprisingly accurate prediction of the current legal conflict between Miami rapper Rick Ross and former C.I.A.-backed drug dealer "Freeway" Ricky Ross of Los Angeles.

Unless you've somehow managed to tune out mainstream rap for the past five years, you undoubtedly know most of the story: a rapper going by the name "Rick Ross" becomes one of the top selling artists in recent history by putting out songs that detail his fictional life as a sort of high class drug dealer, using a stage name that references "Freeway" Ricky Ross. The rapper's real name is William Roberts and, in an ironic twist, it is later discovered that he worked as a corrections officer prior to signing a record deal (which, as we are about to see, is a career path quite different from the one chosen by Ricky Ross). Ricky Ross is a real life former drug kingpin who, during his heyday in the 80's, claimed to be making "2 to 3 million dollars a week" through his criminal empire, an empire that spanned the nation and was allegedly built with the help of the CIA as part of the Iran-Contra scandal. In short, Ricky Ross is not the type of man whose identity you would want to assume without permission.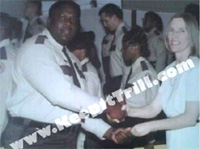 Luckily for the rapper Rick Ross, as he began his ascension up the pop charts the real Ricky Ross was serving a life sentence in a Texarkana correctional facility for attempting to purchase more than 100 kilograms of cocaine from a federal agent, and he seemed unlikely to be in a position to ever challenge the rapper over his assumed identity. However, Ricky Ross successfully appealed his sentence, reducing it to 20 years, and then had it reduced even further for being a model prisoner. In September of 2009 Ricky Ross was released from prison and began to get his affairs in order. Some five years after William Roberts rose to fame under the moniker "Rick Ross," the real Ricky Ross announced in May 2010 that he would be filing a lawsuit against him for "profiting off the unlawful use" of his name. Then, on June 18th of this year, Ricky Ross filed a trademark infringement lawsuit in U.S. District Court, Central District of California, seeking a temporary restraining order for preliminary and permanent injunction relief, to officially block the release of Ross' upcoming album Teflon Don.

At first glance this would seem to be a fairly straightforward case of the rapper presenting himself to be something, and more importantly someone, that he's not, and in fact that's been an issue I've raised a few times since 2006 and taken heat from several of you as a result. Using what memory I have from four years of Constitutional Law classes in college, along with assistance from my brother, who is a practicing attorney in Florida, and the fine folks at The Straight Dope, I've attempted to put together an analysis of Ricky Ross' legal options.

The first issue that needs to be considered is that of trademarks. It is possible for someone to trademark their own name through the U.S. Patent and Trademark Office (USPTO), and there have been many cases of lawsuits being successfully won over such trademarks. Morgan Freeman, for example, gained the rights to "morganfreeman.com" after arguing that the use of the domain name by someone else violated his own trademark.

There are a couple of roadblocks to the trademark infringement claim that Ricky Ross is making, however. First, since William Roberts performs under the name "Rick Ross" rather than "Ricky Ross," there's an argument to be made that the names are dissimilar enough to prevent any trademark violation. Second, in order to register a trademark the name being trademarked must be used as an "indicator of the source of goods or services," and one must be able to demonstrate "lawful use in commerce." As Ricky Ross originally built his name on the illegal distribution of narcotics, it might be difficult for him to lay any claim to lawful use in commerce. Ricky Ross may, however, be able to reference his development of a social networking site (FreewayEnterprise.com) and his involvement in the documentary American Drug War: The Last White Hope as the basis for a trademark.

Though the trademark infringement claim was filed on June 18th, I was unable to turn up any documents showing that Ricky Ross had actually been granted a trademark at any point in time. If Ricky Ross has yet to be awarded a registered trademark, that would leave open the possibility for William Roberts to file for his own trademark on the name "Rick Ross" and subsequently prevent Ricky Ross from marketing any sort of music-related goods with his own name.

The general consensus from the legal scholars that I've discussed this issue with seems to be that Ricky Ross could make a much stronger case by discarding the trademark infringement claim and instead arguing that the rapper Rick Ross has misappropriated his name and likeness. The Restatement (Second) of Torts (which is essentially a document that helps define common law) states in part:

652C Appropriation of Name or Likeness. One who appropriates to his own use or benefit the name or likeness of another is subject to liability to the other for invasion of his privacy. . .
[T]he right created by it is in the nature of a property right, for the exercise of which an exclusive license may be given to a third person, which will entitle the licensee to maintain an action to protect it. . .
The common form of invasion of privacy under the rule here stated is the appropriation and use of the plaintiff's name or likeness to advertise the defendant's business or product, or for some similar commercial purpose.

In Eastwood v. Superior Court, a well-known case from California, it was ruled that:

"A common law cause of action for appropriation of name or likeness may be pleaded by alleging (1) the defendant's use of the plaintiff's identity; (2) the appropriation of plaintiff's name or likeness to defendant's advantage, commercially or otherwise; (3) lack of consent; and (4) resulting injury."

The case for misappropriation of Name or Likeness is further protected by the larger "Right of Publicity," defined as "the right of an individual to control the commercial use of his or her name, image, likeness or other unequivocal aspects of one's identity." This is worth noting because, unlike a claim of trademark infringement which would generally fall under federal law, the Right of Publicity is defined and protected by state law. This is an important consideration, made all the more important by the fact that Ricky Ross has filed his claim in the state of California. Due in large part to the state's dependence on the revenue generated by Hollywood and its legion of celebrities, California has by far the strongest protections for the Right of Publicity in the United States and it is certainly no coincidence that Ricky Ross' lawyers filed their lawsuit in that venue.

Should both the trademark infringement and Right of Publicity claims not work out, Ricky Ross would have one final longshot in his legal battle against William Roberts: a defamation lawsuit. As Ricky Ross has fulfilled the requirements of his prison sentence and is, presumably, actively working to establish himself as a productive member of society, he could make the claim that the release of new music that attaches his name to lyrics detailing criminal activity is an act of defamation. Were William Roberts to say that his music is a parody of Ricky Ross then it would be protected under the 1st Amendment, however Roberts' previous insistence on the verity of his drug dealing fantasies might work against such a defense.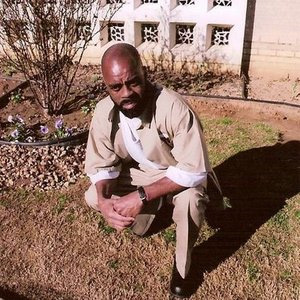 This discussion presumes that Ricky Ross filed his lawsuit with the intent of actually bringing it to court and getting a judge to rule in his favor. However, given the way that the U.S. legal system works, that presumption may not be a safe bet. It is entirely possible to "win" a legal battle without actually having a lawsuit resolved in one's favor. For example, Ricky Ross may be using this lawsuit as a form of legal extortion, using the threat of legal expenses to get an out-of-court settlement to drop the lawsuit. It's important to remember that anyone can file a lawsuit for virtually any reason; a bad lawsuit may eventually be thrown out, but it still requires the defendant to hire a lawyer to respond to the lawsuit, and hiring a lawyer to deal with a high profile lawsuit like this costs a lot of money. Presumably Rick Ross' record label has a legal team in place to handle matters such as this, but if the potential cost of defending against the lawsuit is too high then the likely response would be to offer Ricky Ross a payment in exchange for dropping the lawsuit.

If Ricky Ross managed to win his lawsuit, a likely outcome would be for the judge to rule that, in addition to any damages owed, William Roberts could no longer perform under the name "Rick Ross." Similar results have happened in the past, such as the band Blondfire, which changed its name from "Astaire" after a legal challenge from the estate of Fred Astaire (both trademarks and the right of publicity are considered property rights and as a result they both can be enforced even after the death of an individual). Yet with Rick Ross' latest album just two weeks away, it's likely Def Jam would be willing to pay out a large settlement to Ricky Ross in exchange for the rights to use the name.

A more cynical view of the lawsuit might even see it as a coordinated publicity stunt between Ricky Ross and Rick Ross. It's worth noting that Ricky Ross announced plans for the lawsuit just days before the promotional campaign behind Rick Ross' new album began. A press release was sent out announcing the intent to file a lawsuit and then a second release was sent out when the trademark infringement claim itself was filed (a press release that made sure to mention the name of Rick Ross' upcoming album, Teflon Don), resulting in coverage from several national news outlets. As the saying goes, there's no such thing as bad publicity, and this lawsuit has generated a fair amount of publicity for Ricky Ross, Rick Ross and his new album. It's not unreasonable to suggest that someone savvy enough to have made millions of dollars through the drug trade and someone savvy enough to have generated platinum sales in the declining music industry, both of whom have spent years being exposed to and navigating through the U.S. legal system, might come up with the idea of using that very legal system as an alternative outlet for their marketing efforts.


William Roberts - Hustlin'

Related Articles:
Examining Max B.'s claims of Legal Immunity (Sui What?)
I know Rick Ross, the Real Rick Ross
Perhaps Rick Ross really did know Noriega (Thoughts on Rick Ross, the Media and Hip Hop)



6/23/2010 4:15:51 PM posted by Fresh
---
To reduce Spam on this site, I'm testing out Disqus.
You'll need JavaScript turned on to see comments (if you're using NoScript, add 33jones.com to your list of trusted sites).
Let me know if you like it/dislike it.