Daily Hits:

Subscribe to this Feed
|
Email Me
Reexamining P.M. Dawn (Defending the Indefensible?):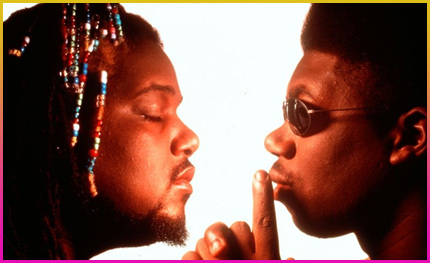 There was a period of about five years during the early- to mid-nineties when one could legitimately make the case that New Jersey was the dominant region in hip hop. From Poor Righteous Teachers, Naughty By Nature, Flavor Unit and Lords of the Underground to Redman, The Artifacts, Das Efx and The Fugees, Jersey rap was a major force in both the underground and mainstream scenes. One of the most successful NJ groups from that period seems to always get overlooked, though: P.M. Dawn. The popular revisionist view of the group is that they were perpetrators focused solely on crossing over, but that view simplifies their role in hip hop at the time and tends to overlook just how successful they were.

P.M. Dawn started out as a collaboration between brothers Attrell (Prince Be) and Jarrett Cordes (DJ Minutemix), the stepsons of Kool & The Gang's George Brown, after Prince Be made a name for himself as a dj in Jersey City. Working with Ben Cenac, a former member of Newcleus (the group that put out the electro song Jam On Revenge aka the "Wikki Wikki" song), P.M. Dawn put together their first single, Ode to a Forgetful Mind:


PM Dawn - Ode to a Forgetful Mind

Ode... has a significantly more traditional sound to it than what the Cordes brothers would put out a couple of years later, and it wasn't all that different from the sort of conscious rap that was becoming popular at the end of the 80's, a slightly more blissed out version of the Native Tongues sound. They were so similar to the Native Tongues, in fact, that when they approached Tommy Boy Records with their demo, they were rejected for sounding too similar to De La Soul. The song was eventually picked up by British label Gee Street Records, who released the song to some success overseas. With their new label connection, they began working with British producers and were strongly influenced by the European club culture of the time. Their next single, which would become the first song to earn the #1 Billboard spot through the new Nielsen Soundscan ratings, was an almost complete break from their American hip hop roots:


P.M. Dawn - Set Adrift on Memory Bliss

The song, built around a sample from Spandau Ballet's True, not surprisingly didn't go over well with the true hip hop fans of the day and their embrace of pacifism and vague spiritualism, not to mention their neo-Hippie wardrobe of tie-dyed mumus and multi-colored glasses, did little to improve their standing among the more hardcore set. Yet P.M. Dawn certainly weren't the only group of the time to incorporate club and electronic production. Slick Rick, for example, hooked up with the famous House producer Mr. Lee for his 1991 album The Ruler's Back on the awful club track The Ruler. Whereas most other rappers' forays into house and electronica were forgiven or forgotten entirely, however, P.M. Dawn never managed to regain the trust of hip hop heads after Set Adrift... dropped. What set them apart seemed to be the fact that their crossover attempt ended up being rather successful, an almost universally unforgivable sin within hip hop.

Though the group moved further and further into pop territory with each subsequent release, they still had to deal with one of the major issues of the day in hip hop: sample clearance. On their second album, they sampled David Batiste & The Gladiators' Funky Soul on the song So On and So On and were slapped with a lawsuit as a result. The lawsuit was notable in that it was one of the rare instances of a rap group successfully defending themselves, with the court eventually ruling in favor of P.M. Dawn.

The point of no return for P.M. Dawn's acceptance within the hip hop community came at the end of 1992, when the duo were bumrushed by KRS-1 and the entire Boogie Down posse at a Sound Club Factory performance that was being filmed for an episode of Yo! MTV Raps. A few months earlier, Prince Be had called out the Blastmaster in an interview with Details magazine, saying, "KRS-One wants to be a teacher, but a teacher of what?" As P.M. Dawn took the stage, the entire BDP conglomerate ran onto the stage and commandeered the show in retaliation (as KRS would later say, "I answered his question. 'A teacher of what?' I'm a teacher of respect."), with Just Ice physically booting Prince Be off the stage. Prince Be, a committed pacifist to the end, refused to fight back, a decision that led to him being figuratively kicked out of hip hop once and for all as sure as Ice's foot literally kicked him out of the Sound Club. It's worth noting that, at least according to Kenny Parker, the majority of the Jersey hip hop community sided with KRS-1, as K-Def and Larry O, Naughty By Nature and Latifah were all in attendance and all apparently supported P.M. Dawn's removal.

There's not much need to dwell too much further on the incident, as unkut.com covered the event in-depth a few years ago through a series of interviews with various witnesses and participants. However, what often gets overlooked in just about every recap, including unkut's, is that P.M. Dawn eventually released a record responding to KRS-1 and the many critics who claimed that they weren't a part of hip hop. Though certainly not on the level of, say, a Common or Canibus diss, it was considerably more aggressive than any other song the group put out during their 15 year career and showed, however briefly, their ability to put out a more traditional rap song:

P.M. Dawn - Plastic (last.fm link)
The last.fm media player for some reason kept autostarting, so I've put the song after the jump. Just click the "Read the rest of this article" link at the end of the post to play it.

A few years ago Prince Be suffered a stroke and was left partially paralyzed. While still recovering from his stroke, he performed on NBC's Hit Me Baby One More Time, a game show that was essentially an American Idol clone for formerly famous musicians. Prince Be's brother, Minutemix, eventually left the group and was replaced by someone going by the name "Dr. Giggles". According to their website, P.M. Dawn is currently working on a new album, P.M. Dawn Loves You.

I'm certainly not going attempting to argue that P.M. Dawn didn't deserve some of the criticism they received, and you will never in your life catch me playing Set Adrift (outside of this post, anyway). What I will say, though, is that looking back some two decades later, it's hard to see what all the fuss was about.





2/23/2010 5:30:51 PM posted by Fresh
---
To reduce Spam on this site, I'm testing out Disqus.
You'll need JavaScript turned on to see comments (if you're using NoScript, add 33jones.com to your list of trusted sites).
Let me know if you like it/dislike it.